Ikea founder Ingvar Kamprad, who revolutionized the furniture industry, dies at 91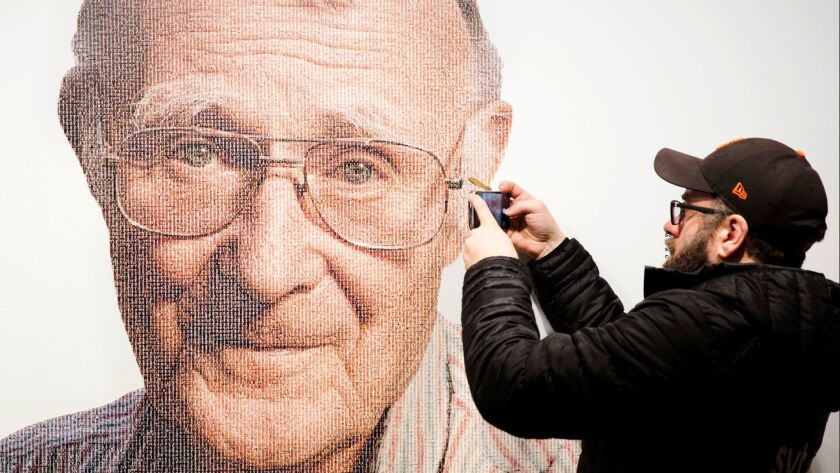 Bloomberg
Ingvar Kamprad, whose boyhood business of selling pencils and seeds from his bicycle in Sweden eventually grew into the worldwide Ikea furniture chain, has died. He was 91.
Kamprad, who transformed the furniture industry by producing furniture for the masses that was affordable and easy to transport, died after a short illness at his home in Smaland, Sweden, on Saturday, Ikea said in a statement.
Ikea's revolutionary idea was flat packs that allowed for a whole new way that tables, chairs and other items could be stored and shipped, before being assembled by the customer.
"His legacy will be admired for many years to come and his vision — to create a better everyday life for the many people — will continue to guide and inspire," Jesper Brodin, chief executive officer of the Ikea Group, the largest retailer in the Ikea franchise system, said in a statement Sunday.
Kamprad was known for driving an old Volvo, recycling tea bags and taking home little packets of salt and pepper from restaurant visits. He was known as "Uncle Scrooge" and "The Miser" in the Swiss village of Epalinges, near Lausanne, where he moved in the 1970s before returning to Sweden a few years ago. He also avoided wearing suits and ties and traveled coach when flying.
Ikea's corporate culture mirrors Kamprad's celebration of frugality. Executives of the company travel on low-cost airlines and lodge in budget hotels. Its employees follow a basic pamphlet written by Kamprad in 1976, "The Testament of a Furniture Dealer," which states that "wasting resources is a mortal sin," and stipulates Ikea's "duty to expand."
The name Ikea is made up of the founder's initials and the first letters of the Elmtaryd farm and Agunnaryd village where he was raised.
In 1990, the furniture retailer opened its first California store in Burbank, to much fanfare. The 240,000-square-foot facility held a six-day opening that drew 146,000 customers, some of whom waited more than an hour to get inside.
Ikea now has eight locations in California, five of which are in Southern California. Last year, Ikea closed its original Burbank store and opened a new, 456,000-square-foot store less than a mile away.
The new Burbank store is the largest Ikea in the U.S. More than 1,000 people lined up to attend the store opening.
Brodin, who during his career at Ikea worked for three years as an assistant to Kamprad, said in a phone interview Sunday that the billionaire "started as a 17-year-old with two empty pockets, but a ton of entrepreneurship. He used to tell me that he never knew it would become so big."
Kamprad's death "will affect us all, and we'll take time to be sad and reflect on what Ingvar achieved," Brodin said.
Kamprad also faced his share of controversy.
In 1994, Swedish newspaper Expressen reported that Kamprad had contacts with Swedish fascist leader Per Engdahl in the 1940s and '50s. In a letter to Ikea employees, Kamprad admitted that he once had sympathies for the far-right leader and called it "a part of my life which I bitterly regret."
In a 1998 book, he detailed his struggles with alcohol and wrote about his youthful "delusions," saying he had been influenced as a child by his German grandmother's strong support for Hitler. His paternal grandparents emigrated to Sweden in the 1890s.
"Now I have told all I can," he said at a book release ceremony at an Ikea store in suburban Stockholm. "Can one ever get forgiveness for such stupidity?"
Reporters also found that Kamprad's descriptions of his frugal nature weren't always what they seemed — he drove a Porsche in addition to his Volvo and also lived in a villa overlooking Lake Geneva, according to the New York Times.
His low-priced flights and meals, however, were meant to serve as an example to Ikea executives and to exemplify the company's ethos.
Kamprad had an estimated net worth of $58.7 billion, according to the Bloomberg Billionaires Index, making him the world's eighth-richest person.
However, Ikea officials have said that such estimates were grossly overstated by erroneously considering Ikea's assets as his own. Ikea is owned by a foundation that Kamprad created, whose statutes require profits to be reinvested in the company or donated to charity.
Even so, by any measure, Kamprad was a wealthy man. The estate inventory filed to Swedish tax authorities in 2013 said that Kamprad's personal wealth was 750 million kronor ($113 million).
That wealth reflects the immense growth and popularity of Ikea.
Entire families descended on the company's stores each week and Ikea's merchandise became ubiquitous. Shoppers drop off their children at Ikea day-care centers, dine at Ikea restaurants and select from among thousands of products ranging from leather sofas to soup ladles. In 2017, 403 Ikea stores in 49 countries received 936 million visitors, and the chain generated sales of $47.6 billion.
British style magazine Icon in 2005 named Kamprad the most influential taste-maker in the world, and wrote "if it wasn't for Ikea, most people would have no access to affordable contemporary design. The company has done more to bring about an acceptance of domestic modernity than the rest of the design world combined."
His flat-pack furniture was invented by Ikea employee Gillis Lundgren in 1956 when he tried to fit a table into the back of a car. Realizing the table was too bulky, Lundgren removed the legs. Storing and selling Billy book shelves or entire kitchens in pieces has let Ikea cut storage space and fill its trucks with more goods.
Condolences poured in Sunday from politicians, business leaders and royalty. Swedish Prime Minister Stefan Lofven said his country had lost a "unique entrepreneur who meant a lot to Sweden's business community."
Foreign Minister Margot Wallstrom said Kamprad "pre-eminently put Sweden on the world map. A fantastic entrepreneur who contributed to bringing Sweden out into the world. My thoughts are with his family and relatives."
Niklas Magnusson writes for Bloomberg.
Times staff writer Samantha Masunaga and the Associated Press contributed to this report.
---
UPDATES:
11:05 a.m.: This article was updated to include details about the Burbank Ikea.
10:55 a.m.: This article was updated to include information about Ingvar Kamprad's frugal habits and conflicting reports about his personal wealth.
9:45 a.m.: This article was updated to include information about Ikea's California expansion and Ingvar Kamprad's contacts with a Swedish fascist leader in the 1940s and 1950s.
This article was originally published at 9:25 a.m.
---
For reporting and exclusive analysis from bureau chief John Myers, get our California Politics newsletter.
You may occasionally receive promotional content from the Los Angeles Times.