Tougher payday loan rules issued by consumer protection bureau to remain in place ... for now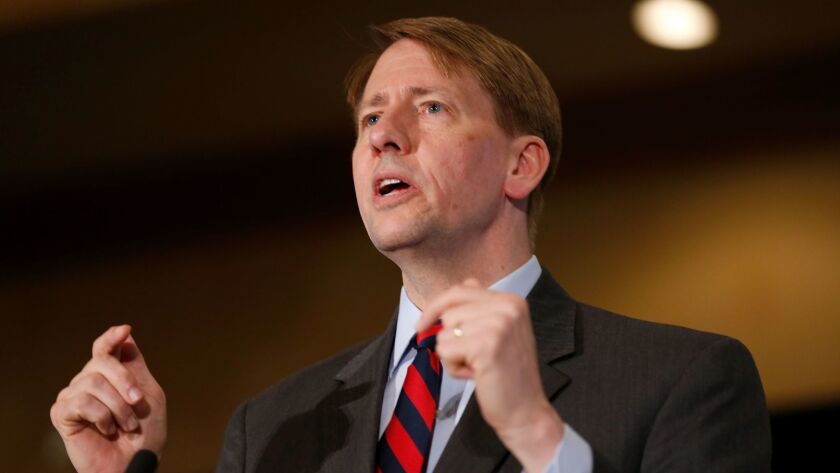 New, tough nationwide regulations on payday and other short-term loans, finalized by an Obama-era appointee who led the Consumer Financial Protection Bureau, will remain on the books at least temporarily.
A deadline for Congress to repeal them passed Wednesday with no action, consumer advocates said. But Mick Mulvaney, the bureau's acting director appointed by President Trump, has indicated he plans to reconsider the rules.
The rules, which won't take effect until August 2019, require payday lenders to determine upfront the ability of potential borrowers to repay short-term loans of 45 days or less. If the short-term loan period expires and the debt is unpaid, borrowers can face painful charges or be forced to refinance the loan, creating what consumer advocates see as a debt trap.
The centerpiece of the regulations is a test that ensures the borrower not only could afford to pay off the loan but still meet basic living expenses and major financial obligations. The rules also limit to three the number of loans that could be made in quick succession to an individual borrower. There are no caps on interest rates.
Payday lenders and many Republicans oppose the rules, which were finalized under the leadership of Richard Cordray, whose resignation as bureau director in November set off a scramble over his successor.
Also, two payday industry trade groups filed suit last month to try to block the regulations.
Lawmakers could have sought to invalidate the rules using the Congressional Review Act, which Republicans have employed to overturn several Obama-era initiatives. But the deadline for the Senate to act was Wednesday, according to Stop the Debt Trap, a coalition of consumer, civil rights and other groups that support the rules.
"Now is not the time for celebration. Now is the time to double down and stand up to Trump, Mulvaney and their predatory payday pals," said Karl Frisch, executive director of Allied Progress, a consumer watchdog group that is part of the coalition.
Shortly after becoming the consumer bureau's acting director, Mulvaney had expressed support for a congressional effort to repeal the rules. But that effort never gained momentum. A House repeal resolution drew only 44 cosponsors. A Senate version had only three cosponsors.
The bureau said in January that it intended to start a new formal rulemaking process to reconsider the regulations. That process could take months but the bureau could seek to delay the effective date of the rules to provide more time to revise them if needed.
Payday loans are allowed in California and 34 other states. The rest prohibit them.
An estimated 12 million Americans take out payday loans each year from websites and about 16,000 storefront locations. The loans typically are cash advances on a worker's paycheck for two to four weeks and carry a flat 15% fee or an interest rate that doesn't seem particularly high.
But costs can quickly add up if the loan isn't paid off, and the effective annual interest rate is actually 300% or more, the bureau said when it announced the regulations in October.
The Associated Press contributed to this report.
Twitter: @JimPuzzanghera
---
Your guide to our new economic reality.
Get our free business newsletter for insights and tips for getting by.
You may occasionally receive promotional content from the Los Angeles Times.