OxyContin maker Purdue is exploring bankruptcy, reports say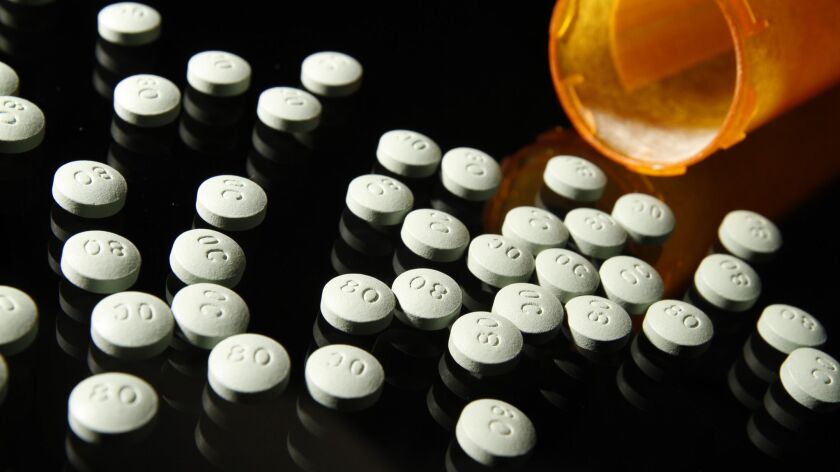 Bloomberg
OxyContin maker Purdue Pharma is preparing for a possible bankruptcy filing as it faces hundreds of lawsuits over its role in the U.S. opioid epidemic, Reuters and the Wall Street Journal reported Monday.
The drugmaker has hired advisors to prepare for a potential filing, the Journal said, citing people familiar with the matter. Bankruptcy would let the company negotiate claims with some of the more than 1,500 cities, states, local governments and other entities that have sued Purdue and other health companies over their roles in the opioid epidemic.
Purdue spokesman Robert Josephson declined to comment on the reports.
"We are, however, committed to ensuring that our business remains strong and sustainable," Josephson said in an email. "We have ample liquidity and remain committed to meeting our obligations to the patients who benefit from our medicines, our suppliers and other business partners."
The lawsuits against drugmakers and distributors have opened up the potential for billions of dollars in liabilities as governments grapple with mounting human and financial costs of the opioid epidemic.
TIMES INVESTIGATION: 'You want a description of hell?' Oxycontin's 12-hour problem »
More than 700,000 people in the United States died from drug overdoses from 1999 to 2017, according to the Centers for Disease Control and Prevention, and more than two-thirds of those were opioid-related. While the epidemic of addiction and death began with prescription pills marketed by Purdue and other drug companies, it has shifted to include heroin and synthetic compounds like fentanyl.
Purdue and other drugmakers have said they didn't act improperly in marketing their medicines.
Shares of other companies named in the lawsuits fell after the reports. Drugmaker Endo International dived 17% on Monday, and Mallinckrodt fell 6.7%. Drug distributors AmerisourceBergen Corp., Cardinal Health Corp. and McKesson Corp. also fell.
READ OUR 2016 INVESTIGATION
How black-market OxyContin spurred a town's descent into crime, addiction and heartbreak
His next pill: An OxyContin user's journey from pain relief to obsession and addiction
Purdue Pharma issues statement on OxyContin report; L.A. Times responds
---
Your guide to our new economic reality.
Get our free business newsletter for insights and tips for getting by.
You may occasionally receive promotional content from the Los Angeles Times.