SpaceX CEO Elon Musk suggests rival hired official in return for deal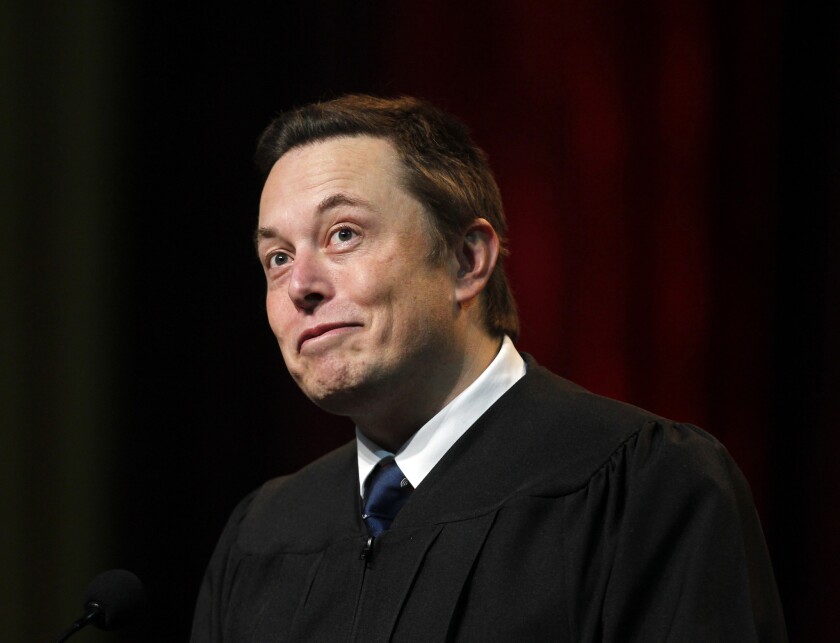 Elon Musk, chief executive of Space Exploration Technologies Corp., went on Twitter to suggest that his competitors hired an Air Force official in return for a big contract.
The 42-year-old billionaire didn't offer backup for his accusations against Roger S. Correll, the former Air Force program officer hired by Aerojet Rocketdyne, a unit of GenCorp Inc. Rocketdyne, which supplies rocket engines to United Launch Alliance, dismissed Musk's allegations.
Musk's company, known as SpaceX and based in Hawthorne, sued the Air Force last month, accusing the service of creating an illegal monopoly. Musk wants a piece of the $67.6-billion Pentagon satellite-launch market. United Launch Alliance, a joint venture of Lockheed Martin Corp., based in Bethesda, Md., and Boeing Co., based in Chicago, has a lock on that work.
In a tweet Thursday, Musk wrote, "V likely AF official Correll was told by ULA/Rocketdyne that a rich VP job was his if he gave them a sole source contract."
In a subsequent tweet, Musk wrote: "Reason I believe this is likely is that Correll first tried to work at SpaceX, but we turned him down. Our competitor, it seems, did not."
Glenn Mahone, a spokesman for Aerojet Rocketdyne, said Musk's allegations are "completely without merit."
"We're confident of the process that we followed in hiring Mr. Correll," he said in a phone interview.
Correll received "the necessary clearances and approvals" from the Defense Department, Mahone said. "His duties and actions on behalf of Aerojet Rocketdyne are consistent with those clearances and approvals."
The Air Force "cannot comment on ongoing litigation, since the Space X lawsuit was amended to include Mr. Correll's employment," Maj. Eric Badger, a spokesman for the service, said in an email.
United Launch Alliance didn't address the Twitter postings. The company is "the only government certified launch provider" that meets the Air Force requirements "critical to supporting our troops and keeping our country safe," spokeswoman Jessica Rye said in a statement.
SpaceX didn't back off Musk's comments. "The tweets speak for themselves," said John Taylor, a spokesman. He declined to comment further.
Musk, who's also CEO of Tesla Motors Inc., has a long history of jabbing at those in his way. In recent months, he has thrown barbs at another space competitor, Orbital Sciences Corp., and New Jersey Gov. Chris Christie.
Musk's comments are "an accusation of criminal conduct against a company and the Air Force official," said Steven Lieberman, a partner who handles 1st Amendment issues at the law firm of Rothwell, Figg, Ernst & Manbeck in Washington.
"He may be forced to put up or shut up — or put up or retract," if Musk is sued over his Twitter postings, Lieberman said.
Correll's job change comes at a time when the relationship between the military and United Launch Alliance is under scrutiny.
Correll was the Air Force program executive officer for space launch from 2011 to January 2014, according to his LinkedIn profile. In May, he joined GenCorp's Rocketdyne, based in Rancho Cordova, Calif., as vice president for government acquisition and policy.
Such trips through the "revolving door" between government and the industries it regulates aren't unusual, said Kenneth Gross, a partner in the Washington office of law firm Skadden, Arps, Slate, Meagher & Flom.
In his new job Correll would face restrictions on his dealings with the Air Force because of federal laws addressing the revolving door, Gross said.
In a court filing Monday, SpaceX cited a report about Correll's new "senior position" published by the National Legal and Policy Center, an organization based in Falls Church, Va., that supports reducing the size of government.
The center's article doesn't go as far as Musk went on Twitter. In his series of postings, Musk also wrote that the case deserves "close examination" by the Defense Department inspector general.
Arizona Sen. John McCain, the top Republican on the Homeland Security and Governmental Affairs investigations subcommittee, already has asked the Pentagon inspector general to look into the military-satellite launch program.
Like Musk, McCain has questioned the Air Force's decision last year to buy 36 rocket cores from United Launch Alliance without competition.
---
Your guide to our new economic reality.
Get our free business newsletter for insights and tips for getting by.
You may occasionally receive promotional content from the Los Angeles Times.