SEC investigates fund managed by Pimco 'bond king' Bill Gross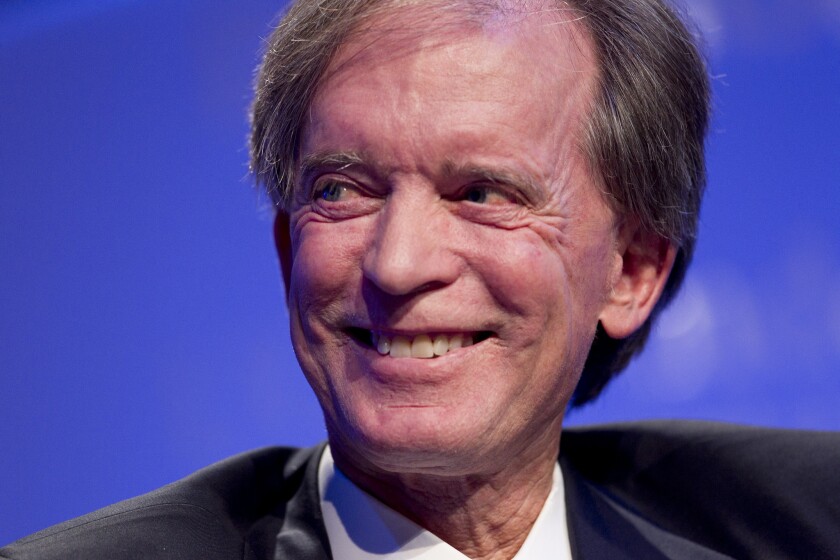 A federal investigation of Pacific Investment Management Co. is the latest crack in the armor of the $2-trillion fund giant, where a trustee recently questioned the $200-million salary, "bullying" behavior and "mediocre" recent performance of co-founder Bill Gross.
Word of the Securities and Exchange Commission inquiry follows a series of setbacks for Pimco, including the abrupt departure of Gross' heir apparent, Mohamed El-Erian, reports of clashes between the two, and an outflow of more than $65 billion in funds from Gross' signature Total Return Fund.
Pimco said it is cooperating with the SEC examination into whether the company exaggerated the value of bond holdings, boosting results at a retail exchange-traded fund set up to mirror the investment style of the Total Return Fund, whose clients were giant institutional investors.
The Total Return Fund is the world's largest bond mutual fund, a staple of 401(k) and other retirement plans across the nation with $221.6 billion in assets at the end of August.
The $3.6-billion Total Return Fund ETF reported investment gains of 8.7% from March through August 2012, its first six months of existence. That compared with a gain of 5.2% for the Total Return Fund it emulated, which at the time was growing rapidly and exceeded $270 billion in assets.
The Newport Beach company, which Gross co-founded in 1971, denied any wrongdoing.
"We take our regulatory obligations and responsibilities to our clients very seriously," it said in a statement. "We believe our pricing procedures are entirely appropriate and in keeping with industry best practices."
Pimco declined to comment further on the SEC investigation. A spokesman for the SEC in Washington declined to comment.
A person close to the case, speaking on condition of anonymity because of the sensitivity of the matter, told The Times that investigators from several SEC offices around the country have been working on the case.
The probe was first reported by the Wall Street Journal, which quoted unidentified sources as saying the SEC has been investigating for at least a year, has recently been interviewing Pimco executives, and spent more than a day questioning the 70-year-old Gross.
Reports that high-profile clashes with Gross had led to El-Erian's departure, and that Gross had monitored El-Erian's telephone conversations, led a longtime trustee on the board overseeing the Pimco funds to criticize Gross in an interview this March with The Times.
A midsummer Pimco regulatory filing said the trustee, William J. Popejoy, had resigned from the board. Popejoy's attorney said that was inaccurate, although he declined to elaborate on Popejoy's version of events.
Follow @ScottReckard for news about banks and mortgages
---
Your guide to our new economic reality.
Get our free business newsletter for insights and tips for getting by.
You may occasionally receive promotional content from the Los Angeles Times.