SEC to ease burden on companies that violate securities laws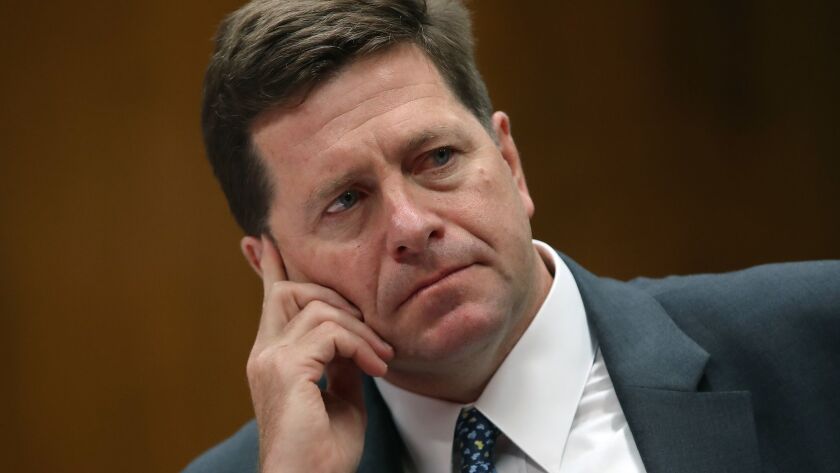 Financial Times
Companies that violate securities laws will be given quicker access to waivers they need to lift restrictions on raising money, the chairman of the Securities and Exchange Commission indicated Wednesday.
U.S. securities laws include a variety of automatic penalties that kick in when the SEC imposes certain punishments in fraud cases or requires a company to hire an independent compliance consultant. The restrictions can include stripping companies of the right to raise money from the public without having to issue a new prospectus or removing legal protections for statements they make about their future prospects.
But SEC Chairman Jay Clayton said in a statement that in the future he expected the SEC to consider granting waivers alongside settlements that typically trigger the restrictions. Previously, the securities regulator had largely treated the two separately.
Clayton said the shift would "honor substance over form," arguing the effect of the previous approach was to "substantially complicate and lengthen the negotiating process" when the SEC sought to recover money for investors and punish wrongdoing.
Waivers drew controversy after the financial crisis as it emerged that the Obama administration was granting repeated reprieves to big banks despite multiple settlements involving violations of securities laws.
Kara Stein, a former Democratic commissioner, was a fierce critic of waivers until her departure from the SEC this year.
Last month, Och-Ziff, the asset manager, was issued a waiver for automatic penalties imposed after its 2016 foreign bribery settlement with the SEC, which had curbed its ability to raise money for its hedge funds. Bloomberg first reported the waiver Tuesday.
Doug Davison, a partner at Linklaters who previously worked in the SEC's enforcement division, said the shift announced by Clayton would give companies more clarity in their negotiations with the SEC.
"It allows the parties to connect the settlement offer with whatever potential administrative collateral consequences may be triggered," he said.
© The Financial Times Ltd. 2019. All Rights Reserved. FT and Financial Times are trademarks of the Financial Times Ltd. Not to be redistributed, copied or modified in any way.
---
Must-read stories from the L.A. Times
Get the day's top news with our Today's Headlines newsletter, sent every weekday morning.
You may occasionally receive promotional content from the Los Angeles Times.