Tech leaders lash out at government's electronic spying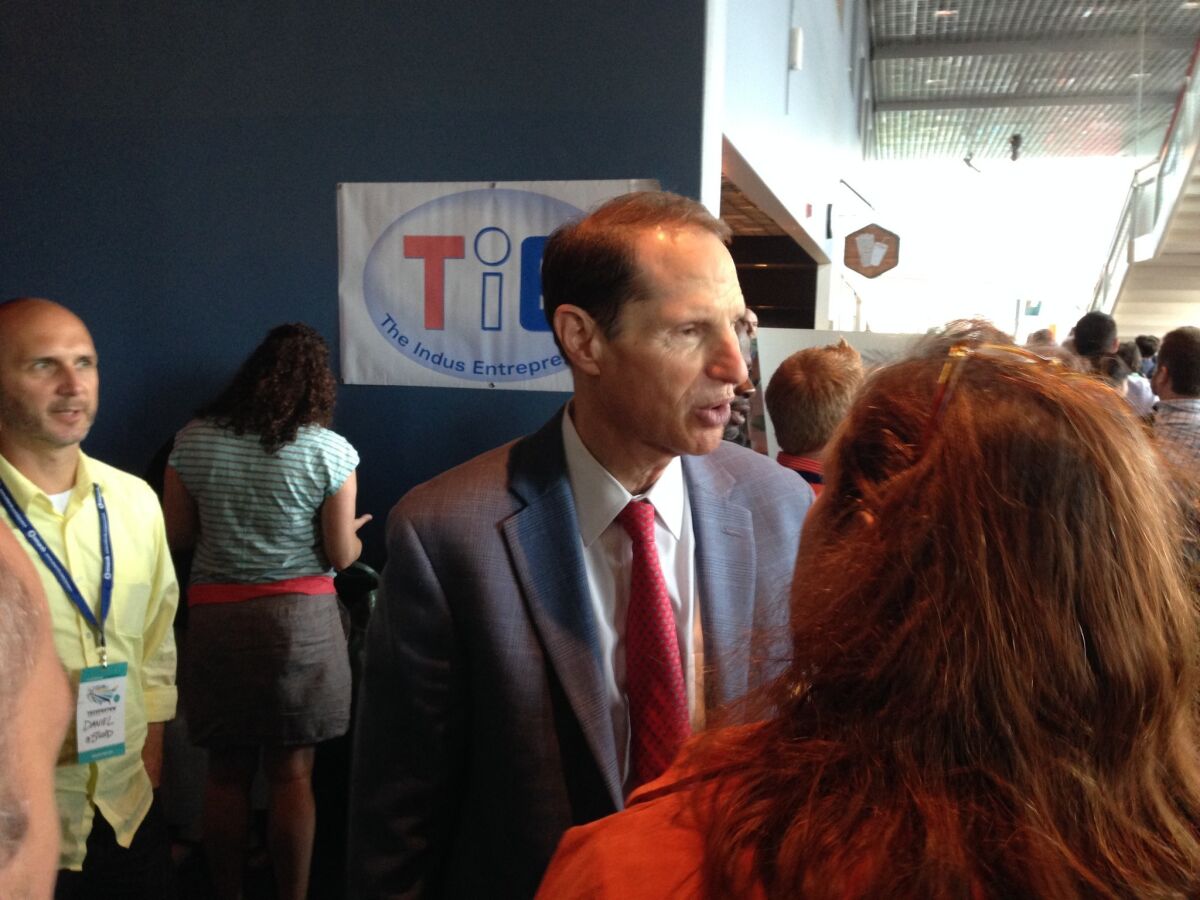 Reporting from cupertino, calif. —
Government spying on electronic communications has outraged Internet users and now threatens to harm technology firms' ability to do business internationally, tech leaders said during a roundtable discussion.
Executives from Facebook, Google, Microsoft and Dropbox attended the discussion with Sen. Ron Wyden (D-Ore.), held in the gymnasium of Palo Alto High School on Wednesday.
Wyden, who sits on the U.S. Senate Select Committee on Intelligence, called the meeting to discuss how U.S. mass surveillance programs — exposed last year by Edward Snowden — have challenged tech innovation and global competitiveness.
"It's clear the global community of Internet users doesn't like to be caught up in the American surveillance dragnet," Wyden said. "They've embraced technology, but they don't like it turned against them in a way that doesn't increase anyone's security.... In my view, our policy is out of whack."
Government spying has been a prickly issue among Silicon Valley's biggest tech firms, and the panelists didn't hold back their frustrations in the post-Snowden era, including the economic effect of NSA spying on the tech sector.
"What occurred was a loss of trust between America and other countries," Google Chairman Eric Schmidt said. "It's making it very difficult for American firms to do business."
Tech leaders said they feared being shut out of the Internet economy if foreign countries, suspicious of the U.S. government's actions, opt for "data localization," meaning they would mandate that their citizens' data be stored within their own countries.
Such a move would cripple U.S. tech firms used to operating on a global scale. A shutout by European countries in particular would have enormous consequences for Silicon Valley, they said.
Colin Stretch, Facebook's general counsel, said data localization is "fundamentally at odds with the way the Internet is architected" and would mean slower and less efficient servers because companies wouldn't be able to take advantage of cloud-based storage systems.
"More access points around the world make it harder for your network to be secure, so it makes us more vulnerable, not less," Stretch said. "Data localization takes us exactly in the wrong direction."
During the hourlong discussion, the tech companies stressed that they had been willing to comply with the government when it was making legal requests and going through traditional judicial channels to access their data. But the revelations of widespread spying angered them and was an overreach of authority, they said, and now the companies are working to encrypt their data to prevent future abuses from occurring.
They'd also like to see the government get more involved in rebuilding trust with Americans and foreign countries.
Ramsey Homsany, general counsel of Dropbox, said the government needs to show that the U.S. is a country that respects privacy, especially because people share personal information — photos, life plans, medical records — online.
"We have built this incredible economic engine in this region of the country…and [mistrust] is the one thing that starts to rot it from the inside out," he said. "Not to use dramatic language, but I think it is that serious, and I think we really need to see the government also doing its part to help lead on that issue."
The issue of government surveillance has been a hot topic in Silicon Valley, and companies have aggressively pushed for better safeguards of their users' private information and for more transparency about data requests.
A day before the roundtable discussion, Twitter Inc. filed suit against the Department of Justice and the FBI, saying it was being unconstitutionally prohibited from revealing the scope of government surveillance of its users.
Twitter hopes to be able to publish a "full transparency" report, which details the kind and number of national security letters and Foreign Intelligence Surveillance Act court orders the company has received from the government.
Twitter: @byandreachang
Sign up for the California Politics newsletter to get exclusive analysis from our reporters.
You may occasionally receive promotional content from the Los Angeles Times.