A winter with above-average snowfall brought a flurry of skiers and snowboarders to the slopes of California and Nevada even though prices increased significantly.
Approximately 7.3 million skiers and snowboarders hit the slopes this season at resorts in California and Nevada, a 17% increase over the previous year, according to preliminary numbers from Ski California, the nonprofit trade group for the states' ski resorts.

The powder hounds were drawn to the slopes by a ski season — October to March — that buried the two western states with snowfall that was 47% above the averages for the previous 16 season, according to Ski California.
The average snowfall at California and Nevada resorts was 37.5 feet this ski season, compared with 25 feet last season, according to Ski California.
All of this came as good news for the $3-billion industry, which has struggled with the effects of a seven-year drought but has begun to enjoy extra-wet winters in the last few years.
"You know it's a good year when you look up at the mountain and can't tell if it's January or May," said Joani Lynch, vice president of marketing and sales at Mammoth Mountain, the state's most popular resort. "We had some endless mid-season storm cycles. For good stretches of the season, we had better conditions than just about anywhere in North America."
Lynch said Mammoth Mountain expects to keep the lifts open daily through the Fourth of July holiday weekend and possibly longer.
With business booming, ski resort operators raised lift ticket prices this season.
Daily lift ticket prices increased 12% on average over the previous year, while online prices rose 15% on average, according to an analysis by Liftopia, a website that sells lift tickets and passes for ski resorts throughout North America.
Ski industry experts and resort operators attribute the price hike to several factors, including rising operating expenses and the continuing consolidation in the ski industry.
The 7.3-million visitation total even surpassed the total for the 2016-17 season, when California ski resorts had so much snow that one resort toyed with the idea of staying open throughout summer and into the next winter. About 7 million skiers hit the slopes during that snowy season.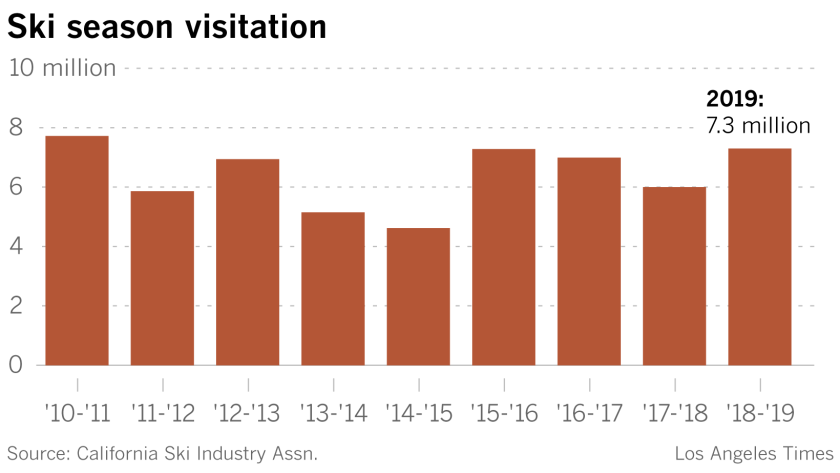 The increase in ski visitors in California and Nevada is slightly higher than the increase in ski visits nationwide. U.S. ski resorts as a whole reported 59.1 million visitors in the 2018-19 season, an 11% increase over the previous season, according to the National Ski Areas Assn.
"Snow is our greatest asset and this year was one to remember," said Kelly Pawlak, president of the trade group.
The increase at California resorts probably surpassed the national increase in visitors because the Golden State got more than the national average in snow, said Michael Reitzell, president of Ski California, noting that nine of the top 15 snowfall totals in the U.S. were at California resorts.
Mammoth Mountain reported snowfall totals in February of 38 feet at the main lodge and 57 feet at the summit.
"Business this season was definitely reflective of the tremendous snowfall we saw," said Ron Cohen, president and chief operating officer of Squaw Valley Alpine Meadows. "The season is far from over, and we are currently seeing strong spring visitation."
The resort near Lake Tahoe reported a total of 57 feet of snow in the season, according to the resort's website.
Another good sign for resort operators is that visits by skiers and snowboarders with annual passes slightly outnumbered visits by skiers with day passes, Reitzell said.
"This is a trend that has been going on for several years," he said.
One reason for the increased sale of annual passes may be the consolidation of ski resorts under the control of a few major developers. Industry experts say such consolidation allows ski resorts to push up daily lift ticket prices to encourage skiers to spend more on annual passes that give snow fans access to multiple resorts under the same ownership.
Two years ago, a partnership now called Alterra Mountain Co. acquired Mammoth Mountain, the state's most popular ski resort; June Mountain in the Sierra Nevada; and Southern California's Big Bear Mountain and Snow Summit resorts.
Reitzell said resort consolidation is making annual passes a better bargain for devoted skiers because prices have stayed relatively flat while giving skiers access to more slopes.
"Pass products are the way to go when it comes to cost effectiveness," he said.
In response to the consolidation, Reitzell said, independent resorts have begun to create partnerships with one another so they can offer skiers annual passes with access to several independent resorts.
To read more about the travel and tourism industries, follow @hugomartin on Twitter.
---