Snap won't give shareholders voting rights. For that, it's being shunned by a major stock index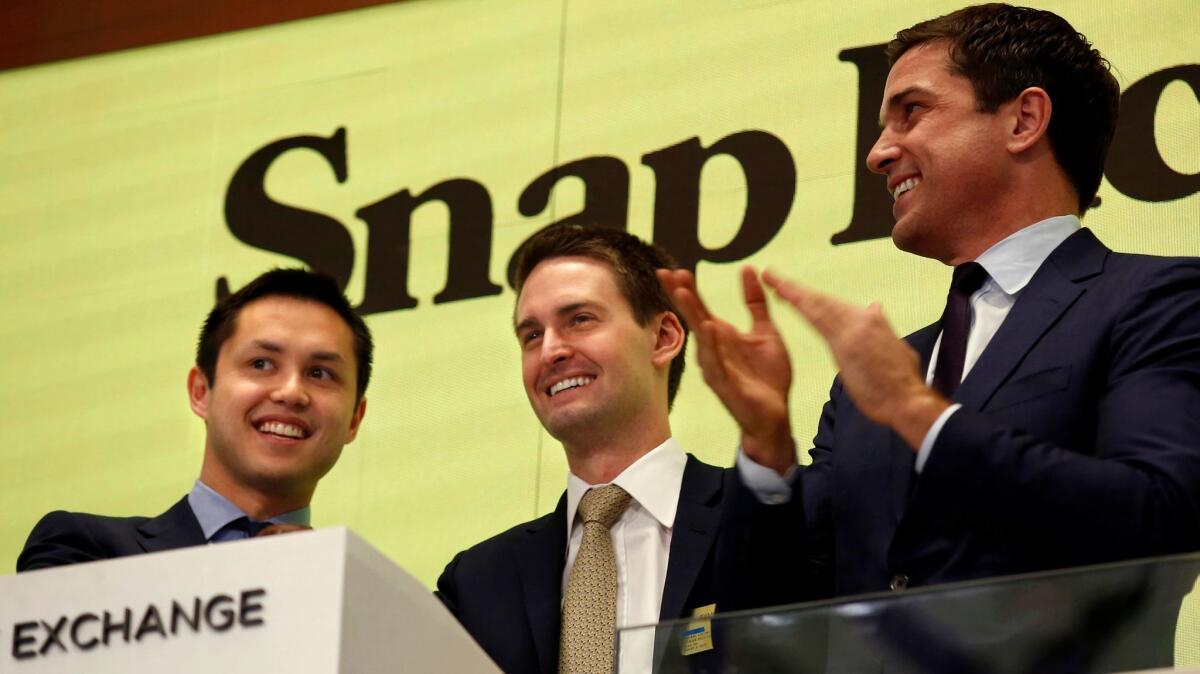 The company behind the Russell 3000 index will not include Snap Inc. stock in that or other closely watched indices after investors voiced concern over the lack of voting rights given to Snap shareholders.
The move could limit demand for Snap shares, which have steadily declined in price since the Snapchat maker's initial public offering in March.
FTSE Russell, the index manager and operator of the London Stock Exchange, said Thursday that companies that don't give ordinary shareholders at least 5% of corporate voting power will not be added to its indices.
The decision, which is expected to be finalized next month, applies to a handful of companies, including meal-kit delivery service Blue Apron. But it was motivated by Venice-based Snap and its unprecedented decision to hold an initial public offering in which it sold only nonvoting shares.
The move concentrated voting power among the firm's founders and drew the ire of some institutional investors, who said the company's structure would make it unaccountable to shareholders. Investors were concerned that, despite their objections to Snap's structure, they would be forced to buy the company's shares if Snap were included in major stock indices.
Aeisha Mastagni, an investment officer for the California State Teachers' Retirement System, said earlier this year that the pension fund would buy Snap shares if it were included on major indices — but would prefer not to. She said Thursday she supports FTSE Russell's decision.
"We're glad to see that the indexes are beginning to seriously consider the issues posed by nonvoting shares," she said. "We look forward to seeing how some of the other indexes are going to address nonvoting shares as well."
State Street Global Advisors, which has about $800 million in assets across three funds that track Russell indices, has expressed frustration with companies that limit shareholder voting rights — as well as with index managers.
Portfolio managers at State Street recently wrote that excluding companies such as Snap ruins the whole point of indices, which is to reflect the stock market. But they're also unhappy that Snap and other companies don't trust long-term shareholders enough to give them a voice.
"We believe Snap's decision to withhold all voting rights to public shareholders erodes the basic principles of shareholder rights and the ability to promote long-term value creation," concluded a State Street report.
Vanguard, the world's largest provider of mutual funds, also said it was disappointed with the exclusion even though it favors every share having a vote
"We believe companies like Snap cannot be excluded solely on the basis of voting limitations at this time," Vanguard spokesman Freddy Martino said in an email. But the firm will probably have go along with the index's decision to follow the criteria of its funds.
Snap declined to comment on FTSE Russell's decision. The company has argued that its structure provides a valuable shield from investor overreach and that a mostly independent board of directors is a sufficient check on co-founders Evan Spiegel and Bobby Murphy, Snap's chief executive and chief technology officer, respectively.
In announcing its intentions, FTSE Russell cited the results of a survey that found most investors — 68% — did not want Snap or similarly structured companies to be part of big stock indices. What's more, most investors wanted companies to be required to give shareholders even more power, with 55% of those surveyed wanting ordinary shareholders to have at least 25% of a company's votes.
Managers of other indices, including S&P Dow Jones, which manages the S&P 500, are weighing similar moves and also polling investors. If the results of their surveys are similar to FTSE Russell's, Snap shares might be excluded from stock indices that govern how more than $1 trillion in U.S. assets is invested.
Index funds that track the S&P 500 alone hold more than $800 billion in assets, according to the mutual fund trade group Investment Company Institute.
Being included on major indices can boost demand for a company's stock, as it forces purchases by index funds, which draw significant investment from individual investors and retirement plans. That Snap shares won't be included in Russell indices, and could be excluded from others, means that added demand from the increasingly large pool of index-tracking investors might not materialize.
It's just the latest bad news for the company.
Snap shares have been in a dive since the day after the IPO, falling this month below their $17 debut price. Investors remain concerned that the company's social media app isn't quickly gaining daily users and advertisers. Snap hasn't provided investors revenue forecasts, but it has warned about continued volatility in its young and evolving ad sales business.
Adding further pressure is an imminent increase in Snap shares eligible for trade. Trading restrictions on pre-IPO shareholders such as some wealthy individuals and venture capitalists lift July 31. Snap employees who hold shares through their compensation plans can begin selling Aug. 14.
Along with other expiring trading bans, Snap's number of tradable shares could increase to well over 1 billion from 230 million.
FTSE Russell said its 5% rule will affect Snap and 35 other companies that are either already listed on FTSE Russell indices or that would otherwise be eligible. That includes Hyatt Hotels Corp., Dell Technologies and Blue Apron.
Unlike Snap, those companies' shareholders have some voting power, but because insiders hold large amounts of stock with preferential voting rights, ordinary shareholders have less than the necessary 5% control.
Companies already on FTSE Russell indices will be able to stay until 2022. If ordinary shareholders don't have 5% voting power by then, those companies could be removed.
Follow me: @jrkoren
---
UPDATES:
July 28, 10:40 a.m.: This article was updated with comment from Vanguard.
This article was originally published July 27 at 4:50 p.m.