Snapchat seeks new funding that would bump value to $19 billion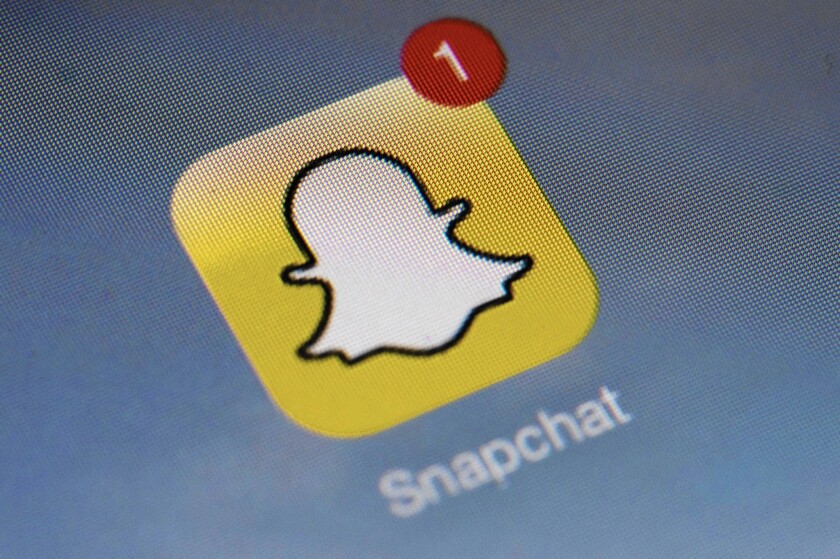 Without a lick of revenue, Snapchat reached a $10-billion valuation on the private market late last year. Now sales are trickling in, and Los Angeles' most prominent technology start-up is said to be raising more cash and charging new investors enough to nearly double its market value — to $19 billion.
Emboldened by a series of experiments over the last few months intended to prove that Snapchat is capable of capitalizing on its hundreds of millions of users, the popular app for sharing photos, videos and text is, according to media reports, seeking to raise up to $500 million and reach a $19-billion market value.
The additional capital, analysts say, would help Snapchat transform a long list of ideas into actual revenue.
Last year, Snapchat received an infusion of $485 million from a group that included the prominent venture capital firm Kleiner Perkins Caufield & Byers. That money helped fuel a big expansion for the small start-up.
Snapchat's headcount grew from about 35 a year ago to more than 200 today; the company recently opened an office in the former New York Times building near Times Square. The growing team includes not only engineers but people with film and media backgrounds to help Snapchat produce its own content to share with users and attract advertisers.
Major corporations including McDonald's and BMW are now running ads on Snapchat.
"What Snapchat has is an enormous user base, and that's extremely compelling to advertisers," said Rebecca Lieb, an analyst at consulting firm Altimeter Group. "But there's going to be constant evolution. What we're seeing is just toe-dipping into the waters of what advertising on Snapchat might look like in the future."
Led by co-founder and CEO Evan Spiegel, Snapchat distinguished itself from other communication apps at its 2011 launch by making messages between friends self-destruct after a few seconds. Users were alerted when someone tried to save a picture.
That novelty was key. Snapchat ranked as the country's fifth-most downloaded app in 2014, behind Facebook, Instagram and Pandora, according to tracking firm AppAnnie. Worldwide, Snapchat is No. 10.
Snapchat use in the U.S. has grown 44% in the last year to nearly 30 million people in January, according to Comscore, which tracks only smartphones used by adults.
Start-ups like Snapchat that continue to attract millions of new users also continue to attract rich investment, even with no profit to show. Venture capital firms are overflowing with cash to invest. Meanwhile, giant mutual funds are gravitating toward riskier venture capital investments, dropping millions into companies such as Uber, Pinterest and Dropbox and valuing each of them at a minimum of $10 billion, with ride-hailing company Uber leading the pack at a $40-billion valuation.
Mary Ritti, spokeswoman for Snapchat, declined to comment on fundraising. Bloomberg News originally reported on the latest fundraising round, citing "a person with knowledge of the matter."
Two years ago, when Spiegel rejected a $3-billion buyout offer from Facebook, critics scoffed. Though the upcoming round could value the company at more than six times that amount, skeptics remain.
Snapchat "hasn't become a predictable, high-margin profit business yet," said Dag Syrrist, a general partner at Silicon Valley venture capital firm Vision Capital. "Eventually, the economics catch up with all businesses."
The number of venture-backed technology companies valued at $1 billion on the market is now outpacing the number that reach the same figure in stock market debuts, Syrrist said. That's a worrisome trend because it's unclear whether the public market can handle all of the start-ups.
"You have to shove a 10-pound bag into a one-pound space," he said.
A larger company could buy Snapchat, but a stratospheric valuation could limit its appeal.
Advertising agencies that have worked with Snapchat are bullish that it'll become one of the companies able to squeeze through. In early advertising tests, users have to keep a finger pressed on their phones to view a full ad. Knowing that someone made a conscious decision to see it is powerful to companies, said Jeremy Simon, director of influencer and partnership marketing at Attention.
The newest Snapchat advertising vehicle arrived last month in a feature called Discover, where ads are accompanied by articles from CNN, People and the like.
"Out of the gate, we're pleased with the usage and engagement," said Tamara Franklin, executive vice president of digital at Food Network.
National Geographic is enthusiastic too.
"From Day One, we saw this as a great way to reach new young audiences and advance our mission," said Raj Mody, the magazine company's vice president of social media. "We definitely think it's showing promise."
Especially popular on the National Geographic page was a short video about a baby sloth.
"We're finding a lot of interest in animal content," Mody said.
Twitter: @peard33
---
Be your money's boss! Learn how to make a budget and take control of your finances with this eight-week newsletter course.
You may occasionally receive promotional content from the Los Angeles Times.