Aloha! Southwest Airlines to fly to Hawaii, but no flights from LAX — yet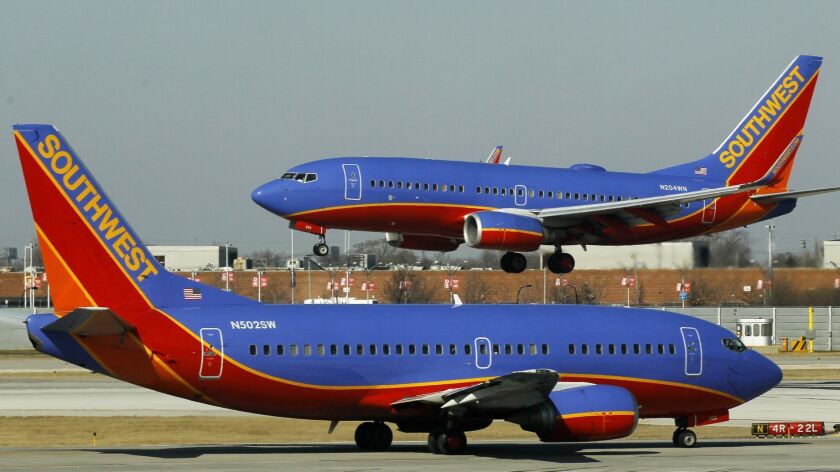 The nation's most popular domestic carrier has announced plans to fly to Hawaii from four California airports — but those initial routes do not include flights from the country's second busiest airport, Los Angeles International Airport.
At least, not yet.
Southwest Airlines said it plans to fly to four airports in the state of Hawaii in the near future from Oakland Metropolitan Airport, San Diego International Airport, Mineta San Jose International Airport and Sacramento International Airport. Ticket sales could begin this year, at the earliest.
The Dallas-based airline said it expects to soon announce other California airports where Southwest will launch service to Hawaii — possibly including LAX.
Part of the decision to launch the Hawaii service initially from Oakland, San Jose, Sacramento and San Diego is that Southwest said it can book more California travelers to Hawaii faster from those airports.
Southwest flies more passengers in and out of California each year than any other airline, thanks primarily to dominance in midsize cities including Burbank, San Diego, Oakland and San Jose.
At LAX, Southwest is the fourth-busiest airline, behind its bigger rivals, American, United and Delta airlines. But every Southwest gate at LAX is in use at near capacity and adding service to Hawaii from LAX could mean eliminating service to other popular destinations.
"These initial announcements are just the first brush strokes on a map that is yet to be painted," said Southwest spokesman Brad Hawkins.
There is good reason for the move: Demand for travel to Hawaii has been surging. The number of visitors to the island state has grown 9% in the first three months of the year, compared with the same period last year. The number of visitors from the western U.S. has grown by 13% in that same time frame, according to the Hawaii Tourism Authority.
Southwest has not been able to announce more details about its plans to fly to Hawaii because the new service first needs approval by the Federal Aviation Administration because it involves flying long-distance over the ocean. Such approval could take months.
Still, the carrier moved ahead with a limited announcement so it could alert airports, competitors and other players in the industry about its plans to fly to airports in Honolulu, Maui, Kauai and Keahole. Southwest also plans to offer flights between the islands.
"The way we plan to service Hawaii requires us to share these initial details now so that our facilities in the airports will be ready for all that we intend to offer," Southwest president, Tom Nealon, said Thursday during a community meeting in Hawaii.
To read more about the travel and tourism industries, follow @hugomartin on Twitter.
---
Must-read stories from the L.A. Times
Get the day's top news with our Today's Headlines newsletter, sent every weekday morning.
You may occasionally receive promotional content from the Los Angeles Times.