Elon Musk posts blooper reel of crashing SpaceX rockets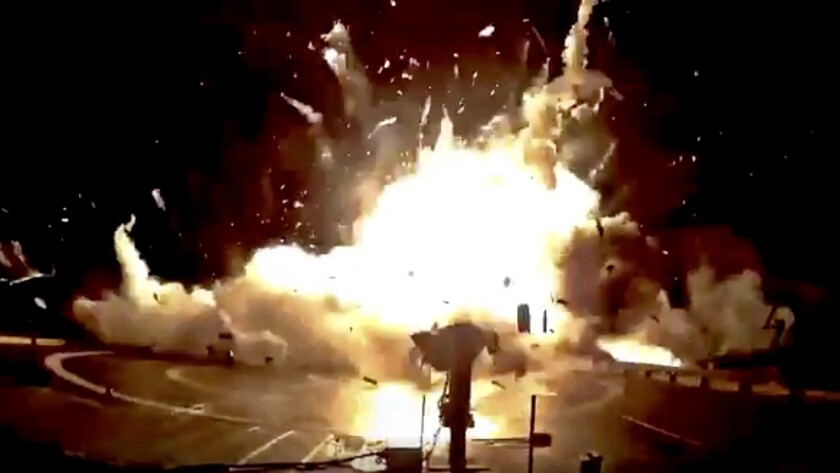 SpaceX has now made landing rockets seem somewhat routine, but it wasn't long ago that the company's attempts to bring back the first-stage booster often ended in fire.
The Hawthorne firm's chief executive, Elon Musk, tweeted out a video Thursday morning titled, "How not to land an orbital rocket booster" that shows clips from several early SpaceX landing tries and tests, starting in September 2013. It's set to John Philip Sousa's "Liberty Bell" march, best known as the theme for "Monty Python's Flying Circus."
In one video dated August 2014, the engine sensor on the F9R development vehicle fails, and the rocket flips upside down before exploding. In the next frame, pieces of the rocket rain down on the ground.
"Long road to reusability of Falcon 9 primary boost stage," Musk said in the tweet.
SpaceX has now landed 16 first-stage boosters — seven on land and nine on a floating drone ship in the ocean. The company has also launched two satellites into orbit with reused first-stages.
The company aims to decrease launch costs by using reusable rocket parts.
Musk teased the idea of the blooper reel at the end of last month, tweeting, "We messed up a lot before it finally worked, but there's some epic explosion footage."
It's unclear why Musk is now reflecting on the company's less successful tries. However, he has tried to temper expectations for the first test flight of SpaceX's massive Falcon Heavy rocket, scheduled for November.
He has described that first demonstration flight as "guaranteed to be exciting" and said that he would consider it a win if the rocket "makes it far enough away from the pad that it does not cause pad damage."
Twitter: @smasunaga
---
Your guide to our new economic reality.
Get our free business newsletter for insights and tips for getting by.
You may occasionally receive promotional content from the Los Angeles Times.