Astronaut capsule development 'will not be a losing proposition' for SpaceX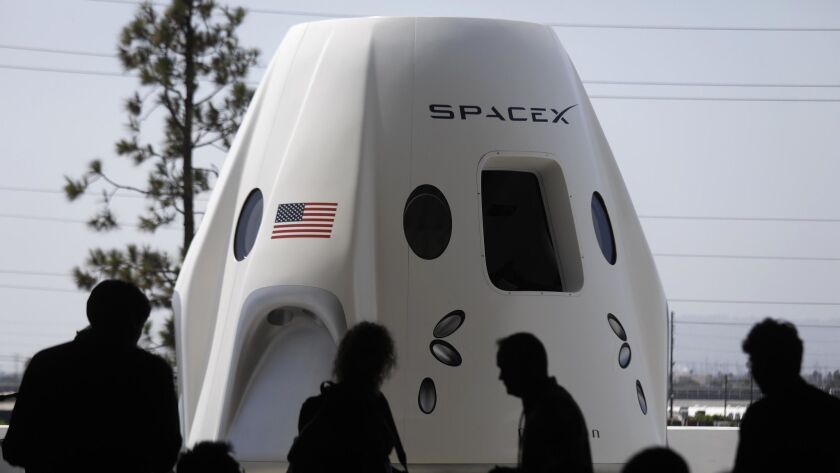 Despite delays that have pushed initial test flights months behind schedule, SpaceX President Gwynne Shotwell told reporters Monday that a NASA contract to build an astronaut transport capsule "will not be a losing proposition" for the company.
The proclamation comes as SpaceX continues to work through certification of its Crew Dragon capsule's systems and components with NASA. The company's contract is valued at up to $2.6 billion.
The capsule will make its first voyage without crew aboard in November, and a test with astronauts is expected in April.
Those dates are later than anticipated. This month, NASA announced delays again for both SpaceX and aerospace giant Boeing Co., which is developing a separate astronaut transport capsule under a NASA contract valued at up to $4.2 billion. Boeing's capsule is now expected to launch for the first time without crew in late 2018 or early 2019, with a crewed test scheduled for mid-2019.
Ahead of the November test, SpaceX is continuing to provide NASA with proof of qualification testing for the Crew Dragon capsule, intended to show it is meeting all requirements, said Benji Reed, SpaceX director of crew mission management. After that test flight, the company will continue through additional certification, including an in-flight abort test that will demonstrate how astronauts could jet away safely from the Falcon 9 rocket in case of an emergency.
Shotwell emphasized that safety was the company's "primary concern."
"We are not going to fly until we're ready to fly these folks safely," she said during a news conference at SpaceX headquarters in Hawthorne. "We want to hit all the boxes, do everything we need to do to demonstrate that this vehicle is capable of taking astronauts … as often as NASA will allow us to do so."
The company showed off a mock-up of its sleek, gumdrop-shaped capsule during a media event Monday. Inside the dome-like spacecraft, four cushioned chairs that hugged bodies like car seats were tilted upward toward a wide, electronic touch-screen that will show the capsule's progress toward the International Space Station.
Square buttons at the bottom of the screen have commands in plain English: "deorbit now," "deorbit next" or simply "break out." SpaceX said that the capsule is designed to be flown autonomously, similar to Boeing's Starliner capsule, and that the command buttons are intended to be used only in emergency situations; they're covered by a clear plastic door to prevent accidental activation.
Oval-shaped windows dot the sides of the spacecraft, which SpaceX said was designed to seat seven.
Though NASA just recently announced the crews for the SpaceX and Boeing missions, astronauts have had input into the capsule's design since the beginning of the program, SpaceX said. Astronauts have weighed in on aspects such as displays, the location of controls, seats and location, and the SpaceX-designed spacesuits that are made of leather, bleached Teflon for flame resistance and high-strength Nomex that is intended for use in high temperatures.
Robert Behnken, an Air Force colonel and veteran of two space shuttle missions, said he and Doug Hurley, a Marine colonel who piloted two space shuttle missions, have worn the SpaceX spacesuit 20 to 30 times. Behnken and Hurley are set to be the first crew to fly in a SpaceX test flight.
Behnken compared NASA's commercial crew program to his prior experience in flight testing.
"It always was some sort of a partnership," he said during Monday's news conference. "In terms of providing feedback and recognizing that there are operators that will be inside the vehicle … being able to communicate that effectively and advocate for the things we'll need inside a spacecraft is something SpaceX has provided an opportunity, just as Boeing did, for us to do in that role as these vehicles come together."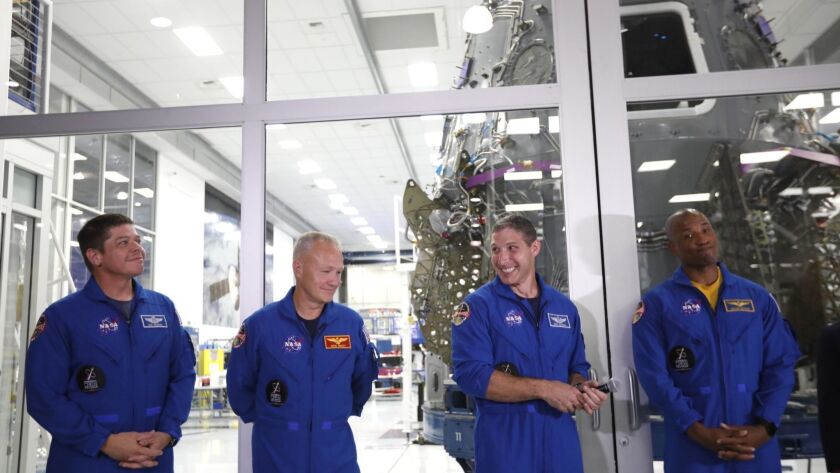 Put more simply, "there's been a whole lot of blue suits walking in and out of this place," said Garrett Reisman, SpaceX's senior adviser for human spaceflight.
"You really don't want just one astronaut's opinion," he said. "You want to get data input from as much of the user community as you can."
Twitter: @smasunaga
---
Your guide to our clean energy future
Get our Boiling Point newsletter for the latest on the power sector, water wars and more — and what they mean for California.
You may occasionally receive promotional content from the Los Angeles Times.