Aviation support company plans 830 layoffs at LAX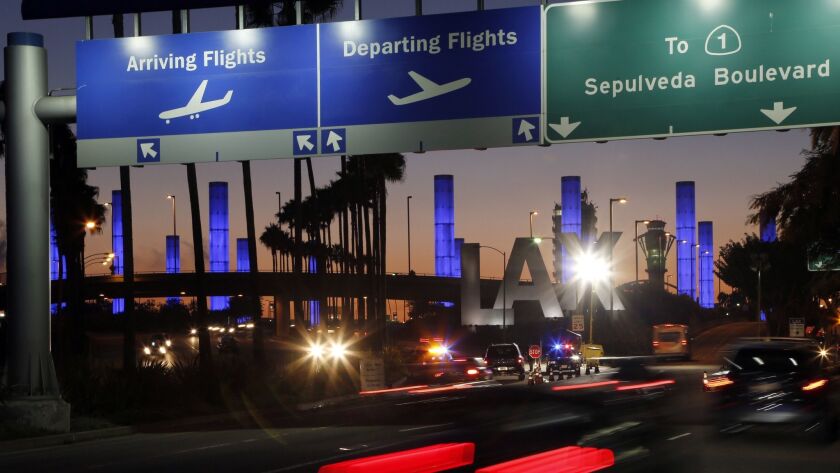 Despite surging demand for air travel, a Swiss aviation service company is cutting 830 jobs and ending all of its ground handling and transportation services at Los Angeles International Airport, citing "market conditions."
Swissport, which provides baggage handling, cabin cleaning and other services to large carriers when they are on the LAX tarmac, said in a statement Tuesday that it plans to lay off the workers because it is ending such ground handling services, focusing instead on cargo handling and fueling services. Among Swissport's customers are Air China, Air Canada, Emirates and Lufthansa.
But airport officials and union leaders say many of the employees that Swissport plans to lay off, effective Sept. 21, are likely to be hired, at least temporarily, by the companies that will replace Swissport at LAX.
Swissport officials were not available for an interview to explain the layoffs, but Frank Mena, chief operating officer for ground handling at Swissport USA, issued a statement saying the company is cutting LAX services "as part of a strategic review of the profitability of our global business portfolio."
Swissport will continue to handle cargo and fuel services for 20 airlines at the airport, a representative for Swissport said.
When discussing the plans for layoffs with the International Assn. of Machinists and Aerospace Workers, which represents most of the workers, Swissport leaders partly blamed the job cuts on higher salaries that the company must pay under the airport's living wage ordinance, said Sal Vasquez, president of the LAX lodge for the union.
"We are upset about how abrupt this was," he said of the layoffs.
A living wage ordinance adopted by the city of Los Angeles raised the hourly wage for workers at LAX from $12.08, plus health benefits, to $13.75, effective July 1. Employers with 26 or more workers must pay at least $13.25 an hour in Los Angeles city and county.
Still, Vasquez said labor laws require that the companies that replace Swissport hire, at least temporarily, the Swissport workers who are scheduled to be laid off.
Already, four aviation service companies have begun negotiations with airlines at LAX to take over the services being abandoned by Swissport, said Keith Wilschetz, the airport's deputy executive director of operations and emergency management.
"I can't say that every one of those workers will have jobs, but many will be picked up by other firms," he said.
Wilschetz said he was unsure why Swissport was cutting its operations, adding that he has heard of no other contractor at the airport that is planning such dramatic reductions.
State law requires that companies with more than 75 full-time and part-time employees notify workers and the state at least 60 days in advance of a mass layoff.
In a July 17 notice to the California Employment Development Department, Swissport said it was cutting 380 baggage handler jobs, 182 passenger service positions and 132 cleaning agents, among others. The letter said: "The layoff is due to the market conditions in Los Angeles," without further elaboration.
The announcement comes as LAX, the nation's second-busiest airport, continues to surge in total passengers served and overall size. Since the end of the recession in 2009, the number of passengers served at LAX has grown by 50%, while the number of takeoffs and landings has jumped 28% in the same period.
As part of a $14-billion expansion and modernization program, the airport broke ground last year on a $1.6-billion midfield passenger terminal that will add a dozen gates to handle the continued growth at the airport.
The growth in demand for air travel across the country is fueled primarily by a healthy economy, strong consumer confidence and relatively low air fares, thanks to low fuel costs, according to travel industry experts.
To read more about the travel and tourism industries, follow @hugomartin on Twitter.
---
Your guide to our new economic reality.
Get our free business newsletter for insights and tips for getting by.
You may occasionally receive promotional content from the Los Angeles Times.