Canadian developer in deal to purchase L.A. Times building
Canadian developer Onni Group has entered into a preliminary agreement to buy the landmark Los Angeles Times building near City Hall with an eye toward redeveloping the property into modern offices and retail, according to a person familiar with the deal.
The acquisition of Times Mirror Square would be a significant gain for the Vancouver company, which has been on an acquisition spree in downtown Los Angeles, where it owns at least eight properties – including offices, apartments and an extended-stay hotel.
Tribune Media announced the sales agreement in a news release last month but did not disclose the buyer or the price. A downtown real estate expert valued the roughly 750,000-square-foot complex at more than $100 million.
The deal with Onni could still fall apart. A previous agreement to sell the property collapsed earlier this year, Tribune Media said.
However, Onni has progressed further in the sales process than the previous potential buyer, which was another investment group, the person said.
A spokesperson for Tribune Media, which owns the Los Angeles Times building at 202 W. 1st St., declined to comment. Dan Bell of Onni's acquisitions group also declined to comment, as did Stephen Somer of Eastdil Secured, who is representing Tribune Media.
Onni has been increasingly active in downtown Los Angeles. It's working on a high-rise residential tower near the corner of 8th and Hill streets. And last year it opened Level DTLA, a 33-story extended-stay building with fully furnished apartments at 888 S. Olive St. – a project valued at $200 million.
Onni also owns a Beaux Arts loft building on 8th Street, a 1926 office tower on 9th Street and three more modern office buildings in the area. This spring, the company acquired the Western Pacific Building near the corner of 11th Street and Broadway – an area awash in development.
"They are really big believers in the future of downtown," said Justin Weiss, a senior associate with real estate brokerage Kennedy Wilson, who has not represented the company in a deal.
Onni was named for founder Inno De Cotiis, whose first name spelled backward is Onni. The family-owned company started developing in Canada and now has offices in Phoenix, Los Angeles, Chicago and Mexico.
It has built more than 6,000 residences in North America over the last decade and owns and manages 6.5 million square feet of commercial space and more than 4,600 apartments, according to its website.
The person familiar with the Los Angeles Times deal said Onni is interested in redeveloping the property at 202 W. 1st St. into a collection of modern offices, retail and possibly some residential units.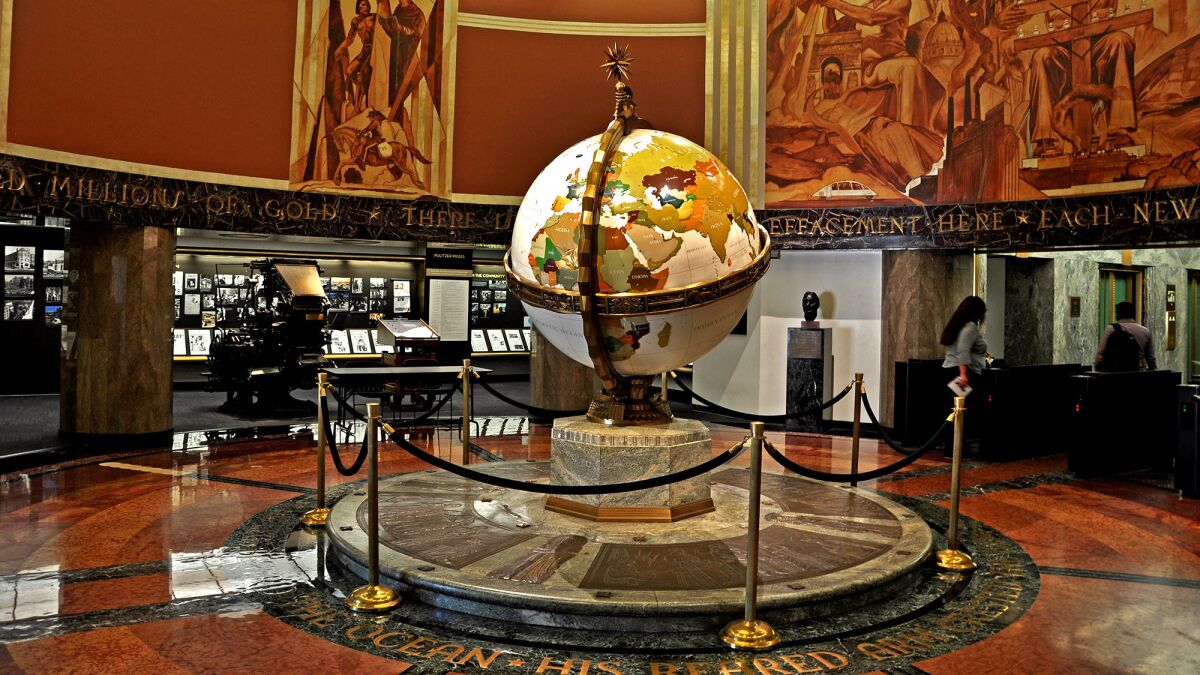 In addition to The Times, the building is also routinely used for television and movie filming and is rented out to other tenants.
Although the Los Angeles Times building is located in an increasingly popular city center, the layout of the property presents complexities for any revamp. It is a mix of five interconnected structures built between the 1930s and the 1970s.
The buildings stretch an entire city block, bounded by Broadway and Spring, 1st and 2nd streets
"The biggest single challenge to the building is the depth," said Hal Bastian, a downtown L.A. development consultant. "Deep in the bowels there are spaces that have no natural light whatsoever. How do you make that a pleasant work environment?"
Still, a redevelopment is possible and could bring needed vitality and retail options to the Civic Center, Bastian said.
After a sale, it's unclear if the Los Angeles Times would stay in the building it has called home since the 1930s. The newspaper has a lease until 2018, with two consecutive five-year options beyond that, said a person familiar with the terms.
In 2014, Tribune Co. spun off the Los Angeles Times, Chicago Tribune and other newspapers into a separate company, Tribune Publishing. Tribune Co., which was renamed Tribune Media, retained the Los Angeles Times building and other real estate.
Tribune Media is also looking to sell the L.A. Times' downtown printing facility off Olympic Boulevard. A buyer has agreed to purchase that property as well, according to Tribune's news release.
Follow me @khouriandrew on Twitter
---
Sign up for the California Politics newsletter to get exclusive analysis from our reporters.
You may occasionally receive promotional content from the Los Angeles Times.