More states join lawsuit opposing T-Mobile's deal to buy Sprint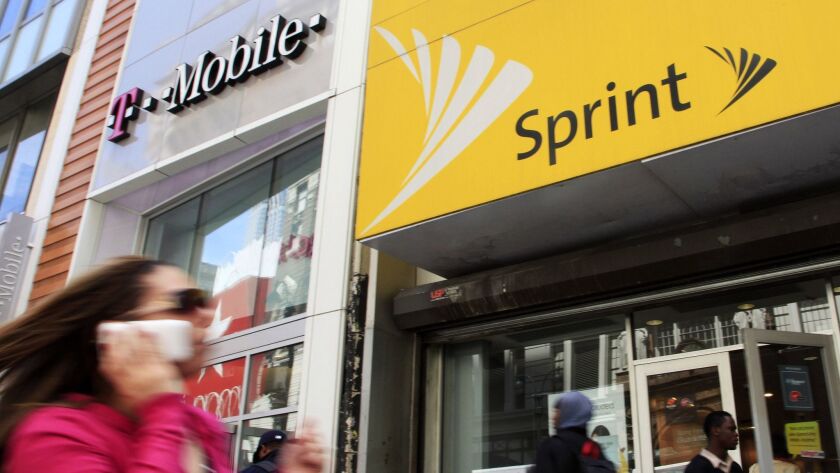 T-Mobile US Inc.'s deal to acquire Sprint Corp. drew additional opposition from states as four more attorneys general joined a lawsuit seeking to block the merger of the wireless carriers.
The attorneys general of Massachusetts, Hawaii, Minnesota and Nevada are signing on to the complaint, a lawyer for New York said Friday at a court hearing. That brings the total to 13 states and the District of Columbia.
Sprint shares slid 7.2% to $6.87. T-Mobile shares fell 2.9% to $75.70.
The states took the rare step last week of suing to block the merger before the Justice Department's antitrust division comes to a decision on the deal. The companies are trying to win the department's approval by selling assets to Dish Network Corp. with the goal of enabling Dish to become a new wireless competitor.
"The elephant not in the room is the Justice Department," U.S. District Judge Victor Marrero said at Friday's hearing in Manhattan. The department's decision "may affect what is on the table and how long it will take to address the issues," said the judge, who ordered the trial to begin Oct. 7.
Sprint's lawyer Steven Sunshine said the department's decision on the tie-up is "likely to be imminent."
Glenn Pomerantz, a lawyer for California, said he believes it's possible — though unlikely — that the Justice Department could join the lawsuit if it doesn't reach an agreement with the companies. George Cary, a lawyer for T-Mobile, told the judge he believes it's "very unlikely" that the Justice Department would intervene in the case.
"This transaction, without regard to what happens with the Justice Department, is pro-competition," Cary said. He said the deal would enable the two smaller companies "to go head-to-head with the industry leaders."
The state group — led by California Atty. Gen. Xavier Becerra and his New York counterpart, Letitia James — sued T-Mobile and Sprint in New York last week, arguing the tie-up of the United States' No. 3 and No. 4 wireless carriers would harm competition and lead to higher prices.
"The proposed merger would give the new company the power to raise prices, significantly reduce competition for customers, lower quality, and cost thousands of retail workers their jobs," Massachusetts Atty. Gen. Maura Healey said in a statement.
---
For reporting and exclusive analysis from bureau chief John Myers, get our California Politics newsletter.
You may occasionally receive promotional content from the Los Angeles Times.