Investors ask: Will Snap Inc. become Facebook — or Twitter?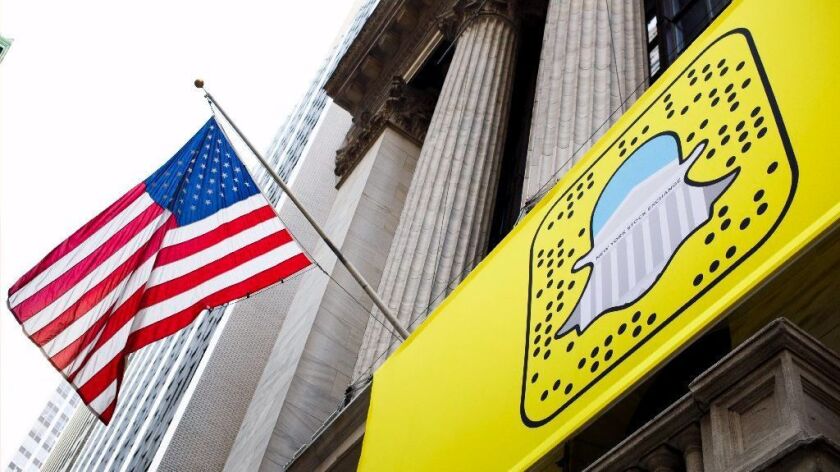 Is Snap Inc. the next Facebook or the next Twitter?
That's the question that lingers as the company behind one of the hottest tech IPOs in recent years continues to search for momentum ahead of its third-quarter earnings report Tuesday.
On one hand, Snap has been lauded for winning over tough-to-reach young users and continuing to unveil innovative features such as augmented reality Bitmoji lenses and Snap Maps, which allows users to keep track of friends and breaking news from across the world.
On the other hand, the social media company can't seem to drive up its user base fast enough to generate the advertising revenue it needs to impress investors.
It doesn't help either that Facebook's Instagram and WhatsApp consistently replicate Snap's technology, preventing marketers from dedicating more of their ad budgets to the Venice-based firm and its disappearing-video app.
The challenge facing Snap is reflected in its share price, which hasn't matched its IPO price of $17 since early July. And despite modest gains the last three months, Snap shares are still down about 45% from their all-time high of $27.09, reached the day after the March 2 public offering. Shares closed Monday at $14.83.
It may be too early to tell whether Snap is a niche brand like Twitter — which has seen its user growth stagnate after it reached 300 million monthly active users in 2015 — or a ubiquitous tool like Facebook, which has enjoyed soaring ad revenue and counts 16% of the world's population as monthly active users. But the question is now being raised by analysts as a way to explain Snap's sluggish performance.
James Cakmak, an analyst for Monness, Crespi, Hardt & Co., suggested in a research note to clients that grading Snap's success on user growth may be misguided.
Instead, expectations should be lowered. Snap can expect reasonable success catering to its core users and serving as a credible alternative to Google and Facebook, which together command about 60% of the U.S. digital advertising market, according to research firm EMarketer.
"What's best for these niche platforms, in our opinion, is to fully embrace they are niche platforms and to give up on the monthly active user story," Cakmak wrote. "It's better to maximize and extract the most value from the most engaged users rather than to try to be everything to everyone."
Determining who Snap ultimately serves is something the company will have to grapple with sooner than later. Analysts don't expect user growth to change much from its 173 million daily active users (for comparison, Facebook revealed last week that its two Snapchat analogues with ephemeral video, Instagram Stories and WhatsApp Status, now have 300 million daily active users each).
"While Snapchat's product improvements may appeal to its existing user base, we do not expect any coming inflection in user growth," Michael Pachter, an analyst for Wedbush Securities, wrote in a research note. "We have no doubt that Snapchat can grow its impressions and engagement among an attractive demographic, but as the company has clearly stated, it is still early days for its monetization."
Indeed, Evan Spiegel, Snap's co-founder, has repeatedly said it will take five years to realize his company's potential.
"We built our business on creativity," Spiegel told The Times the day of Snap's IPO. "And we're going to have to go through an education process for the next five years to explain to people how our users and that creativity creates value."
Spiegel would also like investors to focus less on current growth and more on how faithfully existing users interact with the app. A dedicated user base could foreshadow a larger one in the future, the company says.
Until then, analysts expect daily active users to climb modestly. Pachter estimates just 181 million in the third quarter. And he forecasts revenue of $212 million and earnings per share of 15 cents — below analysts' consensus of $238 million in revenue and earnings per share of 16 cents.
Laura Martin, an analyst for Needham & Co., had even lower expectations for Snap's user growth the last three months, estimating only 178 million daily active users.
She also questioned Snap's hardware strategy with Spectacles, the camera sunglasses that have suffered meager sales and reportedly failed to inspire long-term interest among its owners.
"Typically, valuation multiples on hardware are much lower than software multiples because hardware (like Spectacles) are capital intensive and have much lower margins," Martin wrote to clients.
Martin isn't ready to give up on Snap long-term, however. The company still has the benefit of attracting the key advertising demographic of 13- to 34-year olds and its business is aligned neatly with some of the tech industry's key trends — namely mobile, video and social, she wrote.
Debra Aho Williamson, an analyst for EMarketer, said she and many of her industry colleagues were skeptical of Facebook shortly after it debuted on the stock market in 2012 — not unlike Snap today.
"We thought Facebook wasn't going to be able to build a mobile advertising business," Williamson said. "We had egg on our faces because Facbeook became one of the largest mobile ad publishers in the world.
"Snap is in a similar position," she added. "They have a lot of expectations and they're working really hard to build an ad tool and measurement abilities like their competitors. These things take time. This is a company going for it and needs to continue to put the pedal to the metal."
Follow me @dhpierson on Twitter
---
Your guide to our clean energy future
Get our Boiling Point newsletter for the latest on the power sector, water wars and more — and what they mean for California.
You may occasionally receive promotional content from the Los Angeles Times.