Pit bull fans bark back at Delta Air Lines' ban on the breed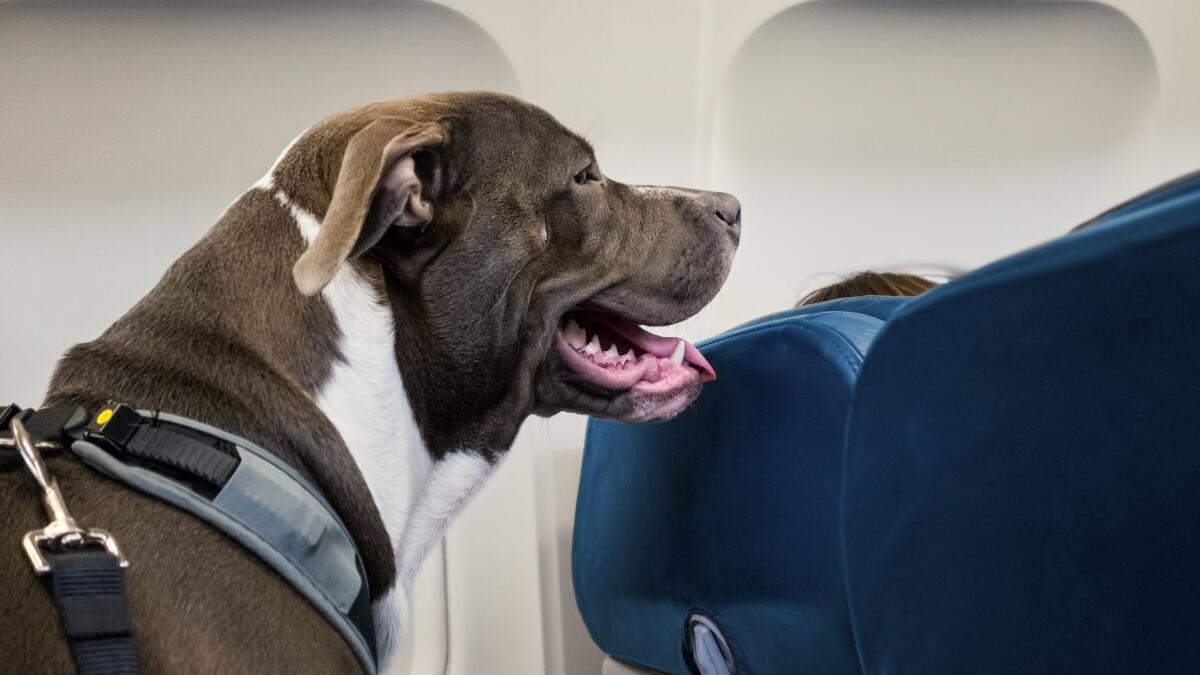 Delta Air Lines' latest restriction on flying with animals — a ban on pit bulls — has sparked protest from pit bull owners who say their favorite breed of dog is getting a bad rap.
Pit bull owners and their supporters have collected more than 40,000 signatures on a petition that asks the Atlanta-based carrier to reconsider the ban, which was initiated after a pit bull bit two Delta employees on a plane.
The petition's sentiment may have the support of the U.S. Department of Transportation, which issued a statement last week saying airlines can't ban a specific breed.
"A limitation based exclusively on breed of the service animal is not allowed under the department's Air Carrier Access Act regulation," according to the agency.
The petition calls Delta's ban a "knee jerk" reaction and added that "instead of taking action against that particular dog's owner, the airline decided to punish thousands of dogs and their responsible owners."
Starting July 10, Delta Air Lines plans to ban all "pit bull type" dogs on its planes, either as service animals for passengers with physical disabilities or as emotional support animals that accompany passengers.
"We struggled with the decision to expand the ban to service animals, knowing that some customers have legitimate needs, but we have determined that untrained, pit bull type dogs posing as both service and support animals are a potential safety risk," the airline said.
Delta's restriction is only the latest announced by several airlines, following a series of incidents involving dogs on planes and a surge of passengers flying with dogs, cats, turkeys and other creatures.
The 1986 Air Carrier Access Act allows people with mental-health disabilities to fly on a plane with an emotional support animal free of charge if it alleviates their condition. Airlines suspect that many fliers are taking advantage of the law by passing off their household pet as an emotional support animal, with the help of phony credentials to avoid the animal transport fees.
In response to the surge of animals in the cabins of planes, the Department of Transportation is considering new rules for animals on planes. The trade group that represents the nation's airlines has already chimed in, asking the federal agency to put new limits on animals in planes, including:
allow only trained dogs in the cabin
allow airlines to limit the total number of animals accompanying passengers
require passengers to check in with the airlines before showing up with animals
allow airlines to require passengers show proof for the need of an emotional support animal
allow airlines to restrict the movement of animals in the plane
In its letter to the federal agency earlier this month, Airlines for America, the airline trade group, said the surge of passengers traveling with emotional support animals "fueled by cheap and easy availability of fraudulent credentials via unscrupulous vendors" has "reached a tipping point."
hugo.martin@latimes.com
To read more about the travel and tourism industries, follow @hugomartin on Twitter.