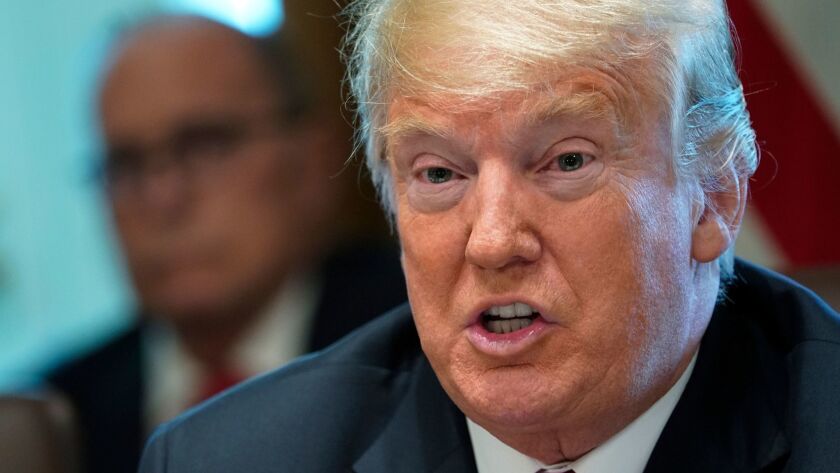 President Donald Trump said he's asked the Securities and Exchange Commission to study ending quarterly reporting for U.S. businesses in order to ease regulations and spur growth.
"In speaking with some of the world's top business leaders I asked what it is that would make business (jobs) even better in the U.S. 'Stop quarterly reporting & go to a six month system,' said one. That would allow greater flexibility & save money. I have asked the SEC to study!" Trump said in a Twitter post Friday.
In speaking with some of the world's top business leaders I asked what it is that would make business (jobs) even better in the U.S. "Stop quarterly reporting & go to a six month system," said one. That would allow greater flexibility & save money. I have asked the SEC to study!

— Donald J. Trump (@realDonaldTrump) August 17, 2018
The chief executive officer who urged Trump to look into six-month reporting is PepsiCo Inc.'s Indra Nooyi, the president told reporters in Washington after sending his tweet.
Nooyi issued a statement Friday about the conversation with the president, saying that many market participants "have been discussing how to better orient corporations to have a more long-term view. My comments were made in that broader context, and included a suggestion to explore the harmonization of the European system and the U.S. system of financial reporting."
The regulatory burdens of being a public company have been in the spotlight lately, including playing a role in why Elon Musk wants to take Tesla Inc. private. And corporate leaders and trade groups have increasingly vented about Wall Street's obsession with short-term earnings and revenue targets, arguing that they can prevent firms from growing their businesses and creating jobs.
A top criticism is that if companies are striving to report profit gains every quarter, they are more likely to buy back shares and cut costs than invest in their businesses.
Earlier this year, Berkshire Hathaway Inc.'s Warren Buffett and JPMorgan Chase & Co.'s Jamie Dimon urged companies to stop issuing quarterly earnings guidance. Moving away from reporting earnings every three months would be a much more dramatic change that would almost certainly trigger resistance from shareholders who want transparency from the companies they invest in.
"Investors will demand they get their information," Ed Yardeni, founder of Yardeni Research Inc., said in a Bloomberg Television interview. "Short-termism, that's been floating around for a long time, just doesn't jibe with the facts. The idea that companies have been taking all their profits and just buying back shares, paying dividends and spending nothing on employees and capital spending, it's just not right."
Quarterly reporting has long been a cornerstone of U.S. capital markets, with bank analysts known for making closely monitored recommendations on buying or selling stock tied to the numbers. While some business leaders have groaned about the rigors associated with having to disclose financial figures four times a year, the SEC has been reticent to make any changes.
SEC Chairman Jay Clayton, a Trump nominee, has said increasing the number of public companies and initial public offerings are among his top priorities. Still, Clayton hasn't floated reducing the number of times that companies must disclose their financial performance each year.
The SEC could make such a change on its own without Congress passing legislation but that doesn't mean it will, said David Martin, who previously ran the agency unit that oversees corporate filings.
"You're probably going to get a debate where you have people saying these reports are unnecessary, and I don't think that will convince a lot of people," said Martin, who's now a senior counsel at the law firm Covington & Burling. "On the other side will be the argument that information is basically a lubricant of a great capital-markets system."
The SEC enjoys some level of distance from the White House because it's an independent agency. It's rare for presidents to make public demands of such regulators.
SEC spokesmen didn't respond to requests for comment.
The U.S. Chamber of Commerce and other lobbying groups have blamed compliance burdens for preventing more companies from selling shares. A statistic they often point to is the drop in IPOs over the past 20 years. In 1996, almost 950 companies went public, according to data compiled by Bloomberg. That number fell to 237 in 2017.
But some academics have argued that criticizing regulation oversimplifies the situation. Firms have an ever-expanding menu of ways to raise money outside the stock market.
In a Friday statement, White House spokeswoman Lindsay Walters said Trump is interested in "examining this issue on whether short-term earnings reporting requirements for public companies reduce incentives for them to engage in long-term investing in the United States."
Pepsi's Nooyi raised the idea of less-frequent earnings reports while dining last week with Trump at his golf club in Bedminster, N.J., according to a person familiar with the discussion who asked not to be named because the conversation was private.
But the lobbying by Pepsi's CEO wasn't the first time White House officials have heard complaints from the business community about quarterly earnings requirements, the person said. Other corporate leaders have raised the issue in conversations and meeting with administration officials, and the White House has been considering the issue for a while. The president's economic team is also aware that well-known executives, including JPMorgan's Dimon, have advocated for companies to stop offering quarterly profit forecasts.
Trump's position in some ways puts him on the same page as one of his most vocal political opponents. Sen. Elizabeth Warren has long argued that corporations are too focused on appeasing Wall Street's desire for hitting short-term benchmarks, at the expense of boosting jobs. For instance, the progressive Massachusetts Democrat often has criticized companies for spending so much money on repurchasing stock, which boosts earnings per share.
---
UPDATES:
2:05 p.m.: This article was updated with a statement from PepsiCo CEO Indra Nooyi.
9:35 a.m.: This article was updated with more background on the SEC and additional comments from officials.
This article was originally published at 5:10 a.m.
---