VW takes on Tesla with electric hatchback it hopes will be the new Beetle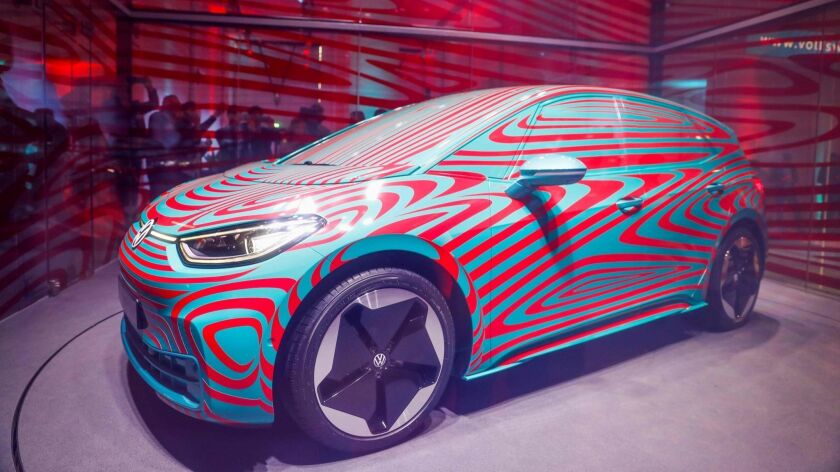 Bloomberg
Volkswagen is about to find out whether consumers will back its $34-billion strategy to topple Tesla Inc. as the electric-car leader.
The German auto giant is now taking 1,000-euro deposits, or about $1,120, to secure one of the first in a new range of battery-powered models. The new ID.3 hatchback — which VW hopes will be the electric-car successor to the iconic Beetle — will start at less than $33,600, roughly the same level as the diesel variant of its bestselling Golf hatchback.
"We are not playing," VW sales chief Juergen Stackmann said at an event in Berlin launching the reservation program. "This is the car to beat for the future, for all our competitors."
The ID.3 anchors more than 20 battery-powered models VW plans to roll out in coming years — with a goal to sell more than 1 million electric cars annually by 2025. The ambitious effort is set to stoke competition in a segment where automakers struggle to generate returns and is mainly driven by tighter pollution regulations. Stackmann said that its electric cars "must make money."
While some consumers have shown interest in the vehicles, which generally cost more but have less range than combustion models, electric cars haven't broken through on the mass market.
To drum up interest, VW is offering a special edition of the ID.3 that's limited to 30,000 vehicles and includes a year's free charging at stations connected to the company's WeCharge app. Reservations are open for consumers in 29 countries across Europe, with Germany, Norway and the Netherlands expected to be among the top markets, according to VW. Stackmann expects the reservation book to be filled before the company officially unveils the car in September.
The limited-run variant will cost less than $45,000 and includes a battery capable of powering the car for 260 miles. The basic version has a range of 205 miles, while the top-of-the-line model can drive as far as 340 miles on a charge.
In a sign of its growing marketing rivalry, Tesla sent an email to prospective German customers on Wednesday, trumpeting its Model S and Model X as having the best range of electric cars in series production. Volkswagen is slated to start mass assembly of the ID.3 late this year, with the first deliveries in mid-2020. Overall, VW is aiming to sell 100,000 ID.3 vehicles annually.
Tesla raised $2.35 billion last week to pad its coffers amid struggles to generate profits sustainably. The California-based carmaker's push into Europe and China puts it in direct competition with VW and its upscale sister brands Audi and Porsche, which are also ramping up electric-car plans.
"Volkswagen is a big player, and when we go, a lot of people follow," Stackmann said.
The ID.3 event came just one day after Volkswagen AG's Porsche sports car unit agreed to pay $599 million to end a probe into rigged diesel engines, bringing the total amount of fines in its home country to more than $2.6 billion. The penalty covers the sale of cars since 2009 that were equipped with V6 and V8 engines from VW's sister brand Audi.
Volkswagen has now ended all probes by German prosecutors against its units over the sale of cars rigged to pass emissions tests. Last year it settled with Braunschweig investigators for $1.12 billion and Audi followed by paying nearly $900 million to Munich prosecutors. Parent company VW said last week the overall impact of the diesel scandal has now reached about $34 billion.
---
For reporting and exclusive analysis from bureau chief John Myers, get our California Politics newsletter.
You may occasionally receive promotional content from the Los Angeles Times.