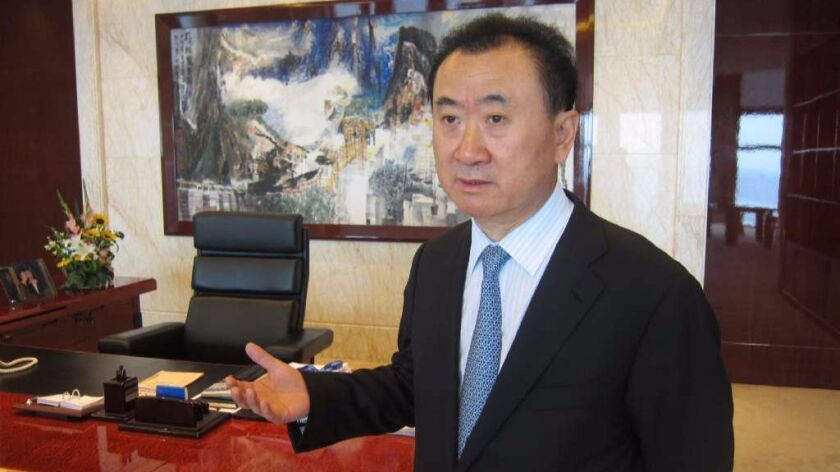 Dalian Wanda Group's announcement last week that it would sell $9.3 billion in tourism assets to a rival Chinese property developer came as a shock, illustrating the sudden reversal of a company thought to have deep pockets to match its lofty ambitions. Its move Wednesday to amend the agreement only adds to suspicion about the company's standing.
Ten days after announcing its deal with rival Chinese property developer Sunac, Wanda said it had renegotiated the terms to include another real estate company, R&F Properties.
The asset sale originally had Sunac acquiring 76 hotels and a 91% stake in 13 theme parks. Under the new agreement, R&F will buy 77 hotels for $2.94 billion and Sunac will retain the same majority control in the theme parks for $6.5 billion. Wanda stands to gain about $140 million under the new arrangement compared with the previous deal.
"Wanda can significantly decrease the liabilities and recover tremendous cash flow via this transfer," Wanda said in a statement. A company spokesperson could not be immediately reached for comment.
The move comes amid rising concern that the real estate and entertainment giant led by one of China's richest men, Wang Jianlin, is heavily indebted and has been blocked from seeking loans from China's big banks, according to the Wall Street Journal.
Wanda, which owns AMC Theaters, Hollywood studio Legendary Entertainment and is building a $1-billion condominium and hotel tower in Beverly Hills, is one of several Chinese companies facing scrutiny by officials for their borrowing and aggressive overseas investments.
China's opaque government makes it difficult to know precisely why the companies — which boast ties to the Chinese political elite — have suddenly run afoul of regulators.
Experts say Beijing may want to rein in the firms to address the country's growing debt problem. President Xi Jinping's crackdown on tycoons comes before Communist rulers are scheduled to meet to chart the party's succession of power.
While it's unclear whether Wanda has been ensnared in political infighting, there's little debate the company has lost some of its luster in Hollywood. Among its setbacks are a scuttled $1-billion deal for Dick Clark Productions and a series of box-office flops from Legendary.
Even Wednesday's announcement was racked with confusion, according to the Financial Times, which described the news conference as "hastily called, and then delayed."
Follow me @dhpierson on Twitter
---