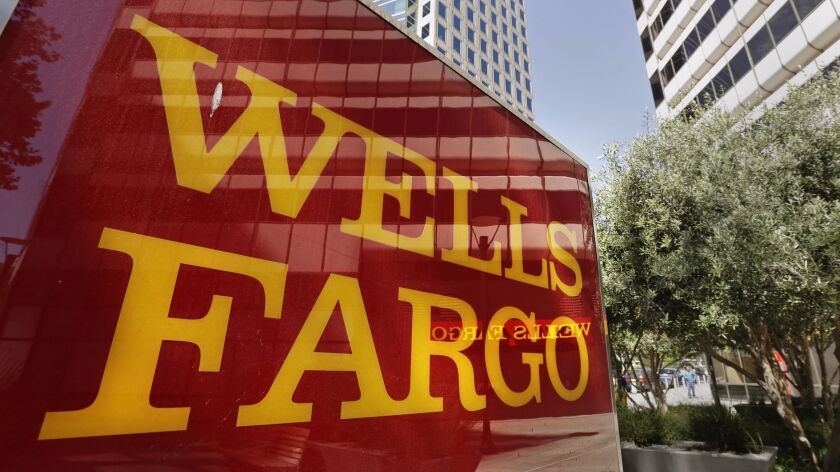 Wells Fargo & Co. Chief Executive Tim Sloan and seven other high-ranking executives at the San Francisco bank will not get cash bonuses for 2016 and will lose some stock compensation, the company said Wednesday.
The move comes a week after the bank publicly fired four lower-level executives related to the bank's sales-practices scandal, and the same day it separately reported that the number of customers affected by the misconduct could grow.
Sloan and the other executives will lose out on a total of about $32 million in pay, the company said in its news release.
The bank noted the pay cut was not related to any finding of improper behavior by the executives, but was aimed generally at reinforcing "accountability of the company's leadership for the issues arising from the community bank's sales practices."
Regulators last year fined Wells Fargo $185 million after finding that thousands of its employees tried to meet onerous sales goals by opening as many as 2 million checking, savings and credit card accounts that customers did not authorize. In many cases, that cost customers either in the form of fees or damage to their credit.
The practices, first reported by the Los Angeles Times, were the subject of two high-profile Capitol Hill hearings and are still being investigated by congressional committees as well as federal and state agencies.
In regulatory filings Wednesday, the bank said it has paid $3.2 million in refunds to about 130,000 customers and that the number of potentially unauthorized accounts and affected customers could grow as the bank continues an internal review.
The bank had previously looked at accounts opened in 2011 and later but has since extended that review to include accounts opened as far back as 2009.
Former Wells Fargo Chairman and CEO John Stumpf resigned last year, as did Carrie Tolstedt, who until last summer oversaw Wells Fargo's retail banking division, the business unit at the center of the sales-practices problems. The bank also has terminated 5,300 mostly lower-level employees.
The bank already docked Stumpf's and Tolstedt's pay, revoking bonuses and stock worth an estimated $60 million, and canceled bonuses and stock awards for the four executives fired last week. Now, it's going after compensation headed for executives still with the bank, including Sloan, who took over in October promising to clean up the mess.
Also being hit with the pay cuts were Chief Financial Officer John Shrewsberry, Chief Administrative Officer Hope Hardison, Chief Auditor David Julian, Chief Risk Officer Michael Loughlin, general counsel James Strother, wealth management leader David Carroll and payments leader Avid Modjtabai.
The eight executives will forgo cash bonuses for 2016 — amounting to a loss of nearly $1 million each, and probably more for Sloan. And they will give up half of the Wells Fargo shares they would have received this year based on the company's performance from 2014 to 2016. Sloan, Shrewsberry and Modjtabai could have been in line to receive more than $8 million apiece, according to filings with the Securities and Exchange Commission.
In a statement, Wells Fargo Chairman Stephen Sanger said the pay cuts "are part of the board's ongoing efforts to promote accountability and ensure Wells Fargo puts customer interests first."
Also Wednesday, the bank released an investor presentation that highlights the bank's response to the scandal. The bank said it expects to release the results of its internal investigation before the company holds its annual meeting April 25.
Wells Fargo shares closed up $1.85, or 3.2%, to $59.73 on Wednesday.
ALSO
Play our game: Do you know the best time to buy into a new IPO?
There's one part of Snapchat that Facebook can't copy: CEO Evan Spiegel
What happened to ousted Snapchat founder Reggie Brown? No, really, we don't know
---
UPDATES:
2 p.m.: This article was updated with the closing stock price and with information from a regulatory filing that said the number of customers affected by the account scandal could grow.
Noon: This article was updated throughout with staff reporting.
This article was originally published at 10:45 a.m.
---