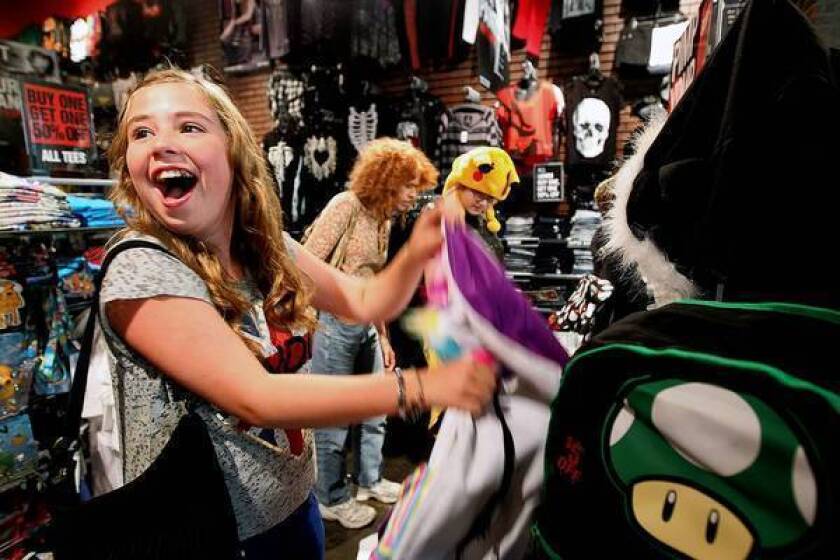 Brooding-teen retailer Hot Topic Inc. is about to become family with Talbots Inc., an apparel chain beloved by moms.
Hot Topic, a mall staple based in City of Industry, is being sold for $600 million to Sycamore Partners, the private equity firm that this summer bought Talbots for $391 million.
The $14-per-share cash price represents a 30% premium over Hot Topic's closing stock price Wednesday and was unanimously approved by the retailer's board, the company said Thursday. But the deal still requires shareholder and regulatory approval.
In morning trading, Hot Topic's stock soared 29%, or $3.14 to $13.89 a share.
Hot Topic also owns plus-size brand Torrid and is testing five lingerie stores called Blackheart. As of last month, the company ran 618 Hot Topic stores and 190 Torrid stores.
In its fourth quarter, which ended Feb. 2, the overall Hot Topic umbrella brought in $233 million in revenue, an 11% bump from the same period a year earlier.
Same-store sales at Hot Topic locations open for more than a year saw a 2% increase, while the same measure for Torrid rose 5.4%.
ALSO;
After Yahoo, Best Buy also rethinks telecommuting
Rejecting industry dogma, Costco backs raising minimum wage
PETA targets Hermosa Beach restaurant Hot's Kitchen over foie gras
---