Newsletter: California Inc.: Nothing says Thanksgiving like record airport crowds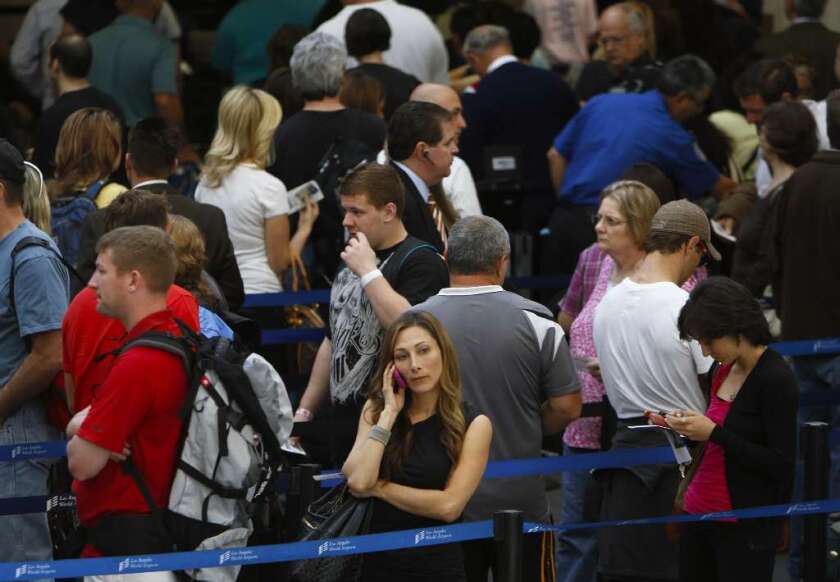 Welcome to California Inc., the weekly newsletter of the L.A. Times Business Section.
I'm Business columnist David Lazarus, and here's a rundown of upcoming stories this week and the highlights of last week.
Good news on the home front: California, the world's sixth largest economy showed no signs of fatigue in October, with employers adding 31,200 jobs over the month. The state's unemployment rate was 5.5%, holding steady for the fourth month in a row. The state grew at a rate of 2.4%, faster than the country's 1.7% rate of job growth.
LOOKING AHEAD
Thanksgiving travel: Flying this week? Expect bigger crowds and longer lines. A trade group for the nation's biggest airlines says that 27.3 million people will fly on U.S. carriers during the Thanksgiving holiday period, a 2.5% increase over last year's record 26.6 million fliers. That would be the highest number of fliers ever to travel for the holiday. Los Angeles International Airport is expected to be the nation's second-busiest airport, behind Atlanta.
Hollywood honors: There's no shortage of award opportunities in the entertainment industry, as this week illustrates. Nominees for the Independent Spirit Awards — aimed at independent filmmakers — will be announced Tuesday. The same day, the American Society of Cinematographers will announce nominees for its TV awards. On Thursday, the 10th Asia Pacific Screen Awards will be presented in Brisbane, Australia. And on Friday, Golden Globe nomination voting begins.
Film debuts: This is a big week for movie premieres, as studios seek to cash in on the lucrative holiday season. Disney's new animated movie "Moana," is expected to have a huge opening weekend when it debuts Wednesday. It could gross $80 million or more through Sunday, making it the latest success for the animation studio behind "Zootopia" and "Frozen." It's going up against Brad Pitt's "Allied," a World War II picture from Paramount, and Billy Bob Thornton's "Bad Santa 2."
Rate watch: Those concerned about the future of interest rates will take note Wednesday when the minutes of the last meeting of the Federal Open Market Committee are made public. The minutes, from the Nov. 1-2 meeting, could provide clues to the thinking of Federal Reserve policymakers. Analysts widely expect a quarter-point rate increase of the benchmark interest rate at the Fed's last scheduled meeting of the year, Dec. 13 and 14. It has been nearly a year since the last increase.
Holiday shopping: Thanksgiving Day this year will be a mixed bag for consumers looking to shop in physical stores. Some retailers that have opened on the holiday in the past, such as Office Depot, will be closed. More malls than last year will be closed, including Minnesota's Mall of America, the nation's largest, which has been open every Thanksgiving since 2012. Still, plenty of retailers will be open for at least part of the day: JCPenney will open at 3 p.m., Macy's and Best Buy at 5 p.m., and Target and Walmart at 6 p.m.
THE AGENDA
Monday's Business section digs into the job market. As the recovery from the Great Recession continues, job growth is solid and the labor force is growing at close to its fastest pace since 2000 because more unemployed workers are coming off the sidelines. Still, the percentage of working-age Americans in the labor force remains stuck near its lowest level since the late 1970s. Why? Too many men in their prime don't have a job and aren't even looking for one.
STORY LINES
Here are some of the other stories that ran in the Times Business section in recent days that we're continuing to follow:
Sweat shops: It can be hard to ignore the lure of Forever 21, where fall jackets go for $18 and a halter dress can be had for $9. But U.S. Labor Department investigators say Forever 21 is one of several companies that have been supplied by independent Southern California factories that pay workers much less than the state minimum wage. The department said investigators uncovered labor violations in 85% of factories inspected.
Soaring ambition: SpaceX has asked the Federal Communications Commission to approve a constellation of more than 4,000 satellites that would provide widespread broadband and communications coverage. In the proposal, Hawthorne-based SpaceX said it would eventually launch 4,425 satellites into low-Earth orbit. The company will also launch some spare satellites to act as backup in case of a failure. It didn't say when the launches, or the service, would start.
Glaring problem: Construction of the tallest building west of the Mississippi is scheduled to be completed in downtown Los Angeles in four months, but a neighbor of the new Wilshire Grand Hotel is calling for a halt to the project because of glare from the tower's glass exterior. EYP Realty, a real estate management firm located next to the $1-billion project, has filed a protest with the city of Los Angeles, asking that the project's building permit be revoked and that the glass be replaced.
Merger approved: Shareholders of Tesla Motors and SolarCity voted to approve the luxury electric car maker's acquisition of the rooftop solar giant in a $2.23-billion deal. The two companies have said that SolarCity would contribute $1 billion or more in revenue to Tesla next year and more than $500 million in cash to Tesla's balance sheet over three years. Skeptics have called the all-stock deal an attempted bailout for both companies because each faces a cash-flow crunch.
Net neutrality: Donald Trump's victory means Republicans soon will take control of the Federal Communications Commission. That could spell the end for net neutrality regulations and other initiatives of the agency's hard-charging Democratic chairman. The regulations imposed utility-like oversight of broadband providers in an attempt to ensure the free flow of online content.
WHAT WE'RE READING
And some recent stories from other publications that caught our eye:
Buy local? The Wall Street Journal says it's one thing for President-elect Trump to push a made-in-America agenda, it's another making it work in light of "the integral roles of China's armies of migrant workers and Asia's decades-old supply chain in global electronics production."
Big money: Bloomberg visits a relatively low-key casino in far-flung Saipan that makes money hand over fist. Big questions are being raised about "what may be the most successful casino of all time."
Ginsu administration: A timely question from Fast Company: Is it legal for the Trumps to use the presidency to market their products? "While there are strong rules that explicitly prohibit government employees from using their position in public office for private gain, this does not apply to transition teams."
Alive and kicking: Yeah, it's a golden age of TV and all, but the Ringer says it's too soon to pronounce movies dead. "'The Godfather' is one of my favorite movies, absolutely, but 'There Will Be Blood' is also a masterpiece and one of the greatest movies of the last 50 years, and that was made by an independent company and released by a studio  — so masterpieces still get made," says one critic. "It's just different."
Future shock: The style mavens at Esquire turn their attention to self-lacing sneakers from Nike that sell for $720. "This technology was pulled into reality thanks to the ferocious interest of fans all over the world ... but at this price point many won't be able to bring it into their homes, and others will have second thoughts."
SPARE CHANGE
The inspiration for power laces obviously was "Back to the Future II." But that was one of the few movies to accurately forecast fashion to come. Most sci-fi films seem wildly off the mark when it comes to how people will dress in the days ahead. This one, for example. And this one. Certainly this one. And totally, definitely this one.
For the latest money news, go to www.latimes.com/business. Until next time, I'll see you in the Business section.
David Lazarus' column runs Tuesdays and Fridays. He also can be seen daily on KTLA-TV Channel 5 and followed on Twitter @Davidlaz. Send your tips or feedback to david.lazarus@latimes.com.
---