America's most expensive home hits the market in Bel-Air at $350 million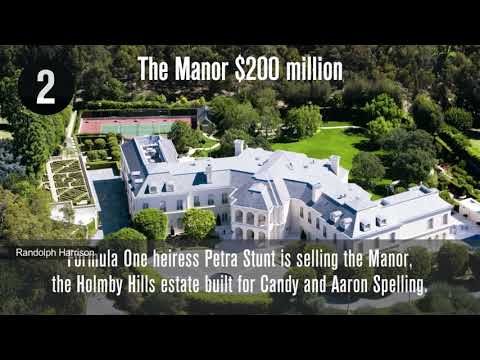 Here's a look at Los Angeles' most expensive homes on the market.
The Bel-Air estate may be known as Chartwell, but it's off the charts in terms of asking price. The home of the late Univision billionaire A. Jerrold Perenchio is for sale at $350 million — making it the most expensive U.S. residential listing.
Classic TV watchers may remember the 25,000-square-foot main residence, built in 1933, from the credits of "The Beverly Hillbillies" sitcom.
Designed by architect Sumner Spaulding for grand entertaining, the mansion was inspired by 18th-century French Neoclassical style. Under Perenchio's direction, the residence was enhanced and restored by designer Henri Samuel. Features include a detailed limestone facade, a ballroom, a wine cellar and a paneled dining room.
The property was amassed during the last 30 years to include 10.3 acres of grounds. Adjacent sites acquired to expand the estate include a Wallace Neff-designed guesthouse and the long driveway. The grounds contain manicured gardens, a tennis court, covered parking for 40 cars, a 75-foot swimming pool and a pool house.
Perenchio, former chairman and chief executive of Univision, died in May at 86.
The property is listed by Jeff Hyland, Drew Fenton and Gary Gold of Hilton & Hyland; Joyce Rey, Jade Mills and Alexandra Allen of Coldwell Banker Global Luxury; and Drew Gitlin and Susan Gitlin of Berkshire Hathaway Home Services.
Twitter: @laurenebeale
More Hot Property:
Kanye West's bachelor pad — including bathroom fish tank — sells for $2.95 million
Amazon's Jeff Bezos expands Beverly Hills compound with $12.9-million purchase
Beyoncé and Jay-Z are about to become L.A. homeowners, if $90-million deal goes through