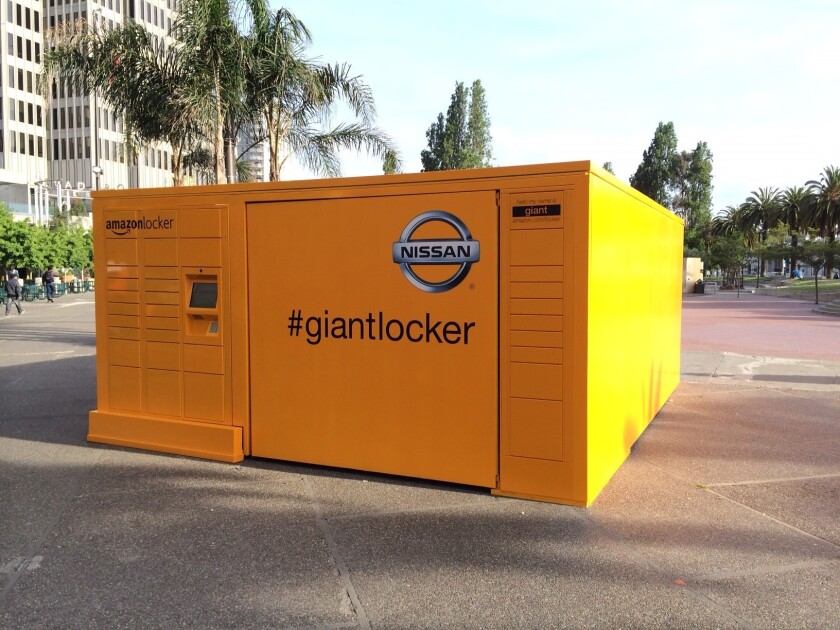 When it comes to promoting their products, Amazon and Samsung can get pretty creative.
The tech companies took to San Francisco and London, respectively, to unveil major marketing stunts.
First was Amazon, which placed a giant yellow locker in downtown San Francisco this week as part of a promotion with Nissan. Inside the Amazon locker is a Nissan Rogue.
To enter to win prizes, people who pass the container can use social media to post a status or photo about the locker that includes the hashtag #GiantLocker. After Nissan's ground team verifies each post, it will give winners codes that can be used to unlock parts of the locker and retrieve prizes. Prizes will range from a simple Amazon music download to the Nissan Rogue itself.
The promotion a quick one: It ends at 6 p.m. Friday.
Obviously, Nissan is using the stunt to promote its car. Amazon is getting a chance to promote Amazon Locker: self-service kiosks nationwide that customers can use to receive or return items they buy on Amazon.
Amazon Lockers are geared toward people who can't have items shipped to their homes or who need to receive something while traveling. After the item is delivered to the locker, the customer has three days to pick it up. To open the locker, users type in a code they receive from Amazon.
Last year, Nissan and Amazon teamed up for a marketing campaign promoting the Japanese carmaker's Versa Note.
Meanwhile, across the pond, Samsung announced Friday that it will rebrand Heathrow Airport's Terminal 5 as "Terminal Samsung Galaxy S5" to promote its flagship smartphone, which went on sale last month.
This is the first time Heathrow has allowed any brand to take over Terminal 5, which is the busiest in the world for international travelers.
The marketing at Heathrow starts Monday and will last two weeks. Every sign and digital screen at the terminal's lounges, security and gates, as well as the terminal's website, is to promote Samsung's smartphone.
For the campaign, Samsung teamed up with JCDecaux Airport, a leader in airport advertising.
"Reaching the thousands of passengers who travel through the terminal each day, this extraordinary partnership will take Samsung brand awareness to a whole new level," Samsung said in a news release.
---