Apple stock slides more than 6% on iPhone sales worries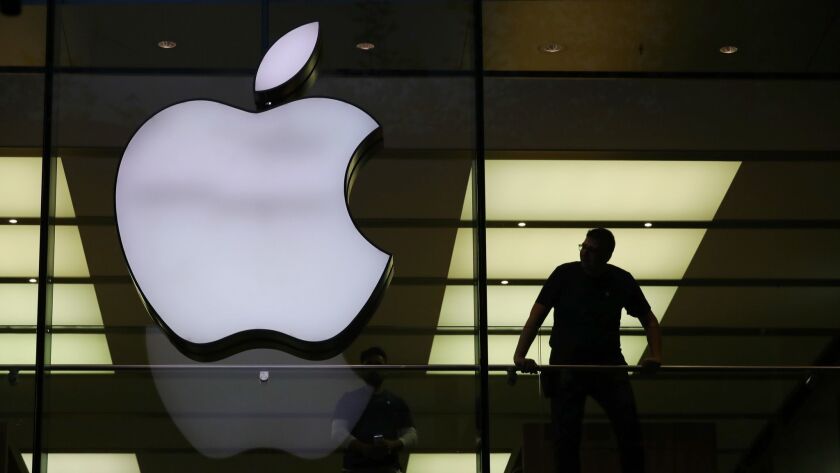 Apple Inc. stock slid more than 6% on Friday, dragged down by the tech giant's report of weak iPhone sales growth and its announcement that it will no longer disclose the number of iPhones, iPads and computers it has sold each quarter.
Apple Chief Financial Officer Luca Maestri said Thursday after the markets closed that, as the smartphone market matures and Apple's services business expands, those hardware sales numbers no longer paint a complete picture of the Cupertino, Calif., company's business.
But analysts called the decision an unexpected "gut punch" and said it was fueling the stock sell-off.
"It's been a jaw-dropper," said Daniel Ives, managing director of equity research at Wedbush Securities. "Investors are trying to better understand why and how this impacts the valuation. … You're seeing a lot of investors reduce their positions as they digest this move."
Shares slid 6.6% to close at $207.48. It was the stock's biggest single-day drop in nearly five years.
Although some analysts say the sell-off is a short-term issue, they expressed concern that the decision to stop disclosing unit sales metrics might reduce transparency at a time when investors in tech stocks are already jittery.
"It's been a bloodbath with FAANG," Ives said, referring to this fall's steep drop in shares of tech giants Facebook Inc., Apple, Amazon Inc., Netflix Inc. and Google parent Alphabet Inc. "If you take away metrics that investors depended on for the last decade since the iPhone [debuted] in 2007, you're not going to be getting thank-you letters from investors."
The bulls remain confident that over the next few months, investors' concerns will be quelled by demand for the new versions of the iPhone — the XS and XR, released this fall; the average sales price per iPhone; and Apple's growing services business.
Because of Apple's weaker guidance for the current quarter and its plan to disclose less information about hardware sales, "some investors will assume iPhone units are trending poorly," Michael Olson, a senior research analyst with Piper Jaffray & Co., wrote in a note to investors. "We believe Apple is simply trying to change the focus towards the overall installed base and services revenue per user."
Apple's earnings results last quarter exceeded Wall Street expectations. The company reported Thursday that in the July-through-September quarter, it brought in revenue of $62.9 billion, up 20% from the same quarter last year; on average, analysts surveyed by FactSet had expected $61.5 billion. It reported earnings per share of $2.91, up 41%; analysts had expected $2.78.
Twitter: @jmbooyah
---
UPDATES:
3:10 p.m.: This article was updated with Apple shares' closing price.
This article was originally published at 10:30 a.m.
---