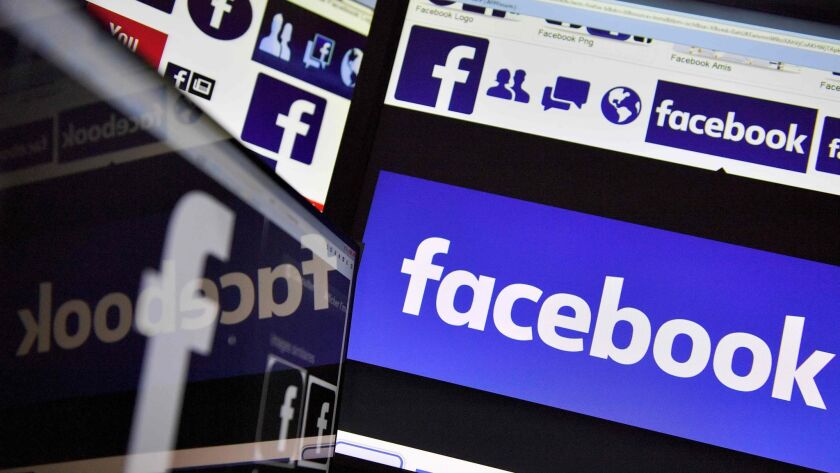 The Washington Post
Facebook will let you know when someone posts a photo of you — even if you aren't tagged in it — becoming the latest tech giant to add more facial recognition technology to users' everyday lives.
The new feature, which Facebook frames as a control measure for a user's image, is one of three new applications of facial recognition technology the Menlo Park, Calif., company announced Tuesday.
These new additions expand on how Facebook already uses facial recognition, which is primarily through "tag suggestions" — a feature started in 2010 that suggests which of your friends should be tagged in photos that you upload to the site. If you've already opted out of that feature, you will also be automatically opted out of the new facial recognition features.
But Facebook is putting all of these features under one setting, meaning that if you want the notifications about where your face appears on friends' accounts or strangers' accounts, then you'll also have to be all right with automatic tagging.
The company will also tell you when anyone — friend or not — uses a photo of you in their profile picture. This is a move to curb impersonations, which were already prohibited but can be difficult to find. Finally, the company also will use facial recognition to describe pictures to the visually impaired; someone looking at a photo using a screen-reader can hear which of their friends are in the picture by name.
The features demonstrate how Facebook is using a trove of facial recognition data, a type of data that has become a key focus for tech titans. Apple Inc. replaced its fingerprint reader with a facial recognition camera to unlock its latest iPhone, and it also uses facial recognition to sort photos. Google, a division of Alphabet Inc., has upped its interest in facial recognition as well, and it introduced features into its photo service that group photos by who is in them.
Facebook's database of facial recognition creates an impression of users' faces. "Our technology analyzes the pixels in photos you're already tagged in and generates a string of numbers we call a template," Joaquin Quiñonero Candela, Facebook's director of applied machine learning, said in a blog post. "When photos and videos are uploaded to our systems, we compare those images to the template."
The newest features started rolling out Tuesday in all markets where facial recognition features are currently allowed on Facebook. That includes the United States but not Canada and Europe, where regulators have raised concerns about Facebook's existing facial recognition features and how the company complies with privacy laws.
The latest features will apply only to new photos being uploaded to the site and will not scan through older photos. Facebook users should be notified through their news feeds about the new feature, and the company said it would encourage everyone to check their own settings.
Tsukayama writes for the Washington Post.
---