Mark Zuckerberg says many conservatives don't trust Facebook to show 'content without a political bias'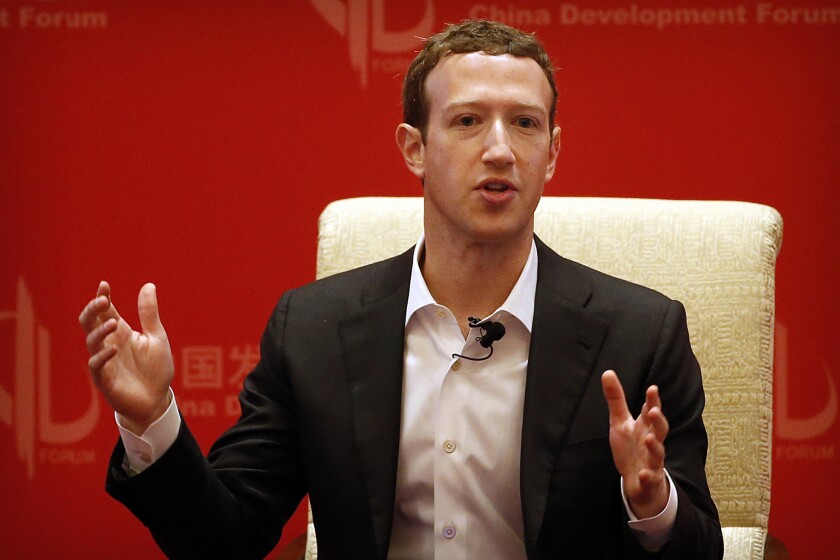 Reporting from San Francisco —
As Facebook has taken on the mantle of content distributor, news publisher and story curator, the world's biggest social media company has ventured into the territory of traditional media companies.
Such moves have helped Facebook attract users and advertising dollars -- but they have also invited scrutiny more common in the news business than in tech.
SIGN UP for the free California Inc. business newsletter >>
Now, facing accusations of editorial bias at his company, Chief Executive Mark Zuckerberg must play a role familiar for publishers: hashing things out with vocal critics.
On Wednesday afternoon, Zuckerberg met with around 15 conservative leaders, including Glenn Beck, a television personality and radio host; Dana Perino, co-host of "The Five" on Fox News Channel; Arthur Brooks, president of the American Enterprise Institute; and Barry Bennett, senior advisor to the Donald Trump campaign.
The meeting came after the tech news site Gizmodo reported that former contractors who ran Facebook's "trending topics" feature downplayed news from conservative outlets and about conservative topics.
Zuckerberg did not publicly lay out an agenda before the meeting, but he said on his Facebook page that he wanted "to have a direct conversation about what Facebook stands for and how we can be sure our platform stays as open as possible."
Zuckerberg said the company is conducting a full investigation into the allegations, but has so far "found no evidence that this report is true."
He took to Facebook again after the meeting to emphasize that conservatives and Republicans have always been important demographics for Facebook. The bias allegations, he said, have likely shaken their trust of his company.
"I know many conservatives don't trust that our platform surfaces content without a political bias," he wrote. "I wanted to hear their concerns personally and have an open conversation about how we can build trust. I want to do everything I can to make sure our teams uphold the integrity of our products."
Attendee Brent Bozell, president of the Media Research Center, described the gathering as productive and cordial.
"I think Facebook understands there is a problem," Bozell said in a statement. "And I think that from the very top there is a genuine desire to resolve it. We'll see how the investigation turns out."
A Facebook spokesman confirmed that the meeting involved a discussion about trending topics, a training session to help participants use the social network to engage their audiences, a demonstration of the company's Oculus Rift virtual reality device and a tour of Facebook's Menlo Park, Calif., campus.
The meeting was important for Zuckerberg and for Facebook, said Patrick Moorhead, president and principal analyst of Moor Insights and Strategy, because the last thing he can afford to do is alienate conservative users.
"It would be devastating if conservative users left for a competing platform, or stopped using it because they felt it was biased toward them," Moorhead said.
Although Facebook's stock price has soared as the company has recorded high profits and continued growth of its user base, Moorhead believes that the firm could suffer if conservative users strayed.
"Look at what happened to CNN when Fox was created," Moorhead said. "Fox has swept cable news for at least the last five years. I believe Zuckerberg will do everything in his power to convince them [that Facebook] isn't biased."
Winning over conservative leaders may not be enough in the long run, though, warned Mark Bartholomew, a law professor at the University at Buffalo who believes that Facebook should be held to the same standard as traditional media.
A letter the Senate Commerce Committee sent to Zuckerberg inquiring about the bias allegations could be a good start, he said. "It is an attempt to open the 'black box' currently clouding more of Facebook's decisions about what content reaches us."He also said there needs to be greater public awareness that Facebook is not a neutral platform.
"The more we think about Facebook as a business run by people with their own biases and motivations and not simply a neutral conduit for information, the better," he said.
ALSO
Charter completes purchase of Time Warner Cable, Bright House
Does Gap have an identity problem? Why the retailer's sales keep dropping
Taco Bell hopes its new restaurant designs will entice you to stay and eat
Twitter: @traceylien
---
UPDATES:
5:28 p.m.: This article was updated with comments from meeting attendee Brent Bozell, president of the Media Research Center.
4:47 p.m.: This article was updated with details of a Facebook post from Chief Executive Mark Zuckerberg.
2:39 p.m.: This article was updated with comments from University of Buffalo law professor Mark Bartholomew.
This article was originally published at 6 a.m.
---