The nation's biggest real estate companies are trusting two men in Venice to find them the next Airbnb or WeWork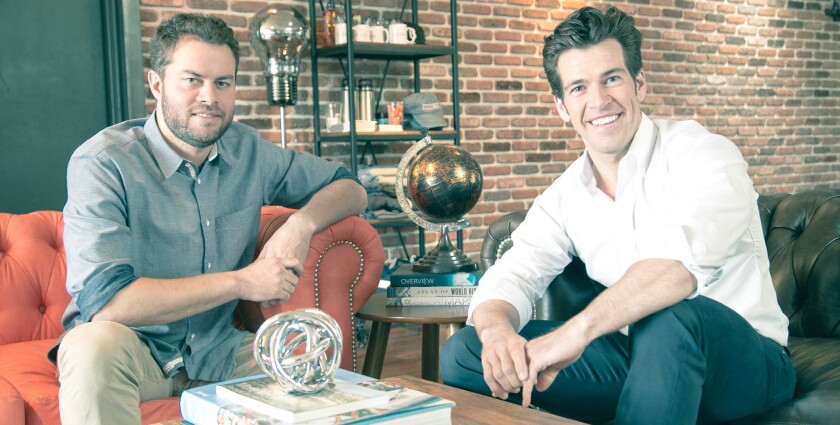 Two real estate software start-ups were neck-and-neck until one landed an investment and partnership deal with Blackstone Group. The firms merged last year, but the one with Blackstone's backing got to keep its name and chief executive.
"Blackstone played kingmaker," said Brendan Wallace, who's hoping his new investment firm can be just as successful in anointing winners.
Wallace and business partner Brad Greiwe unveiled a Los Angeles venture capital firm Tuesday that has raised $212 million, mostly from nine of the nation's largest real estate companies. The pair say the size and caliber of Fifth Wall Ventures' investors means the start-ups it funds will emerge as front-runners among any competition.
Fifth Wall's selling point is the access it promises to companies such as real estate manager CBRE, mall operator Macerich Co. and home builder Lennar Corp. Those connections, it contends, will enable small real estate-focused technology companies to overcome their biggest challenge — signing up their first customers. Getting one big name can send a strong signal to other would-be customers.
"If you're a commercial real estate technology provider, and you don't sign CBRE, it's very unlikely you'll be successful," Wallace said. "They're just so important in the market."
On the other end, the big companies are entrusting Wallace and Greiwe to evaluate technology, identify cultural shifts and turn potential threats into assets. Real estate accounts for more of the U.S. economy than any other sector, and entrepreneurs such as those behind Airbnb and WeWork have found lucrative opportunity in the massive landscape.
Fifth Wall's investors
CBRE, commercial real estate services and investment
Macerich Co., mall operator
Lennar Corp., home builder
Prologis Inc., industrial real estate and distribution center owner
Hines, office developer
Host Hotels & Resorts, luxury hotel owner
Equity Residential, apartment owner
Rudin Management Co., New York City developer
Lowe's, home improvement retailer
Minority chunk from pension funds and university endowments
Some real estate firms got involved in start-up investing on their own, but Wallace and Greiwe bring experience that internal teams sometimes lack. They founded three tech start-ups between them before coming together on Fifth Wall. Most recently, Greiwe co-founded house flipper Invitation Homes, which went public at a $6-billion market capitalization in January.
Fifth Wall has spent $62 million on seven start-ups in about 10 months. Many then received attractive contracts with Fifth Wall's investors that would not have been as quick and easy to land on their own, Greiwe and Wallace said. The firm is staking its chance to purchase additional shares of companies in its portfolio on its ability to drive such milestones.
"What we're finding here is that there's institution validation from our investment," Wallace said. "When our anchors adopt, everyone looks sideways and quickly follows suit."
Fifth Wall focuses on start-ups that can be "immediately impactful" to one or several of the companies in its investor group, he said.
ClassPass, a reservation app for fitness classes, has partnered with Macerich to give high-performing studios a chance at opening in malls. Clutter, a self-storage company that picks up and delivers items on demand, is doing building deals with Prologis.
Technology retailer B8ta is talking with Macerich and Lowe's about opening within their spaces.
Other investments include online notarization software maker Notarize and title insurance analysis software States Title. Fifth Wall's biggest holding is Opendoor, which promises quick home sales by buying properties without showings and was valued at $1.1 billion during an investment round last fall.
Fifth Wall, which opened on Abbott Kinney Boulevard in Venice, chose Los Angeles as its headquarters because of its real estate diversity and its proximity to Silicon Valley and home lending capital Orange County.
Greiwe said he and Wallace are on the lookout for companies that can lower buildings' electricity costs and for tools that can make better use of space by analyzing existing usage.
---
Cover lands in Los Angeles area with aim of building backyard structures
As an architecture student, Alexis Xavier Rivas saw much he didn't like during internships.
High costs. Manufacturing inefficiency. Design monotony.
"Prefabrication companies were nonsensical," Rivas said, offering one example. "They were constructing homes the same way they would be built on site — hammers and nails — just not onsite. And so much customization was demanded that the efficiencies of prefab were lost."
A year out of college, he's already at work trying to develop software that would address those issues in design and construction. Rivas' Cover Technologies Inc. has received an undisclosed investment from venture capitalists and opened headquarters in Gardena.
Cover aims to produce prefabricated but still customized buildings that will fit into the classiest of neighborhoods. Initial customers come from Hollywood, music and technology, and they'll be getting backyard workshops, yoga studios and pool houses. They'll cost around $50,000 to $300,000 as toilets, sinks and more fixtures get added.
Rivas said he moved Cover to Gardena from San Francisco in February because much of the initial interest had come from the entertainment industry. Part of that, he says, is the Los Angeles area's more forward-thinking approach to real estate development.
Cover has erected a demo unit and is working through the permitting process for several customers. The company is leaning on technology in several ways. It asks customers to answer 50 to 100 questions to help generate custom designs, has downloaded geospatial data for all of Los Angeles County and uses computer analysis to determine layouts that maximize energy efficiency.
---
Amid reorganization, ESPN maintains its Los Angeles tech hub
Sports channel ESPN described a mass layoff last week of on-air commentators as a necessary part of adapting to the era of Internet video.
But the reorganization won't bring an immediate uptick in hiring of people with expertise in apps, streaming video and other new technologies, the company said. Hiring will continue at a steady space.
Still, it's welcome news for the Los Angeles tech community that the Bristol, Conn., company's reorganization didn't ax the company's downtown office, where the Walt Disney Co.-owned broadcaster continues to search for software developers. Other focus areas include networking, artificial intelligence, augmented reality, voice technology and advertising software.
"Technology and digital media remain hugely important areas in our present and future," ESPN said in a statement. "ESPN continues hiring for those areas, and others, in multiple locations and disciplines, including in Los Angeles."
---
Work Today wants to help day laborers get steady gigs
Santa Monica software start-up Work Today announced a $1.1-million investment last week from Mucker Capital, Social Capital and other venture capitalists.
Construction and warehousing companies are among the customers that pay Work Today to find workers looking for a steady opportunity. The fee is 20% of the worker's hourly pay, though it isn't docked from the wage. Employers can insure and pay employees through the service. Job-seekers learn of and accept jobs through text messages.
The year-old company has more than 50,000 workers signed up.
---
Elsewhere on the web
In case you missed it
A lawsuit accuses Uber of ripping off drivers by paying them smaller fares than what passengers pay.
TeleSign, a Marina del Rey start-up crucial to integrity of popular apps, agreed to a $230-million purchase that could be worth as much as an additional $100 million.
Coming up
Match Group, the parent company of the dating app Tinder, announces earnings Tuesday. Usage growth of Tinder, developed in West Hollywood, is a key mover of Match's stock. And Tinder faces pressure to show that its robust revenue and user growth is sustainable.
Twitter: @peard33
ALSO
Twitter teams up with Bloomberg on 24/7 streaming news; stock jumps
Lawsuit accuses Uber of ripping off drivers, paying them smaller fares than what passengers pay
The leadership lessons in Sheryl Sandberg's new book about resilience and grief
---
Your guide to our new economic reality.
Get our free business newsletter for insights and tips for getting by.
You may occasionally receive promotional content from the Los Angeles Times.