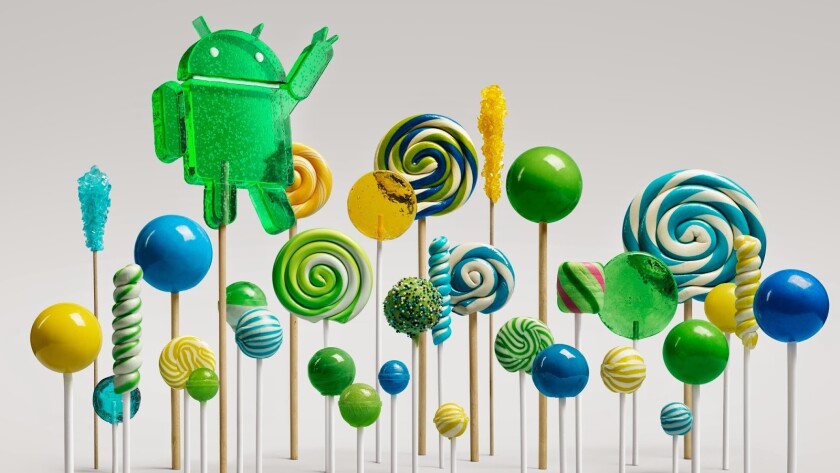 Google unveiled a lineup of gadgets Wednesday that will run on its new Android 5.0 Lollipop operating system.
First up: The Nexus 6 smartphone that Google developed with Motorola. The phone has a contoured aluminum frame, a 6-inch Quad HD display and a 13-megapixel camera. There are dual front-facing stereo speakers and a "turbo charger" so users can get up to six hours of use with only 15 minutes of charge.
Google also announced the Nexus 9, a new tablet built in partnership with HTC that comes with brushed metal sides and an 8.9-inch screen. The Mountain View, Calif., company also designed a keyboard folio that magnetically attaches to the Nexus 9 and can rest on a user's lap.
Rounding out the trifecta is the first device running Android TV: Nexus Player, a streaming media player for movies, music and videos that was created in collaboration with Asus. The Nexus Player doubles as an Android gaming device.
The Nexus 9 and Nexus Player will be available for pre-order Friday, with Nexus 9 hitting stores Nov. 3. Nexus 6 will be available for pre-order in late October and in stores in November.
Android 5.0 Lollipop will also be available on Nexus 4, 5, 7, 10 and Google Play edition devices in the coming weeks.
Lollipop was previewed at the Google I/O developers' conference and is the company's largest release on Android, with more than 5,000 new APIs for developers.
"Lollipop is made for a world where moving throughout the day means interacting with a bunch of different screens -- from phones and tablets to TVs," Google said in a blog post announcing the Lollipop gadget family. "With more devices connecting together, your expectation is that things just work. With Lollipop, it's easier than ever to pick up where you left off."
The new Google products were unveiled a day before Apple is set to launch some products of its own -- likely new iPads and Macs -- at a media event in Cupertino, Calif.
Follow Andrea Chang on Twitter.
---