Google heads into showdown with Congress after Senate panel rejects its witness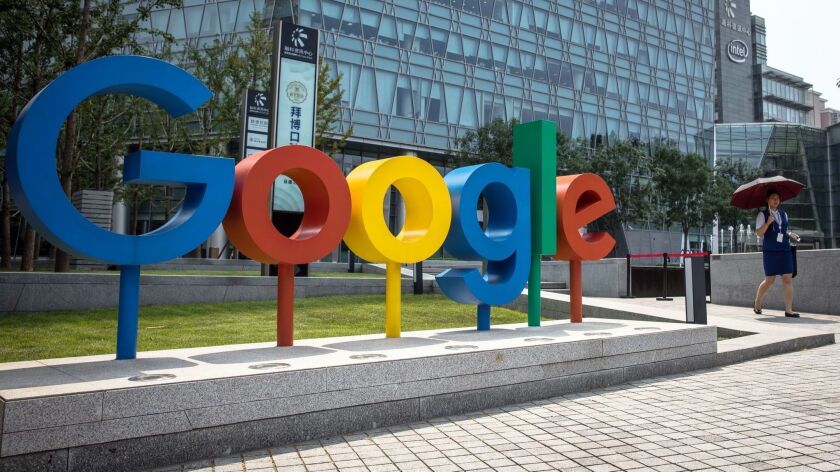 Alphabet Inc.'s Google posted what it called "testimony" for a Wednesday congressional hearing on social media companies' efforts to thwart election meddling in advance of November's midterm races — only it doesn't appear anyone will be there to deliver it.
The Senate Intelligence Committee has said it rejected Google Chief Legal Officer Kent Walker as a witness because he wasn't high-level enough in the company to testify at Wednesday's hearing, which will feature testimony from Twitter Inc. Chief Executive Jack Dorsey and Facebook Inc. Chief Operating Officer Sheryl Sandberg.
Walker's prepared testimony lists the four new types of disclosure the company promised concerning election advertising in his last congressional appearance in the fall of 2017. Those include databases listing election ads on Google search, YouTube and across the web, as well as a verification program and disclosures on political ads.
Google has insisted that Alphabet CEO Larry Page and Google CEO Sundar Pichai wouldn't be the best officials to appear despite the Intelligence committee's desire to hear from decision makers.
Sen. Mark Warner, the top Democrat on the Intelligence Committee, said in a tweet Tuesday that Dorsey and Sandberg will testify and that "Larry Page should be there, too. It's not too late for @Google to step up."
The result appears to be a stalemate — and testimony that no one will deliver. Lawmakers on both sides of the aisle have increased pressure on technology companies after Russian interference in the 2016 presidential campaign and other election meddling as well as issues including alleged anti-conservative bias and antitrust questions.
Google said in a statement that Walker will be in Washington on Wednesday, "where he will deliver written testimony, brief members of Congress on our work, and answer any questions they have."
"We had informed the Senate Intelligence Committee of this in late July and had understood that he would be an appropriate witness for this hearing," Google said.
Walker's prepared testimony focuses on security measures that Google rolled out in the last year, such as a tool to prevent email phishing scams and a program, from the Alphabet unit Jigsaw, to protect political campaigns from cyberattacks.
Walker has assumed increasing responsibility at Google, where the lawyer oversees the company's sprawling legal and policy efforts. Earlier this summer, Google promoted Walker to oversee a larger portfolio, including the units that monitor security and abuse on its services, what Google calls "trust and safety."
Walker's ascent came under the tenure of CEO Pichai, who has focused more on Google products and shied away from addressing political issues. Eric Schmidt, Google's former CEO and chairman, was far more willing to be the company's political ambassador. He previously testified before the committee. Schmidt stepped down from his role as chairman of Google parent Alphabet last year.
Facebook and Twitter
In her prepared testimony for the Intelligence Committee, Facebook's Sandberg highlighted efforts by Facebook to prevent election interference, including the use of artificial intelligence to detect "bad content" and "bad actors," removing fake accounts and implementing stricter policies for advertising.
"We were too slow to spot this and too slow to act," Sandberg said of Facebook's performance in 2016. "That's on us. This interference was completely unacceptable. It violated the values of our company and of the country we love."
In prepared testimony for a hearing later Wednesday of the House Energy and Commerce Committee, Twitter's Dorsey emphasized his company's role as a "global town square" and the importance of a diversity of voices.
"We know the way to earn more trust around how we make decisions on our platform is to be as transparent as possible," Dorsey said. He said the "Twitter platform itself does not take sides," even as President Trump and some Republicans are asserting a bias against conservatives on social media platforms.
Dorsey said Twitter's data scientists did a study of all tweets sent by House and Senate members for the 30-day period that ended Aug. 13. While Democrats on average sent more tweets and had more active followers, after adjusting for that, he said, "a single tweet by a Republican will be viewed as many times as a single tweet by a Democrat, even after all filtering and algorithms have been applied by Twitter."
---
Your guide to our new economic reality.
Get our free business newsletter for insights and tips for getting by.
You may occasionally receive promotional content from the Los Angeles Times.