GoPro predicts revenue slump, slashes jobs and dumps drones; stock plunges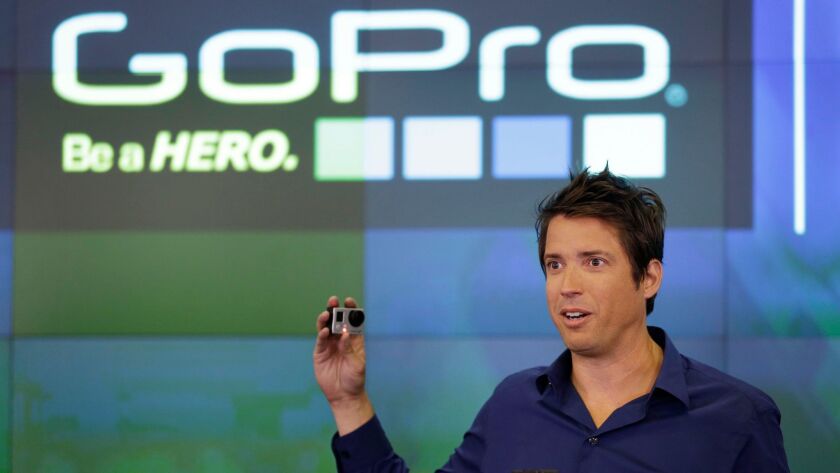 Camera maker GoPro Inc. is getting out of the drone business, laying off more than 20% of its workforce and losing two executives after predicting a sharp decline in its fourth-quarter revenue and disclosing weak holiday-season demand for its cameras.
The disappointing outlook sent shares plummeting nearly 30% to an all-time low of $5.32 in morning trading Monday. They then recovered somewhat, closing down 12.8% at $6.56. The company went public at $24 a share in June 2014.
The company announced on Monday cost-cutting measures that it said would help it save $80 million. Among them are slashing its global workforce from 1,254 employees to fewer than 1,000; reducing GoPro Chief Executive Nicholas Woodman's cash compensation to $1 (it was $800,000 in 2016); and ending production of its aerial drone, named Karma.
GoPro's chief operating officer, Charles Prober, will leave the company Feb. 16, and its senior vice president of corporate development, Sharon Zezima, is resigning effective March 30, according to a company filing with the Securities and Exchange Commission.
Despite being one of the first and best-known companies in the action camera category, GoPro has struggled to meet sales targets quarter after quarter. Most people take photos with their smartphones and see no need to buy a separate camera. Now that the novelty of GoPro's action cameras has worn off, the customers who do want such cameras tend to replace the devices only when they break.
GoPro has also had botched product launches. Its Karma drone, launched in 2016, was riddled with problems from the get-go: Some of the drones reportedly lost power in midair, causing them to unexpectedly drop from the sky. Two weeks after the Karma went on sale, GoPro issued a product recall. The company relaunched Karma in 2017.
Last March, GoPro laid off 270 full-time workers in an effort to cut operating expenses.
"GoPro is committed to turning our business around in 2018," Woodman said in a statement. "We expect that going forward, our roadmap coupled with a lower operating expense model will enable GoPro to return to profitability and growth in the second half of 2018."
CNBC reported later Monday that GoPro is eyeing a potential sale. The company did not immediately respond to a request for comment, but some analysts said a company like GoPro is ripe for a takeover.
GoPro "could add value to another hardware company and be a small part of a bigger story, rather than look to go at it alone," said Angelo Zino, an analyst with CFRA Research. If GoPro wants to stay independent, Zino said, it would "have a very difficult time doing so."
Going it alone as a public company has been one of GoPro's greatest challenges, according to analysts, because the company is under constant pressure to add new products to its lineup. This can be costly, especially when buyers for those products "don't materialize," said Andrew Uerkwitz, an analyst with Oppenheimer & Co.
It doesn't help that the camera industry is already a challenging one, as demand for standalone cameras has dropped since smartphones became available.
A selling point for GoPro, analysts said, is that a buyer would get not just a premium camera-making company, but also GoPro's brand — a household name. Still, Zino said it's not clear who, if anyone, would be willing to acquire the company.
GoPro said Monday that it expects $340 million in revenue for the fourth quarter. That's a 37% drop from the same quarter a year earlier and would fall far short of Wall Street estimates for about $472 million, according to an analyst survey by FactSet.
The Associated Press was used in compiling this report.
---
UPDATES:
4:05 p.m.: This article was updated with GoPro stock's closing price.
1:05 p.m.: This article was updated with GoPro's stock movement, with comments from analyst Angelo Zino and with a report that GoPro is eyeing a potential sale.
8:20 a.m.: This article was updated throughout with Times staff reporting.
This article was originally published at 7:40 a.m.
---