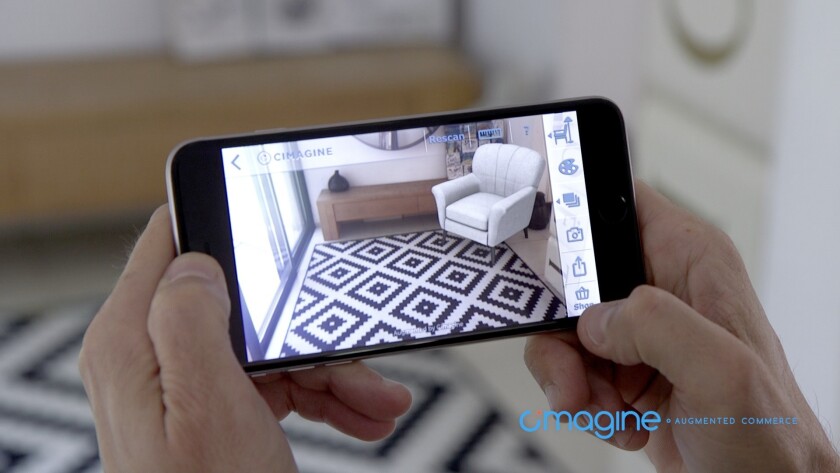 Snap Inc. has acquired a shopping technology app start-up to use as a bedrock for a research and development facility in Israel, according to reports.
The Venice company behind Snapchat, one of the world's most used chat apps, is paying about $35 million for Cimagine Media, Israeli publications Calcalist and Haaretz reported in recent days.
Snap declined to comment, and Cimagine didn't respond to a request to comment.
Cimagine, based in Kfar Yehoshua, was founded four years ago by veteran technologists and product managers from telecommunications companies. Its software uses the camera in smartphones or other devices to recognize objects in a room and add virtual objects to the scene on the screen.
That lets users, say prospective furniture buyers, visualize what couches might look like in their living room with a few taps on a smartphone app. In tech parlance, Cimagine's app augments reality. Jerome's Furniture in San Diego, Home Shopping Network and Coca-Cola have been among companies asking customers to try the service. Cimagine charges such businesses a monthly fee.
It's unclear what drew Snap to Cimagine, which has about 20 employees, according to LinkedIn.
Computers automatically recognizing objects from photos and videos underlies several features Snap has launched or is working on, including digital masks that change people's appearance on the fly. But several start-ups are pursuing technology similar to Cimagine's, though a few, including Metaio and former Qualcomm unit Vuforia, have already been acquired.
Snap's driving motivation could be the chance to set up an office in Israel, a growing hub for start-ups in cybersecurity, mobile gaming and virtual reality technology.
Cimainge enables Snap "to tap into Israeli talent and establish a development center around a kernel of a proven team," said Ori Inbar, a longtime augmented reality technology entrepreneur who's advised Cimagine.
Inbar, who now runs investment firm Super Ventures, said that in his opinion Snap could keep Cimagine's service operating.
"As much as augmented reality is hot, it's still a grind to convince customers and investors to jump in," he said. "Snap will allow Cimagine to grow fast and expand its reach dramatically."
Snap generally waits as long as possible to shed light on the strategy behind its acquisitions and investments. But its dozen or so deals primarily have been a means to bolt on new features developed elsewhere, such as personalized stickers for decorating digital images.
Most recently, reports pegged Snap as the buyer of advertising software firm Flite. The transaction could lead to new options for advertisers, whom Snap relies on for most of its revenue. Integrating Cimagine technology into Snapchat ads could be a welcome tool for advertisers hoping interaction with virtual representations of their products will increase interest.
Snap employs about 1,500 people across the world. Each office — including in China, Seattle, San Francisco, Toronto and New York City — tends to be anchored around a unique project.
Twitter: @peard33
---