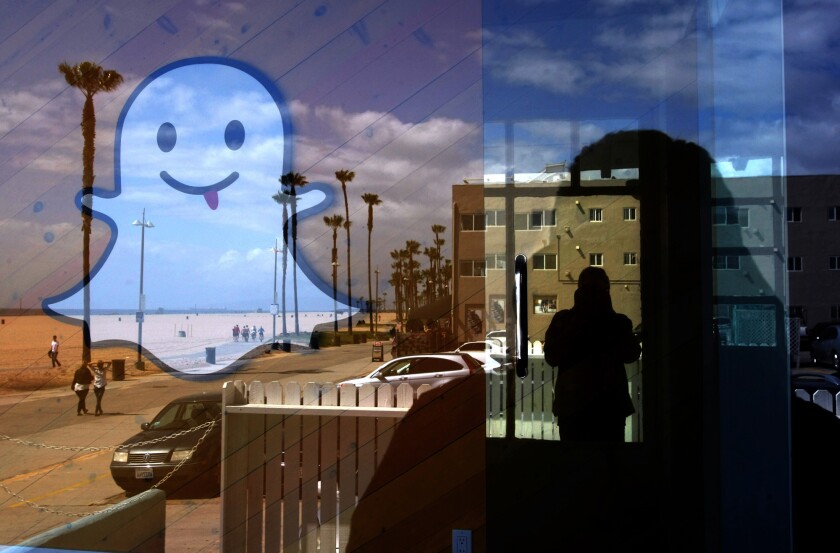 Snapchat has settled charges by the Federal Trade Commission that said the Los Angeles startup deceived users with its marketing and failed to secure their information.
As part of the agreement, Snapchat will be required to implement a privacy program that will be monitored by an independent expert for the next 20 years. The company will also be prohibited from misrepresenting the privacy and security of its app as well as the confidentiality of its users' information.
The settlement stems from a complaint filed by the FTC that included numerous charges against Snapchat.
The federal agency said Snapchat told users that messages sent through its app disappeared after being viewed. However, users had several ways of storing those messages, including using third-party apps.
Snapchat also promised to alert users if a recipient of their message took a screenshot; some Apple iOS device owners could use a special technique to screenshot a message without alerting the sender.
The FTC also said that Snapchat misrepresented what data it collected. On Android, the app collected users' geolocation information, even though Snapchat said it did not do that in its privacy policy. And on Apple devices, Snapchat collected users' address book information without their permission.
Snapchat also faced charges dealing with the security of its app.
On New Year's Eve, a security breach resulted in the exposure of the usernames and phone numbers for 4.6 million Snapchat users. At one point, users also complained that their messages were not being sent to their friends, but instead, complete strangers. This happened because Snapchat was not verifying users' phone numbers, making it possible for users to sign up with telephone numbers that did not belong to them.
"If a company markets privacy and security as key selling points in pitching its service to consumers, it is critical that it keep those promises," said FTC Chairwoman Edith Ramirez in a statement. "Any company that makes misrepresentations to consumers about its privacy and security practices risks FTC action."
Snapchat published a blog post Thursday saying it made mistakes during its early days but has learned from them. Among those errors was how it communicated with its users, Snapchat said.
The company also said that even before Thursday's agreement, it had already addressed and fixed many of the issues in the FTC's complaint. The company also promised to continue investing in the security of its service.
"We are devoted to promoting user privacy and giving Snapchatters control over how and with whom they communicate," Snapchat said in the post. "That's something we've always taken seriously, and always will."
---