Snap CEO Evan Spiegel says charges of sexism at his company are a 'wake-up call'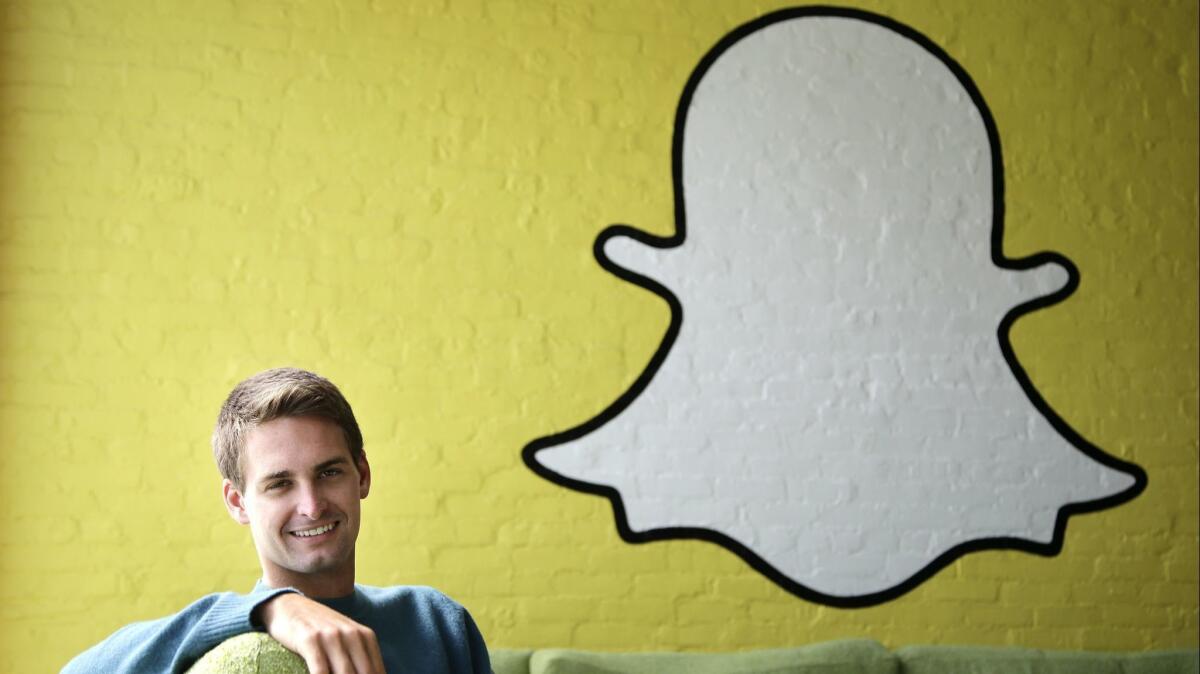 Snap Inc. Chief Executive and co-founder Evan Spiegel said a widely-shared email by a former software engineer who accused the company of harboring a "sexist" and "toxic" workplace culture was a "wake-up call" that has already prompted change at the Venice firm.
Speaking on stage at the Code Conference in Palos Verdes Tuesday, Spiegel was asked to respond to a report published earlier in the day by digital news outlet Cheddar about the email and subsequent accusations by the former employee that the makers of Snapchat did not promote diversity.
"That letter was a really big wake-up call for us," Spiegel said. "We're constantly thinking about how to have the culture that we want, how to reinforce the values that we want and we're thinking about it even more because … the company has grown so fast."
In response, Spiegel said Snap reorganized the engineering department and installed new leadership. The company also hired consultants and issued a companywide survey to identify areas that require improvement.
"I'm proud of the progress our team has made the last six months," Spiegel said. "I'm glad we started moving a lot faster on these issues. Obviously there's a lot more to do."
The email was reportedly written by Shannon Lubetich hours before she left the company in November and sent to about 1,300 colleagues in the engineering department. In it, she said engineers can be kind, compassionate, gay and people of color.
"It's fine if this list doesn't describe you," she wrote. "But it's not fine if you think, consciously or subconsciously, that these traits prevent you from being a good engineer."
(Lubetich did not respond to a request for an interview sent to her Facebook account).
Cheddar, relying on accounts from Lubetich and two dozen current and former employees, detailed a sexist atmosphere at the company.
Among the examples was a party last summer at an airport hangar in Santa Monica in which scantily clad models were hired to wear deer costumes meant to look like one of Snapchat's lenses.
Spiegel said at the conference he was also uncomfortable with the models' presence and that a Snap employee ultimately had them removed from the event.
"I was frustrated, to say the least, to see people dressed up as deer at a holiday party," he said.
In another instance, Lubetich said she overheard Snap's now-departed vice president of engineering, Tim Sehn, make a penis enlargement joke. Sehn apologized for the incident in an email to Cheddar.
Lubetich described discomfort with a frat-like atmosphere at Snap in which male colleagues boasted of taking little time off to care for their newborn children, push-up competitions and alcohol-fueled hot tub parties.
"With a younger workforce people are going to make mistakes," Spiegel said.
Follow me @dhpierson on Twitter
Twitter: @MegJamesLAT