Tech firms criticize Trump's call for a transgender military ban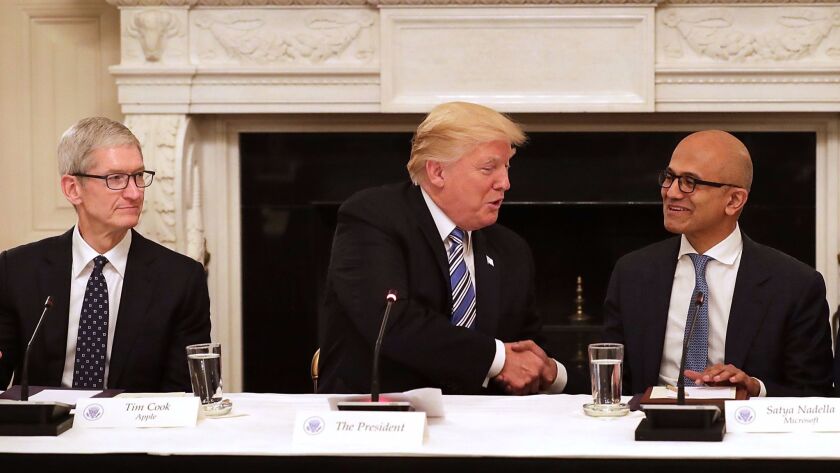 Some of the technology industry's most prominent companies and leaders called for inclusion after President Trump proposed barring transgender people from the U.S. military.
Following a series of Wednesday morning tweets from Trump that said allowing transgender people to serve would result in "tremendous medical costs and disruption," Apple, Google, Uber, Facebook and Twitter and their leaders voiced their support for transgender members of the military — but were careful not to mention Trump by name. Their statements were general calls to action, some using the hashtag #LetThemServe.
"Everyone should be able to serve their country — no matter who they are," Facebook chief executive Mark Zuckerberg wrote in a post on his profile.
"We are indebted to all who serve. Discrimination against anyone holds everyone back," Apple CEO Tim Cook tweeted.
"We are grateful to transgender members of the military for their service," Google tweeted.
The measured critiques illustrate Silicon Valley's relationship with an administration with which it disagrees, but one it is hesitant to cross.
Though the tech industry has found itself on the opposite side of the White House on many issues — immigration, offshoring of jobs, encryption and the president's travel and refugee ban among them — its leaders still meet with Trump and his administration. Many of those cautiously condemning Trump's tweets Wednesday attended a White House tech conference last month.
Tech leaders have spoken out in recent years against legislation they see as infringing upon LGBTQ rights. Apple, Google, Microsoft and others last year criticized a North Carolina law that limited bathroom access for transgender people.
Tech companies have learned the hard way the consequences of not speaking out.
Due to his role on a White House advisory council and his perceived coziness with the Trump administration, former Uber CEO Travis Kalanick was slammed by critics after the president signed an executive order barring travelers and refugees from seven majority-Muslim countries from entering the United States. Customers took to Twitter using the hashtag #DeleteUber — leading thousands to delete the ride-hailing app from their phones. Kalanick later quit the panel, before resigning from his job as scandals enveloped the company.
Uber's public relations team was quick to tweet its displeasure with Trump's announcement Wednesday.
"These patriotic Americans deserve to be honored and respected, not turned away because of who they are," the Uber Comms account tweeted.
ALSO
Trump floats Gary Cohn for Fed chief — or maybe he'll keep Janet Yellen
Net neutrality face-off: Lawmakers ask Google, Comcast and other execs to testify
---