Twitter's sales beat expectations as it cleans out spam accounts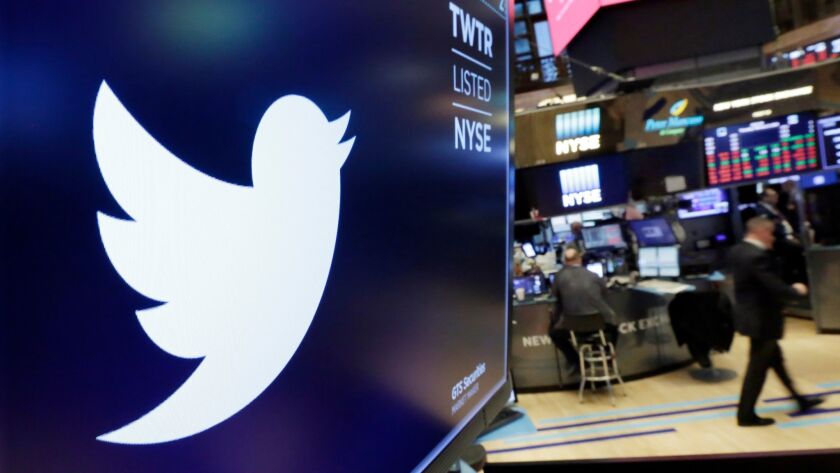 Twitter Inc. topped estimates for earnings and revenue in the third quarter amid higher spending from advertisers, marking a much-needed boost for the social-networking site after months of scrutiny from lawmakers and criticism about fake or offensive accounts. Its stock surged Thursday.
Monthly active users averaged 326 million, the San Francisco company said Thursday. That's a decrease of 9 million from the second quarter. Twitter warned in its July earnings report of a continued drop in the metric as a result of efforts to clean up its service and stricter privacy rules in Europe. The company said those trends will continue and lead to another decline in monthly users for the fourth quarter.
Twitter's financial health has been consistently improving in recent months, benefiting from a push to add more live video and personalized content. The social network's 29% jump in revenue in the recent period marks the third consecutive quarter of double-digit growth, and Twitter has reported positive net income for four straight quarters. Though sales and earnings have grown stronger, Twitter has suffered from a drop in user metrics, especially after purging its ranks to eliminate fake accounts — an effort that continues ahead of the U.S. midterm elections in November.
"We have a more engaged audience and we are delivering a better return on investment for advertisers," Chief Financial Officer Ned Segal said in an interview. "We are now seeing the fruits of our labor, and going into the fourth quarter we have the wind in our backs."
Twitter shares jumped 15.5% to $31.80. They are up about 32% for the year.
Analysts seemed to look beyond the user numbers to the improved financial metrics. Twitter's monetization trends are enough to "more than offset" declining monthly active users, Robert Baird & Co. analyst Colin Sebastian wrote in a note. The firm has a neutral rating on the stock and a $35 price target.
This month Twitter said it removed about 50 accounts in August that misrepresented themselves on the site as members of various state Republican parties. Chief Executive Jack Dorsey told members of Congress in September that "massive shifts" would be required in how the platform operates, in response to questions about Russian meddling in the 2016 presidential election and complaints by President Trump and some conservative Republicans that Twitter and other social media companies suppress or reduce the visibility of their opinions.
In the third quarter, revenue jumped to $758.1 million, topping the average analyst projection of $701.3 million, according to data compiled by Bloomberg. Profit, excluding some costs, was 21 cents a share, higher than the average estimate of 14 cents.
Twitter and its social-media peers, Facebook Inc. and Alphabet Inc.'s YouTube, have been increasing spending to fight foreign influence campaigns after they were used by Russian operatives and other agents to meddle in American politics during the 2016 l election. Since then, Twitter has also been used by other countries, including Iran and Saudi Arabia. In response, the company has rolled out stricter rules for political advertising and has been improving algorithms to identify spam and automated bot accounts. In the first half of September, the company said it challenged an average of 9.4 million accounts each week.
Though Twitter is becoming a more attractive place for advertisers, the company has struggled to expand its user base. Twitter has improved its sales process and targeting for advertisers with investments in artificial intelligence and machine learning, Victor Anthony, an analyst at Aegis Capital Corp., said before the earnings were released. It has also used new technologies to better predict what users want to see and curate the news in their feeds.
"The problem is getting users to see the value of Twitter," Anthony wrote in a note. "As Twitter continues to improve the platform, we expect to see more stickiness from the new users."
Dorsey has emphasized that decreasing the amount of toxic content on the service is crucial to long-term user growth and that daily active users are the best measure of success — though the company doesn't provide a raw number for daily users. Twitter said third-quarter daily active users rose 9% from a year earlier, marking the first quarter of single-digit growth after seven consecutive quarters of double-digit increases.
On a conference call with analysts, Dorsey reiterated Twitter's focus on matching users with the conversations they're interested in. Twitter has long struggled to organize the flood of information on the service. Personalizing the site has helped revitalize growth in daily active users.
Segal said this was another quarter that Twitter "delivered revenue in excess of audience." Increasing the number of daily active users "is the lifeblood of the company," Segal said on the call. With daily active users still accounting for fewer than half of the monthly active users, there's room to grow, he said.
Net income in the third quarter was $789 million, or $1.02 a share, including the release of deferred tax asset valuation allowances of $683 million. A year earlier, the company had a net loss of $21 million.
Twitter gave a forecast for fourth-quarter earnings before interest, taxes, depreciation and amortization of $320 million to $340 million, in line with analysts' average estimate of $332.3 million.
The company plans to grow its employee ranks by as much as 15% by the end of the year, Segal said, adding that "our retention and ability to attract people to Twitter has gotten a lot better."
---
UPDATES:
4 p.m.: This article was updated with Twitter shares' closing price.
This article was originally published at 6:55 a.m.
---