Two Uber execs taken into custody in France over possible illegal operations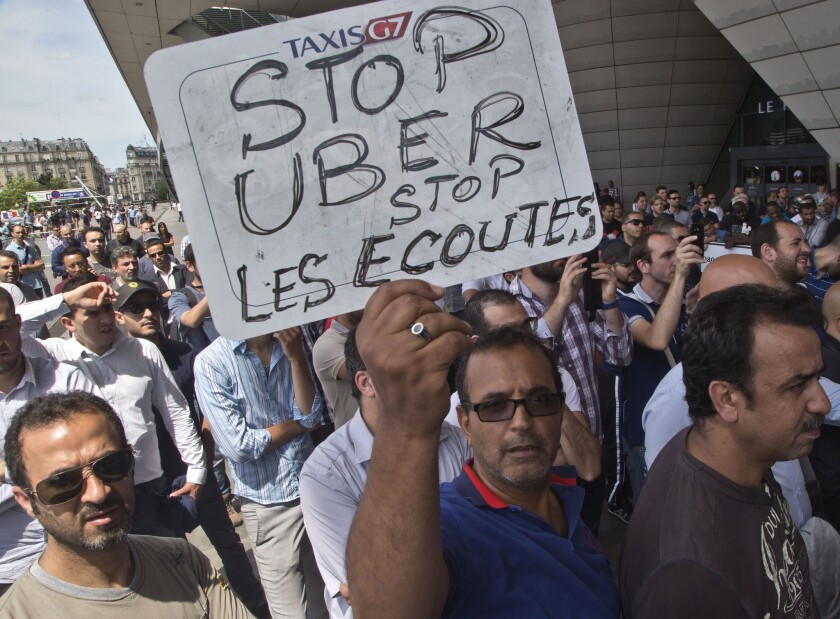 Two executives for the San Francisco company Uber were taken into police custody Monday in Paris, after a week of turmoil in which local taxi drivers violently protested the on-demand transportation service.
According to French newspaper Le Monde and business program BFMTV, Uber France Chief Executive Thibaud Simphal and Uber Europe general manager Pierre-Dimitri Gore-Coty are suspected of "inciting illegal employment" by continuing to operate UberPOP (better known as UberX in California), the arm of Uber's business where drivers use personal vehicles as a taxi service, connecting with passengers through Uber's app.
"Our general managers for France and Western Europe today attended a hearing with the French police," an Uber spokesperson said in an issued statement. "We are always happy to answer questions the authorities have about our service — and look forward to resolving these issues."
According to Uber, neither has been charged.
This is not the first time French authorities have taken business executives into custody without charge. In 2006, the chief executive of online gambling platform Bwin.Party, Norbert Teufelberger, and a fellow exec were arrested after a press conference and held for questioning on suspicion of breaking French gambling laws. After an investigation, a judge released them three days later, and Bwin.Party continues to operate in France today.
French authorities began investigating UberPOP in 2014 and searched its Paris office in March, seizing computers, phones and documents. Like other European markets such as Spain and Germany that have pushed back against the service, French authorities accused Uber of operating illegally because drivers for its UberPOP service are not licensed to offer such rides. The country's Thevenoud Law requires drivers for hire to carry special permits and insurance. In response, Uber filed a legal complaint with the European Commission against France, questioning the legality of the Thevenoud Law.
Though the investigation is unrelated to last week's protests, which resulted in overturned cars and burning tires in the streets, it may have put pressure on police to speed up the investigation.
Last week, France's Interior Minister Bernard Cazeneuve reiterated his position on UberPOP, describing it as an "illegal service [that] must be closed." Monday, he announced an additional 200 police officers would patrol the streets looking for UberPOP drivers.
In the U.S., Uber had some positive news as it announced an acquisition of map-technology assets from Microsoft's Bing search business, and will bring on 100 Microsoft employees.
"Mapping is at the heart of what makes Uber great," a spokesperson said.
Twitter: @traceylien
---