Cave fire burns more than 4,300 acres; firefighters hope rain will help save homes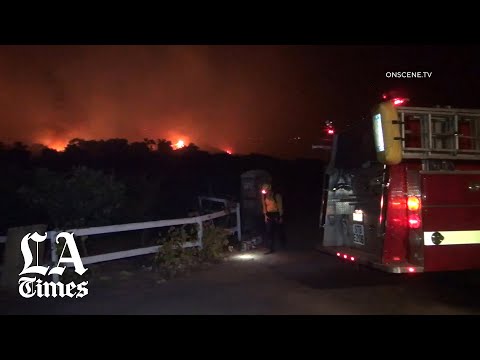 Santa Barbara County firefighters battle flames at the Cave fire on Monday.
SANTA BARBARA —
Firefighters struggling with a wind-driven brush fire that has forced thousands from their homes in Santa Barbara County on Tuesday are hoping that a bout of rain from a cold front moving across the state will help bolster their efforts by evening.
The Cave fire broke out just after 4 p.m. Monday near East Camino Cielo and Painted Cave Road in the Los Padres National Forest. The blaze ignited amid erratic sundowner winds that sent flames rushing downhill toward communities in Santa Barbara and Goleta, spurring evacuations.
Steep, rocky terrain and critically dry grass and brush have stymied firefighters' efforts. The fire behavior overnight was so erratic that when the winds — gusting up to 50 mph — would let up, the blaze would change direction and race back uphill toward firefighters, Los Padres National Forest Fire Chief Jim Harris said.
"The Cave fire is burning under some of the toughest firefighting conditions anywhere in the world," he said. "We've experienced several offshore wind events at this point, and that has just dried the fuel bed out to the point where we're seeing the fire behavior we saw last night."
The blaze had swelled to 4,300 acres with 10% containment. About 600 firefighters were on scene, defending homes from the advancing flames. Ten fixed-wing tankers and nine helicopters were expected to arrive by midday to aid in the effort, said Santa Barbara County Fire Capt. Daniel Bertucelli.
As the fire grew late Monday, mutual aid started to arrive from neighboring counties to help the local and national forest firefighters. The Ventura County Fire Department sent two strike teams — about 10 fire engines — Monday evening, and the Los Angeles County Fire Department sent a Firehawk helicopter, which is capable of performing nighttime water drops.
Engine teams were embedded in neighborhoods to defend homes in the fire's path, and bulldozers and hand crews were at work throughout the night digging into the dirt to create containment lines around the perimeter of the blaze.
The fire prompted Santa Barbara County officials to declare a local emergency and request that Gov. Gavin Newsom proclaim a state of emergency for the region. The fire is "causing conditions of extreme peril to the safety of persons and property within Santa Barbara County," the county wrote.
About 2,400 homes bordered by East Camino Cielo, Ontare Road, Foothill Road/Cathedral Oaks Road and Fairview Avenue were placed under mandatory evacuation orders. An evacuation warning was issued for the area north of Foothill Road and from Ontare Road east to Gibraltar Road.
Shortly after noon, about 4,000 residents in the far eastern area of the evacuation zone — the largest section of displaced homeowners — were allowed to return. Officials, however, warned that many would be arriving to homes without electricity. Large swaths of Santa Barbara County, including unincorporated areas between Goleta and Santa Barbara, along Highway 154 through Mission Canyon and parts of Summerland and Carpinteria, are experiencing power outages because of the fire.
It was not clear when evacuation orders for the rest of the region would be lifted.
No injuries have been reported, and no homes have been destroyed, but one outbuilding was damaged, officials said. It was not clear how the blaze started.
Firefighters expect their efforts throughout the day will be made more difficult by significant southwest winds blowing through the region. The fire has chewed through dense, old brush in an area that hasn't burned since the Painted Cave fire in 1990. That fire, which authorities said was the result of arson, destroyed hundreds of homes in the area and caused $250 million in damage. Harris called the area around San Marcos Pass where the winds funnel through the hillsides a "nightmare spot" for a blaze.
"We've had a lot of fires in Santa Barbara County in the front country over the last 15 years or so," Harris said. "This is one of the last slots of old vegetation. It's something we've all talked about for years and years."
Fire crews may be getting some help from the weather by Tuesday evening, when a storm is expected to arrive in the area, Bertucelli said.
"What's working in our favor is we're getting rain tonight," he said. "It's definitely going to affect our fire behavior. ... It's going to diminish the fire."
The Cave fire in Santa Barbara County is threatening homes in Santa Barbara and Goleta. It's being pushed by down-canyon winds with 30-mph gusts.
The storm, which is expected to drop about an inch of precipitation on the fire area, brings its own challenges in the burn area in the form of possible debris flows. During an early morning briefing, fire officials warned crews to be cautious when the rain started and to have a plan in case roadways were washed out.
Bertucelli said officials were mostly concerned about small rock slides onto Highway 154.
The impending rainstorm was welcome news to residents near the fire.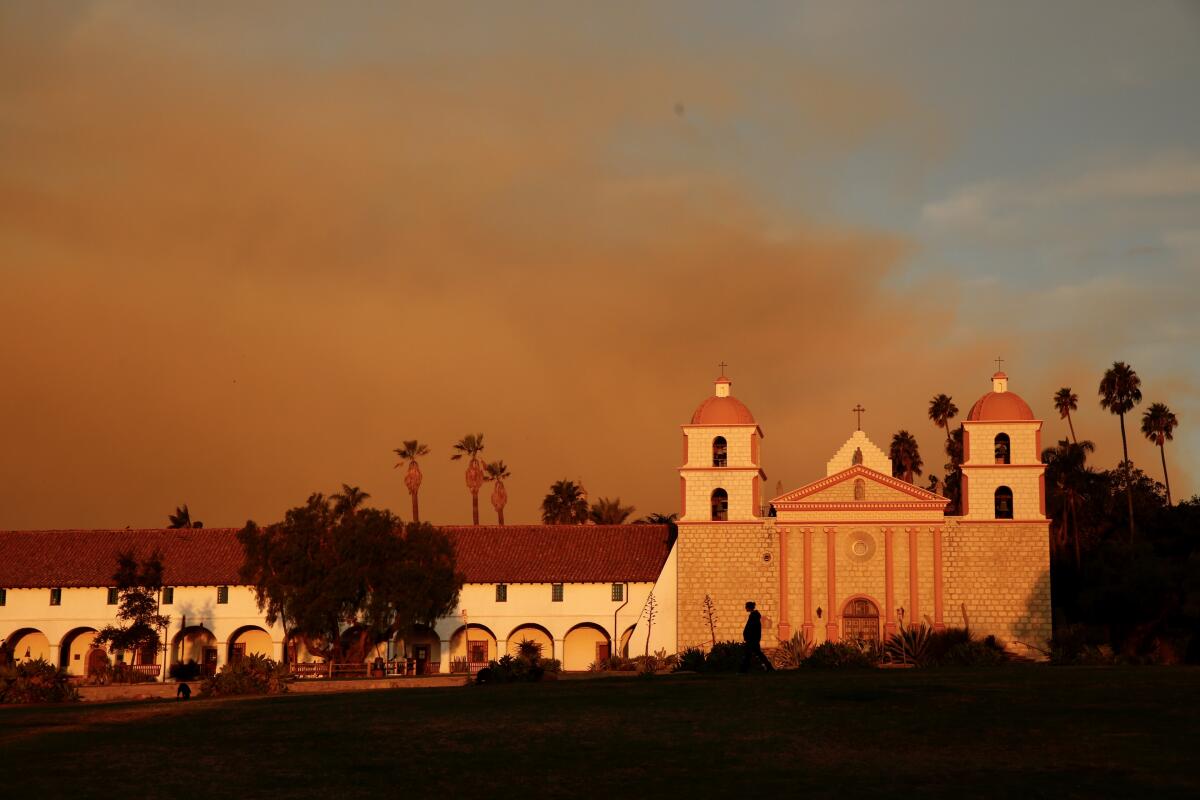 "People say, 'What about the mudslides?' But I believe we need it," said Fred Cortez, standing in his socks on his ash-sprinkled porch in the Blue Skies Mobile Home Park on Tuesday. The night before, Cortez watched as car after car fled the mobile home park. The hillside glowed with a deep orange hue and ash fell like snow on neighborhoods as residents rushed to pack their belongings and leave their homes.
But Cortez decided to stay.
The community was not under a mandatory evacuation order, and Cortez figured that if he really had to leave, police would come into the neighborhood to alert residents. In the meantime, he re-positioned his car so he could leave quickly if needed and began packing some important paperwork and belongings.
Cortez watched the news on his computer until 4 a.m., keeping the window blinds up so he could spot the fire on the mountains outside.
"It looked like it would calm down," he said, "and then it would flare up again."
Stan Jeffries, 91, was at home with his wife in Santa Barbara's San Vicente Mobile Home Park on Monday afternoon when his daughter called to alert him to the fire. Jeffries walked out onto his street and could see plumes of smoke in the surrounding hillsides.
"First we saw smoke, and it wasn't too alarming," he said. "As it got darker, you could see the flames, and they began to blossom."
The fire didn't seem to be an immediate threat, but hours later, a neighbor from the mobile home community's disaster preparedness committee knocked on their door and told them it was time to leave.
The couple left about 2:30 a.m. after packing some blankets and important paperwork. As he sat at the evacuation center early Tuesday, Jeffries said he still wasn't too worried about their home.
"I think our committee was a little conservative," he said, "but by the time we left, we could see the fire coming down the mountain."
Before the sun rose Tuesday, about 45 people who had evacuated were sleeping in the Goleta Valley Community Center, which had opened as a shelter for displaced residents hours earlier.
Among them was 90-year-old Irene Lamberti, who lives in an unincorporated area of Goleta a few miles from the fire. She first saw smoke when she was driving home from a swim aerobics class on Monday afternoon. She didn't think she would have to evacuate and settled down to watch "Antiques Roadshow" on television and eat dinner.
"I didn't think it was going to affect us," she said.
At about 8 p.m. Monday, authorities knocked on the door and told her that people in her neighborhood were evacuating. Lamberti and her husband spent about half an hour grabbing items from around their home and placing them in a small suitcase. They forgot their toothbrushes and her husband's pajamas, she said, but the couple made sure to bring a Japanese embroidery of a geisha that Lamberti had been working on for months.
"Our house is like a museum. You can't take everything," she said. "I wasn't going to leave that."
Support our journalism
The Times is offering fire coverage for free today. Please consider a subscription to support our journalism.
Times staff writer Colleen Shalby contributed to this report.
Sign up for Essential California for news, features and recommendations from the L.A. Times and beyond in your inbox six days a week.
You may occasionally receive promotional content from the Los Angeles Times.