L.A. limits restaurants to takeout and delivery, closes gyms, entertainment sites over coronavirus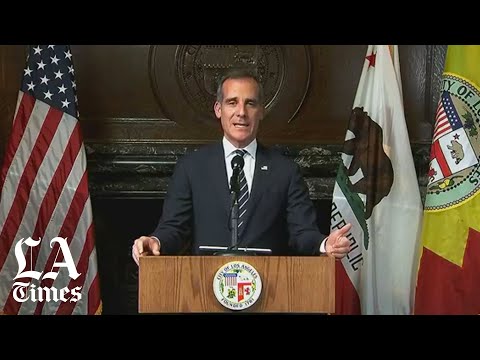 Mayor Eric Garcetti on Sunday night announced an emergency action to close bars, nightclubs, restaurants — with the exception of takeout and delivery — entertainment venues and gyms in an attempt to slow the spread of coronavirus.
Garcetti also announced a moratorium on evictions for renters, telling Angelenos that they won't lose their housing during the crisis "because you can't make the rent," and has asked the city attorney to look into whether the city can stop commercial evictions. He also announced that the city is putting together a fund for small businesses that will offer loans.
Get the latest coronavirus updates from our staff in California and around the world.
"Our decisions will determine the fate of our loved ones, the length of this crisis," Garcetti said. "We need to take these steps to protect our city right now…The work we do now will have an impact on the city's history. We need to do everything now to stop the spread of this virus."
The order takes effect midnight Monday, he said. He also called on houses of worship to close. "We have an incredible Constitution and a First Amendment, so while we can't mandate that churches, mosques or synagogues close, please, we are asking you to close them."
The moves came hours after Gov. Gavin Newsom on Sunday significantly ramped up California's response to the coronavirus, calling for the closure of all bars, nightclubs, wineries and brewpubs, and urging people 65 and older and those with chronic health conditions to stay indoors in an effort to slow the virus' spread.
Newsom stopped short of requiring restaurants to close completely, but also called on much greater social distancing measures for restaurants. Statewide they will be directed to reduce their occupancy by roughly half and ensure that tables are at least 6 feet apart, he said.
"We recognize that social isolation for millions of Californians is anxiety-inducing, but we recognize what all the science bears out and ... we need to meet this moment head-on and lean in," Newsom said.
The governor said the request of older Californians was made in hopes of limiting their exposure to the virus, given that health officials have pointed out higher dangers for those who are older. "We are prioritizing their safety," he said.
Where are the latest local cases?
Amid the stepped-up measures, California had recorded 335 cases of the virus as of Sunday, a 14% increase from the day before, Newsom said. The state also reported six deaths, with the sixth taking place in San Mateo County, where 32 cases have been recorded. Of the statewide COVID-19 cases, 116 patients are 65 or older.
Los Angeles County reported 16 new coronavirus cases by midday Sunday, bringing the county total to 69. Five of the cases confirmed Sunday required hospitalization. Also of the 16, one person has an unknown source of exposure, and three others are under investigation, the county Department of Public Health said in a news release. Three other cases are believed to be travel-related, four had close contact with another confirmed case, and two were healthcare workers exposed to the virus in a healthcare setting, officials said.
A Los Angeles police supervisor in the Pacific Division was also identified as a COVID-19 patient, the LAPD's first confirmed case, according to a news statement about 5 p.m. It was not clear if the officer is included in the county report of 16 new cases.
The uniformed supervisor "exhibited flu-like symptoms around March 5th. He went home and sought medical treatment including being tested" for COVID-19, according to the statement. The test came back positive Sunday, the supervisor is improving and he is expected to make a full recovery, the statement said. "Thorough cleaning and disinfecting of the involved employee's work area at the Pacific Division should be completed by the end of the day" Sunday, the statement said.
A police officer at Los Angeles International Airport has tested positive, said county health officials, who added they are "working to identify any other officers or employees who may have had prolonged or close contact with this individual." "County Health is conducting thorough interviews to determine who else may be at risk," LAX said in a statement.
A USC undergraduate student also tested positive for the virus, the school announced Sunday. The student recently returned from international travel, arrived directly in Orange County and has not been on or near the USC campus, the school said in an email to students and faculty. The person is in good condition and in isolation at home, officials said.
In Long Beach, a woman in her 60s who was diagnosed with the virus was hospitalized in stable condition, the city said in a statement. She did not have contact with another known COVID-19 case and did not travel to an area where the virus was widespread, meaning her diagnosis might be the first instance of community spread in Long Beach, officials said.
"This case highlights the need for continued vigilance and preparation, especially for those at higher risk of severe illness and those with underlying health conditions," Dr. Anissa Davis, the city's health officer, said in a statement.
As testing ramps up and the number of confirmed cases continues to grow, Dockweiler Beach will be one of the sites used to temporarily house people who have been ordered to isolate or quarantine because of the coronavirus, officials said. Garcetti also said the city is looking into building capacity at motels and other shelters.
Concerned for their livelihoods
Before Garcetti's announcement, California's new restrictions left local bar owners and patrons with a mix of emotions.
"What can I really say but it's unfortunate, however, safety is the utmost importance," said Robert Kim, owner of the Koreatown bar and lounge Mama Lion. "My biggest concern is for my staff and their livelihood and, separately, protecting the business from possible theft or looting in these dire times."
Jimmy Han, who owns Frank 'n Hank bar in Koreatown, said he decided to close his bar down Saturday after seeing customers not follow the 6-foot social distancing rule he tried to implement.
"I'll be losing a lot of money and so will my employees, but honestly that's the least of our concern right now," he said. "We're more worried about public health and how this is going to impact the economy long term."
Midday on Sunday, bars along Santa Monica Boulevard in West Hollywood were mostly empty or quiet. But at a few, where drag performances were going on, social distancing did not seem to be on the minds of cheerful crowds. At Rocco's WeHo and Flaming Saddles, drag queens danced to deafening music as they were cheered on by crowds handing them dollar bills on the stage.
However, not everyone was proceeding with business as usual. At the Abbey, West Hollywood's most popular gay bar, the gates were closed. On each door, a sign read: "As we continue to navigate the rapidly changing conditions with COVID-19, the Abbey is closing temporarily. We plan to open as soon as our public health officials tell us it is safe."
Some proprietors and performers said they were concerned for their livelihoods.
Coronavirus spread sparks California to request 5.3 million senior citizens to stay home
"If they can't [work], how are they going to survive?" said Adolfo Espinoza, an owner of Rocco's WeHo.
He said that bar management is taking precautions, such as deep cleanings every night, limiting the bar to a 300-person capacity versus 600 to 900 on its most crowded nights, and using throwaway cups only.
Before hearing about Newsom's directive, Espinoza said he had no plans to close, despite bad reviews and social media posts from people who shamed Rocco's for not shutting down for people's safety.
"We live in a sick world," he said. "Sex and alcohol is always going to sell."
Starbucks also announced new efforts to limit the number of people gathering there. All of its stores in the U.S. and Canada will move to a "to go" model for at least two weeks, removing all seating in cafe and patio areas, the company announced Sunday. Some stores in high-traffic locations such as malls and college campuses will be temporarily closed, and others in communities with high concentrations of the virus will either be closed or have their operating hours reduced.
Flattening the curve
As the coronavirus continued its spread in both California and throughout the nation, officials urged residents to dramatically restrict their interaction in hopes of slowing the virus' march through communities.
The U.S. Centers for Disease Control and Prevention recommended Sunday that in-person events planned with more than 50 people over the next eight weeks should be postponed across the country.
A clinical trial evaluating a vaccine designed to protect against the new coronavirus will begin Monday.
The government's top infectious disease expert, Dr. Anthony Fauci, said that Americans needed to step up individual and community efforts to fight the spread of the coronavirus — including being much more diligent about social distancing.
"I think Americans should be prepared that they are going to have to hunker down significantly more than we as a country are doing," Fauci, the director of the National Institute of Allergy and Infectious Diseases, said on NBC's "Meet the Press."
Fauci applauded measures taken so far to limit the spread of the virus but said even everyday steps that many people considered drastic were insufficient.
"If you are in an area where there is clearer community spread, you have to be much, much more intense about how you do that," he said. "When you think you are doing too much, you are probably doing enough, or not enough."
Despite the warnings from government officials to limit gatherings, crowds amassed at several major airports due to confusion over new travel restrictions and as screenings for the virus caused bottlenecks of people returning from abroad.
The governor of Illinois, J.B. Pritzker, described a sense of alarm upon seeing images of travelers returning from Europe and elsewhere tightly packed together for hours Saturday evening at Chicago's O'Hare International Airport. Similar scenes played out at major airports across the country.
"As people were flooding into O'Hare airport, they were stuck in a small area, hundreds and hundreds of people, and that's exactly what you don't want in this pandemic," the governor said on NBC's "Meet the Press."
Pritzker predicted the chaotic conditions would persist throughout the weekend at least. "There are a larger number of flights with more people coming, and they seem completely unprepared," the governor said in the NBC interview.
Many travelers had rushed to return to the United States in the mistaken belief that American citizens risked being shut out by a ban on arrivals from much of Europe, effective Friday at midnight, announced last week by President Trump. The White House later clarified that the prohibition did not apply to U.S. citizens, permanent residents and others exempted.
"They should have increased the customs and border patrol numbers, and they should have increased the number of CDC personnel on the ground doing those checks," Pritzker said. "They did neither of those."
Mark Morgan, acting commissioner of U.S. Customs and Border Protection, said in a statement that the wait times "at some locations were unacceptable" and that "some of the resources of our partners are stretched thin."
"With this national emergency, there will unfortunately be times of disruption and increased processing times for travelers," he said. "CBP is working around the clock to minimize these inconveniences."
Trump weighed in on Twitter, writing, "We are doing very precise Medical Screenings at our airports. Pardon the interruptions and delays, we are moving as quickly as possible, but it is very important that we be vigilant and careful."
Fauci, a member of the administration's coronavirus task force, described the size and concentration of airport crowds as worrisome.
"We'd like to not see crowds like that," Fauci said on "Fox News Sunday."
Similar backups were reported at grocery stores across the country and in the Los Angeles area, with lines of people outside waiting for stores to open on Sunday morning.
The scenes prompted Garcetti and the L.A. Police Department to caution against panic-shopping and hoarding food and other supplies.
"This is about preparation and prevention, not panic," Garcetti said in a tweet. "No need to hoard excess items."
The LAPD said on Twitter that there is no food shortage and stores will restock.
"The water supply is clean & safe to drink, so there's no need to buy water in bulk," the department said.
The warnings came as grocery stores announced changes to deal with the throngs of shoppers that descended on retail outlets in recent days.
Ralphs said it is stepping up cleanings and working with suppliers to replenish high-demand products. Its store hours have been curtailed to 8 a.m. to 8 p.m. so employees have more time to restock.
Albertsons, which operates the grocery chains Vons, Pavilions and Safeway, said it is taking similar steps. Whole Foods said it is suspending food sampling and demonstrations, and modifying store operations to accommodate additional deep cleanings.
The host of services in the region extends to the Los Angeles Department of Recreation and Parks, which announced it would close all recreation and senior centers and cancel all activities through at least April 4. All events that involve 50 people or more scheduled at Recreation and Parks locations were canceled, and new reservations for facilities or permits were suspended.
Northern California continues to be hard hit
Santa Clara County, which has seen the most cases in the state, announced 23 more cases for a total of 114. Forty-eight people there have been hospitalized. Fifteen of the cases are believed to be related to travel, and 52 are believed to be instances of community transmission.
San Luis Obispo County announced its first two cases of the virus Saturday and Sunday, and both are believed to be evidence of community transmission, officials said. The county has declared public health and local emergencies because of the virus.
The first person who tested positive is a north county resident older than 65 with underlying health conditions who had a fever, cough and shortness of breath, officials said. In a statement, the department commended the person and their physician for taking steps to limit transmission of the virus. The person called their doctor's office in advance and their doctor met them in their car to collect a swab specimen for testing, the department said.
The second person diagnosed is a south county resident younger than 60 with underlying health conditions, officials said. That person contacted their healthcare provider when they developed a fever and cough, and a private laboratory performed testing and notified the county public health department.
"Because local testing capacity increased both at our public lab and at private-sector labs last week, we will likely see more confirmed cases in the coming days," said Dr. Penny Borenstein, the county health officer, in a statement.
Both people were recovering in isolation at home, and the county department of public health was reaching out to those who had close contact with them in recent days to determine whether testing or quarantine was needed.
Santa Barbara County also confirmed its first case of the coronavirus, a person in their 60s with no underlying health conditions. The person remains in isolation at home. The person has no history of travel in the last six weeks, and officials said it appears to be a case of community transmission.
And San Bernardino County recorded its first case of coronavirus, a patient of the Kaiser hospital in Fontana who returned from London last week. The patient, a 53-year-old woman, went to the emergency room on Thursday with symptoms consistent with COVID-19, San Bernardino County said in a statement.
San Francisco reported 37 cases Saturday, up from 28 the day before, and Sacramento reported three additional cases for a total of 32.
Life in the Bay Area, which has seen more than 200 cases, was rapidly changing.
Counties across the region have issued public orders banning gatherings — including at restaurants, bars and theaters — of as few as 10 people unless all attendees can be 6 feet away from each other and prospective attendees are warned they face a higher risk of coronavirus infection.
Each county issued various rules. San Mateo County placed limits on gatherings of 10 or more people and officially banned those of 50 or more; Santa Clara County on Friday restricted gatherings of 35 or more and banned those of 100 or more.
San Francisco and Contra Costa County banned all nonessential events of 100 or more people. Alameda County suggested all gatherings of 250 or more be canceled. San Francisco also banned visitors and nonessential personnel from hospitals and psychiatric hospitals.
Officials called the rules radical but said they were needed to battle the virus.
"These measures are designed to slow the spread of disease and preserve critical healthcare capacity and other essential services," said Santa Clara County health officer Dr. Sara Cody.
A Stanford University undergraduate student tested positive for the coronavirus, prompting more actions on campus, such as students being told to leave the dining hall once they're given pre-filled to-go containers and eat outdoors or in their dorm rooms.
A UC Berkeley graduate student also tested positive for the coronavirus. The student was in good condition and had no serious symptoms and was under self-isolation in the individual's city of residence, which is not Berkeley, the university said.
Farther south
Two healthcare workers at UC San Diego Health had confirmed coronavirus infections and were on home quarantine, according to a statement released by the university Saturday afternoon.
The university's statement did not specify where they worked or their positions. It was also unclear whether either employee was wearing protective equipment while on duty.
Both employees were said to be in good health, and the university had "launched an extensive effort to identify any patients or health system colleagues who may have been in recent contact with either of the two health workers."
Officials announced that a former patient at the Coachella Valley nursing home had the coronavirus, prompting them to test workers and patients at the facility. The county public health department said the patient spent time at Rancho Mirage Health and Rehabilitation Center before being transferred to a hospital.
Orange County now has reported its first case of coronavirus that appears to have spread through the community as the total number of presumed cases has risen to 13. The Orange County Health Care Agency said a woman acquired the virus locally and was hospitalized in stable condition.
Times staff writers Sonali Kohli, Garrett Snyder, Cindy Chang, Emily Alpert-Reyes and Jenn Harris contributed to this report.
Sign up for Essential California for news, features and recommendations from the L.A. Times and beyond in your inbox six days a week.
You may occasionally receive promotional content from the Los Angeles Times.