Coronavirus cases rise to 94 in L.A. County as officials issue more emergency restrictions
The City of Santa Monica closed the Santa Monica Pier in an attempt to prevent the further spread of the Coronavirus. Very few people were on the beach in Santa Monica as the epidemic continues.
(Carolyn Cole/Los Angeles Times)
Volunteer Nagma Shakur, 16, left, hugs her "Grannie" as she helps senior shoppers with their carts at the Grocery Outlet Bargain Market in Altadena.
(Al Seib/Los Angeles Times)
People walk up the ramp, exiting the secure area at the Tom Bradley International Terminal at LAX.
(Kent Nishimura/Los Angeles Times)
David Barker, 56, is visiting with his friend living in a tent on skidrow in Los Angeles. Barker, who is not homeless, works in the area.
(Francine Orr/Los Angeles Times)
Dr. Dallas Weaver, 79, and his wife, Janet Weaver, 75, of Huntington Beach, walk on the Huntington pier.
(Allen J. Schaben/Los Angeles Times)
Seniors, including Eileen Oda Leaf, 67, left, and her husband Dave Leaf, 67, right, both wearing protective masks, line up outside Gelson's Market in Manhattan Beach early on Wednesday, March 18, 2020.
(Christina House/Los Angeles Times)
Roberta Tabor, 66, of Hermosa Beach, has her ID checked by store director Dennis Sullivan at Gelson's Market in Manhattan Beach on Wednesday. The store is doing a "seniors shopping hour" where seniors 65+ can go grocery shopping before anybody else.
(Christina House/Los Angeles Times)
Seniors shop at Gelson's Market in Manhattan Beach on Wednesday. The store is doing a "seniors shopping hour" where seniors can go grocery shopping before the store opens to the general public.
(Christina House/Los Angeles Times)
Dr. Mark V. Morocco oversees testing at UCLA Medical Center where people can drive up and get tested if they have the symptoms. Morocco listens to a female patient's lungs through the car window.
(Carolyn Cole/Los Angeles Times)
HOPICS outreach worker Ralph Gomez tosses a clipboard for a signature to homeless client Davis Soto, right, taking care to stay at least six feet away during outreach in Los Angeles.
(Brian van der Brug/Los Angeles Times)
Medical personnel screen patients outside the emergency room at Loma Linda University Health during the coronavirus pandemic.
(Gina Ferazzi/Los Angeles Times)
A nurse takes the vital signs of a woman in a medical tent outside the hospital on Catalina.
(Francine Orr/Francine Orr/Los Angeles Times)
An employee of the Trader Joe's store in Monrovia tells customers waiting in line that it would open doors to everyone at 9 a.m., not just seniors, who arrived believing doors would open earlier to older residents, as some of the people were told by employees and it was reported. Some grocery outlets were offering special morning hours of shopping to accommodate older residents.
(Al Seib/Los Angeles Times)
Kevin Ezeh, protected with face mask and gloves, addresses the Los Angeles City Council meeting standing under a tent erected outside City Hall. A television livestreamed video of the meeting and the public offered comments remotely.
(Irfan Khan/Los Angeles Times)
Orange County Undersheriff Bob Peterson listens during a board of supervisors discussion on combating the coronavirus in Santa Ana.
(Allen J. Schaben/Los Angeles Times)
Dr. Mark V. Morocco oversees the testing at UCLA Medical Center. Testing for Covid-19 is going on at UCLA Medical Center, where people can drive up and get tested if they have the symptoms.
(Carolyn Cole/Los Angeles Times)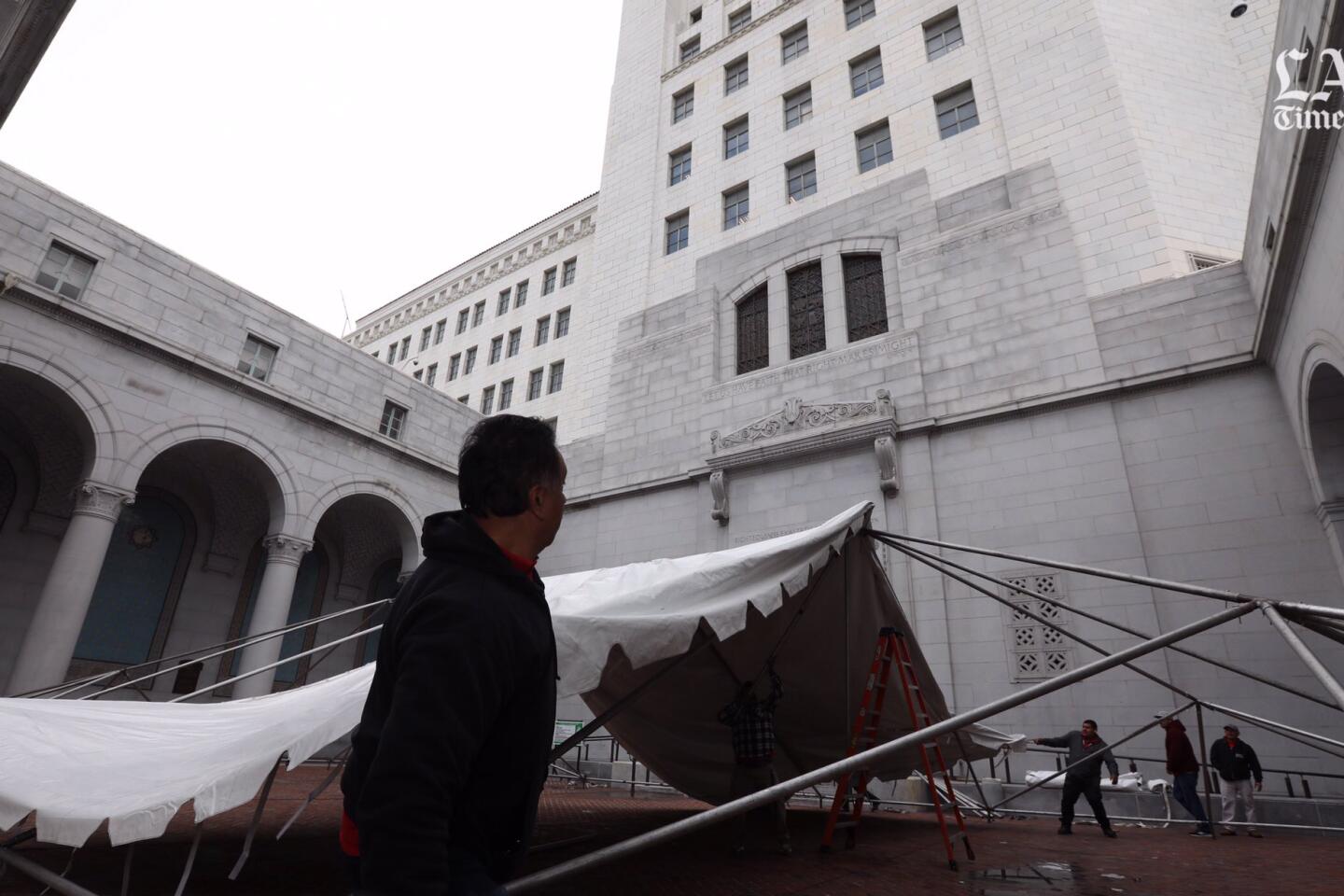 A large tent is installed for public attendance at Tuesday's Los Angeles City Council meeting. The public was not allowed in the council chamber.
(Irfan Khan/Los Angeles Times)
Shoppers queue up ahead of the Los Feliz Costco opening for business on Tuesday, March 17, 2020 in Los Angeles.
(Kent Nishimura/Los Angeles Times)
Muhammad Faruq, an Uber driver, picks his ride Sotero Reyes, left, and Cristian Eguia, visitors from Houston, all in protective masks, from downtown Los Angeles.
(Irfan Khan/Los Angeles Times)
Volunteer Rachel Figueroa, serves a free lunch to go to Destiny Mendez, with her mother, Estefany, at the Dream Center in Los Angeles. LAUSD students can get free breakfast, lunch and dinner at the Dream Center, Monday through Friday.
(Mel Melcon/Los Angeles Times)
Emma Bradley, left, and her husband, Samuel Bradley, of Palmdale are walking up the ramp to catch the Metrolink in Union Sation in Los Angeles.
(Francine Orr/Los Angeles Times)
Medical personnel surround a car that is going through a coronavirus drive-thru test clinic at the San Mateo County Event Center. Drive-thru test clinics for COVID-19 are popping up across the country as more tests become available.
(Justin Sullivan/Getty Images)
From left, Josh Akamine, of Oahu, Hawaii; Madison Shine of Oahu; Matthew Valencia of Los Altos and Dani Ikeda visit L.A. Live in downtown Los Angeles.
(Mel Melcon/Los Angeles Times)
Normally bustling Grand Central Market in downtown L.A. is open only for take out.
(Irfan Khan/Los Angeles Times)
L.A. has banned restaurants from offering seating at places such as Grand Central Market.
(Irfan Khan/Los Angeles Times)
Carlos Perez, a worker at Wolfgang Puck Bar & Grill at L.A. Live in downtown Los Angeles sits in the empty restaurant.
(Mel Melcon/Los Angeles Times)
A line at the Martin B. Retting gun store in Culver City on Sunday extends out the door and around the corner.
(Francine Orr / The Times)
A guest wears a mask in front of the Sleeping Beauty Castle at Disneyland on Thursday.
(Allen J. Schaben / Los Angeles Times)
Students hug as they are let out of school at Hamilton High School in Los Angeles, Calif., on March 13, 2020. The school has 2,623 students who live in 94 different zip codes, some of whom travel upwards of 30 miles to school on 24 different school bus routes. 221 school staff live in 88 zip codes. Los Angeles Unified School District Superintendent Austin Beutner announced that schools will be closed due to the coronavirus. (Gary Coronado / Los Angeles Times)
(Gary Coronado/Los Angeles Times)
Blake Anderson, left, a freshman, walks with his father Oree Anderson, as school is let out at Hamilton High School in Los Angeles. LAUSD announced that schools will be closed due to the Coronavirus.
(Gary Coronado/Los Angeles Times)
Students leave John C. Fremont High School in Los Angeles at the end of the school day on Friday, Mar. 13, 2020. LAUSD announced it will shut down beginning Monday.
(Luis Sinco/Los Angeles Times )
Alexandria Casserly crosses the street while looking for toilet paper in downtown Los Angeles.
(Gabriella Angotti-Jones / Los Angeles Times)
A crew member stands on the stern of a cruise ship docked at the Port of Los Angeles.
(Luis Sinco/Los Angeles Times)
Two children look at movie posters in the lobby of the Arclight theater Thursday in Manhattan Beach.
(Jay L. Clendenin / Los Angeles Times)
Disneyland guests wearing ponchos pass the Marketplace inside Star Wars: Galaxy's Edge on Thursday. Disneyland and California Adventure will temporarily close in response to the coronavirus pandemic.
(Allen J. Schaben / Los Angeles Times)
People shop at the Del Amo Fashion Center in Torrance.
(Luis Sinco/Los Angeles Times)
Disneyland guests take photos in front of the Millennium Falcon: Smugglers Run at Star Wars: Galaxy's Edge.
(Allen J. Schaben / Los Angeles Times)
Airline workers take precautions at Tom Bradley International Terminal in Los Angeles on Thursday.
(Christina House / Los Angeles Times)
An airport worker cleans a railing at Tom Bradley International Terminal.
(Christina House / Los Angeles Times)
Two people arrive at Knott's Berry Farm on Thursday in Buena Park.
(Gina Ferazzi / Los Angeles Times)
Cab drivers wait for riders at the Long Beach Airport.
(Luis Sinco/Los Angeles Times)
The Del Amo Fashion Center in Torrance.
(Luis Sinco/Los Angeles Times)
A woman claims her luggage at he Long Beach Airport.
(Luis Sinco/Los Angeles Times)
The Del Amo Fashion Center in Torrance.
(Luis Sinco/Los Angeles Times)
SACRAMENTO —
Coronavirus cases in California continue to rise as officials turn to extraordinary steps to slow the spread.
L.A. County officials announced the closure of all bars, fitness centers and movie theaters and directed restaurants to move to takeout only. The directive applies to all 88 cities and unincorporated regions of the county, including Los Angeles, which issued a similar directive Sunday.
Gov. Gavin Newsom made a similar announcement Monday evening, asking all California restaurants to close their doors to dine-in customers and that gyms, health clubs and movie theaters should also shutter their operations.
"If we're asking people to shelter in place, to isolate at home," Newsom said during an update broadcast on Facebook Live. "The point of gatherings is lost on all of us from a public safety and health perspective. So directing that no gatherings … we think it's very rational under these circumstances. Disruptive, I know, for some. But rational, we believe, in this moment."
In L.A., officials are also banning gatherings of more than 50 people following a recommendation made Sunday by the Centers for Disease Control and Prevention.
Twenty-five new cases were confirmed Monday, bringing L.A. County's total to 94, according to county public health data. There have been 41 new cases in the county over the last 48 hours, and at least 15 of the cases are likely due to community transmission.
The latest updates from our reporters in California and around the world
"Residents at this point must assume that there may be people who are infected everywhere in the county," Dr. Barbara Ferrer, the L.A. County Department of Public Health director, said.
County officials also released a list of specific cities and neighborhoods where cases of the virus have been confirmed. The city of Los Angeles currently has the largest count with more than 25 confirmed cases. Other affected cities include Beverly Hills, Arcadia, Alhambra, Glendale, Torrance and West Hollywood.
Elsewhere in the state, public health officials provided more grim news Monday afternoon.
Newsom announced, as of Monday, California had 392 confirmed cases, 57 more than reported on Sunday. The new confirmed cases include one homeless person in Santa Clara County.
Riverside County confirmed its first two deaths associated with COVID-19, two patients in the Coachella Valley.
"Sadly, these outcomes are expected as we face a serious challenge and continue to make the necessary decisions to protect the health of the community," Public Health Officer Dr. Cameron Kaiser said in a statement.
Santa Clara County confirmed two additional deaths, bringing that county's total to four. And Sacramento County confirmed one person had died, bringing its total to two deaths, both people who were older than 70 and had underlying health conditions.
Officials said that all hospitals were preparing for a surge in patients.
President Trump announced new guidelines that urge people to participate in schooling from home, avoid eating and drinking at bars and restaurants and food courts, avoid discretionary travel from home and avoid gathering in groups of more than 10.
"If everyone makes these critical changes and sacrifices now, we will rally together as one nation and we will defeat the virus," he said. "It's important for the young and healthy people to understand, while they may experience milder symptoms, they can easily spread this virus," adding that "we especially worry about our senior citizens."
Shelter-in-place ordered
After the Silicon Valley region reported 114 coronavirus cases and rising, six counties in the Bay Area were to be placed under a shelter-in-place directive by public health officials, San Mateo Mayor Joe Goethals said Monday.
It's a move that will close virtually all businesses and direct residents to remain at home.
Later, Santa Cruz County issued a similar order, bringing the total affected counties to seven.
Asked if L.A. County should expect a similar shelter-in-place order, Ferrer said that, at this point, the county didn't have the same trajectory as what was happening to the north and hoped the spread of the virus would slow down.
But she cautioned: "Nothing's off the table for anyone anywhere in the United States."
In Sacramento County, officials confirmed a second death related to coronavirus, bringing the total number of deaths in the state to seven. The Associated Press reported the victim was a substitute teacher in the Sacramento City Unified School District who died Sunday after contracting the coronavirus.
The instructor, who also was a temporary volunteer, worked at Sutterville Elementary School in February, the district announced.
Helping struggling Angelenos
Mayor Eric Garcetti announced on Sunday night a moratorium on evictions for renters, telling Angelenos that they won't lose their housing during the crisis "because you can't make the rent," and has asked the city attorney to look into whether the city can stop commercial evictions. He also announced that the city is putting together a fund for small businesses that will offer loans.
On Monday evening, Garcetti announced further measures to lessen the impact of the outbreak on residents.
Garcetti said the city will ease a number of parking enforcement policies, including not ticketing people for violating street sweeping policies in residential areas, and not ticketing parents and caregivers who violate parking policies while picking up meals around schools.
Metered parking will still be enforced, along with colored curb parking rules, Garcetti said.
"Nobody should be penalized for being responsible," Garcetti said. "There's no need to worry about the financial cost of keeping your car at home while you practice safe social distancing and you help our city flatten the curve."
Garcetti also announced that half of LAPD detectives will work on the streets of L.A. to supplement patrol officers and help ensure public safety during the coronavirus crisis.
The mayor said he is not considering enforcing a curfew because the city hadn't seen issues with looting or spikes in crime at night.
"That seems to be something that's an answer for a different sort of emergency," Garcetti said. "It's less that people can't move at nighttime than where they were going that we needed to stop, and that's why we had to make the difficult decision" to place restrictions on bars, movie theaters and other venues.
Social distancing continues
On Monday, the director of the World Health Organization, Tedros Adhanom Ghebreyesus, noted a dramatic increase in social distancing measures in response to the pandemic.
There has not been, however, a corresponding rise in testing and isolating contacts, which are both required to stop an outbreak, he said.
"You cannot fight a fire blindfolded, and we cannot stop this pandemic if we do not know who is infected," Tedros said during a news briefing Monday. "We have a simple message for all countries: Test, test, test."
He said anyone suspected of having COVID-19 should be able to get tested. Responding to the outbreak requires a political commitment at the highest level, he said.
A government should "be able to mobilize the whole society and make sure that this response becomes everybody's business," he said.
Tedros said crises such as pandemics tend to bring out the "best and worst in humanity." The world is likely still early in this outbreak, he added.
"This is the defining global health crisis of our time," he said. "The days, weeks and months ahead will be a test of our resolve, a test of our trust in science and a test of our solidarity."
Closures, anxiety in L.A.
In Los Angeles, bars and nightclubs have closed and restaurants have halted dine-in service and limited their business to takeout orders until March 31, following an order from Garcetti.
Movie theaters, gyms and fitness centers also will be closed, Garcetti said in a video news conference Sunday. Grocery stores, pharmacies and food banks will remain open.
Southern California counties have taken different approaches on the coronavirus with rules for businesses and gatherings. Here's what you can do where.
Santa Monica ordered the temporary closure of its iconic pier on Monday morning, which applies to the adjacent parking deck and businesses.
"We welcome thousands of guests to our pier each and every day, so we take this step out of the deepest desire to keep people at home and healthy," City Manager Rick Cole said in a statement. "We love our pier and the joy it brings to everyone that visits, but in this moment, we must take aggressive actions to slow the spread of COVID-19."
Fears over store closures prompted people to flock to grocery stores and get supplies in bulk. The rush has, at times, triggered fights and disagreements over the limited supply of popular items.
On Monday, Garcetti and representatives of various grocery store chains said there was no shortage of food in Los Angeles and asked that residents allow time for stores to restock and give priority to seniors while waiting in line.
Also, Los Angeles County Sheriff Alex Villanueva announced that the department would increase the presence of its deputies in the field, with their efforts focused on shopping centers, supermarkets and big-box stores.
This is being done as a precautionary measure "in case there's any sort of conflict," he said during a news conference.
During mandated dine-in closures, these restaurants are offering takeout and delivery as the coronavirus pandemic keeps Los Angeles close to home.
Deputies were called to a Costco in Chino Hills earlier this month when a crowd of customers became unruly after finding that water, paper towels and toilet paper were out of stock.
Villanueva also cautioned residents against stockpiling guns. Gun sales are surging in many U.S. states, especially those hit hardest by the coronavirus, including California, New York and Washington, over fears that the virus may cause an unraveling of social order.
"You have a lot of people now who are at home, normally they're not, cabin fever sets in and you have a crowded environment," Villanueva said. "Weapons are not a good mix."
The sheriff said several of the department's employees came into contact with people exhibiting symptoms of COVID-19 over the weekend, but none had tested positive for the virus. They all are self-isolating, he said.
Deputies who must respond to emergency calls where someone is exhibiting symptoms are being equipped with protective gear. The department is screening callers to ensure that deputies are protected, he said.
"This is about being prepared, not scared," he said.
At a Vons in Koreatown on Monday morning, at least 50 people were waiting in a line to enter an hour before the store opened. A store clerk instructed the crowd to remain calm as only 30 customers would be let in at a time.
"Don't panic, trust in God, and don't run over each other!" the clerk shouted to chuckling customers.
Many schools are closed because of the coronavirus pandemic. Check out The Times' list of news, resources and more to help parents and children at home.
City workers report in
As businesses across Los Angeles took action, more than 50,000 of the city's government employees are still being asked to go to work.
City employees can't refuse to go to work out of fear that they'll be infected with the virus, Wendy Macy, general manager of the city's personnel department, wrote in a memo to department heads Friday.
Telecommuting options are available for some employees, and some exceptions are allowed, according to emergency guidelines issued by the city's personnel department.
On Monday evening, Garcetti said the city will announce new guidelines Tuesday that will go further in allowing more city workers to telecommute.
Courts announce changes
Taking heed of the governor's orders, the California Supreme Court announced Monday that it was suspending in-person hearings. Lawyers will appear for cases remotely via video or telephone conferences. The public still will be permitted to attend hearings, but seating will be limited to ensure appropriate distancing, the court said.
All Los Angeles County court proceedings will be suspended for several days as concerns about the spread of the coronavirus continue to mount, court officials announced Monday.
The nation's largest court system will go dark from March 17 to 19, according to a statement issued by Presiding Judge Kevin Brazile. Court will reopen Friday for "the limited purpose of hearing or handling essential or emergency matters."
"The Superior Court of Los Angeles County is committed to providing equal access to justice through the fair, timely and efficient resolution of all cases. However, it is imperative that we continue aligning our Court with the most recent directives and guidelines issued by our national, state and local public health officials," the statement read. "Let me be clear: We will continue to serve the needs of the most vulnerable people in Los Angeles County — our children, the elderly, domestic violence victims, people whose life and liberty interests are at stake, and in many other emergent cases as is possible and safe."
Protecting those without homes
Newsom also announced that the state's 108,000 homeless people would be the top priority for mitigation policies, with a significant push to move them indoors.
Though details remained unclear, he said the state had hotels and motels that could be used to provide shelter, along with an additional 450 state-owned trailers sent to "critical points" to supplement those that were deployed in Los Angeles, Stockton, Sonoma and other places before the outbreak.
Last week, Newsom issued an executive order allowing the state to commandeer some private properties to provide beds for isolation. Newsom said the goal of the newly announced measures aimed at the unsheltered population was to "get people into environments where we can address their growing anxiety and our growing concerns."
He stopped short, however, of saying the attempt to bring people indoors would be mandated or require law enforcement intervention.
In recent days, the Department of Housing and Urban Development and the CDC have also detailed guidelines for homeless shelters and encampments, many of which include increasing sanitation and providing detailed suggestions for handling ill people in shelter settings.
"I am not ratcheting up a mindset of enforcement," Newsom said.
Sacramento Mayor Darrell Steinberg, co-head of Newsom's statewide task force on homelessness, said Newsom's move to bring homeless people inside was crucial.
"They are very susceptible to disease and infection," said Steinberg of unsheltered populations. Leaving them outdoors, he said, is "really an invitation for a more wide spread of the disease."
Randy Simonsen, a 65-year-old homeless man in Sacramento, said he would like to go indoors during this crisis. He listened to the governor's speech on a transistor radio and heard the call for older residents to stay home. But "I don't have one," Simonsen said.
In L.A. County, Dockweiler State Beach may be used to temporarily house people who have been ordered to isolate or quarantine because of the coronavirus. The beach's RV park on Vista del Mar is one of several locations the county could use for that purpose, according to a news release from the city of El Segundo. Officials said the public should avoid the area.
Businesses respond to outbreak
Anxious Californians continued to clear the shelves of local grocery stores. The Los Angeles Police Department assured residents on Twitter that there was no food shortage and stores would restock.
"The water supply is clean & safe to drink, so there's no need to buy water in bulk," the department said.
Grocery chains have announced changes to deal with the relentless throngs of shoppers.
Ralphs, for example, said it was working with suppliers to replenish high-demand products, and its store hours have been curtailed so employees have more time to restock. Albertsons — which operates the grocery chains Vons, Pavilions and Safeway — said it was taking similar steps.
Starbucks announced new efforts to limit the number of people gathering at its coffeehouses. All of its stores in the U.S. and Canada will move to a "to go" model for at least two weeks and will remove all seating in cafe and patio areas, the company announced Sunday.
Though many businesses have been affected by a slower stream of customers, bars in West Hollywood were packed on Sunday afternoon.
At Rocco's WeHo and Flaming Saddles, drag queens danced to deafening music as they were cheered on by crowds handing them dollar bills on the stage. In these places, at least, life seemed to go on as normal.
Not everyone was proceeding with business as usual. At the Abbey, West Hollywood's most popular gay bar, the gates were closed. On each door, a sign read: "As we continue to navigate the rapidly changing conditions with COVID-19, the Abbey is closing temporarily. We plan to open as soon as our public health officials tell us it is safe."
Jimmy Han, who owns Frank 'n Hank bar in Koreatown, said he decided to close his bar down Saturday after seeing customers not follow the 6-foot social-distancing rule he tried to implement.
"I'll be losing a lot of money and so will my employees, but honestly, that's the least of our concern right now," he said. "We're more worried about public health and how this is going to impact the economy long term."
Times staff writers Suhauna Hussain, Alejandra Reyes-Velarde, John Myers, Anita Chabria, Benjamin Oreskes, Hannah Fry, Maura Dolan, Joseph Serna, Jaclyn Cosgrove and Luke Money contributed to this report.
Sign up for Essential California for news, features and recommendations from the L.A. Times and beyond in your inbox six days a week.
You may occasionally receive promotional content from the Los Angeles Times.