Public schools expected to remain closed for the rest of the academic year, Newsom says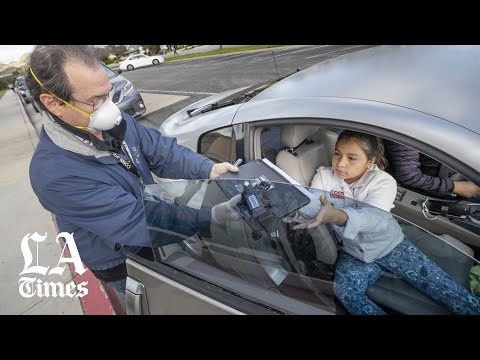 California's public K-12 school campuses are expected to remain closed for the remainder of the academic year in response to the escalating coronavirus pandemic as educators take on the massive challenge of distance learning for about 6.1 million students, state officials announced Wednesday.
Families and educators should operate "with the expectation now that schools will not reopen, but classes are in" for the rest of the school year, Gov. Gavin Newsom said.
"To all of the moms, all the teachers, all the caregivers, I know how stressful this is, trust me," Newsom said. "I know what we're asking of you over the course of the next few months."
These are some of the unusual new scenes across the Southland during the coronavirus outbreak.
The announcement makes good on comments the governor made during a March 17 briefing, when he said it was unlikely that campuses would reopen during the current school year. Also, State Supt. of Public Instruction Tony Thurmond echoed the same message in a letter Tuesday to school district officials statewide, and on Wednesday during Newsom's news conference.
"We've been in communication with superintendents around the state urging all ... our schools to proceed as if we can only educate our kids through distance learning for the remainder of the school year," Thurmond said Wednesday. "Quite frankly, none of us knows when it's safe enough for students to return to campus."
Newsom stopped short of issuing an executive order related to school closures, instead acknowledging the reality that schools will not reopen based on the state's predictions of how the virus will spread in the next few months, said Nathan Click, a spokesman for the governor.
California is home to 12% of the nation's school-age children. Seven states have already shut down campuses for the remainder of the school year, according to tracking by Education Week. Others appear headed in that direction. New York City's public school system, that largest in the nation with about 1 million students, remains closed indefinitely.
In his letter, Thurmond said the sobering reality should compel school systems to redouble their efforts to keep students learning.
"This is in no way to suggest that school is over for the year, but rather we should put all efforts into strengthening our delivery of education through distance learning," Thurmond wrote.
For every child to have access to distance learning for the remainder of the school year, many would need better access to internet and devices. Newsom also announced Wednesday a partnership with Google, which is providing free Wi-Fi to 100,000 households in the state — but more help is needed.
"When we went into school closure, about 20% of California students lacked digital connectivity at home," state Board of Education President Linda Darling-Hammond said. "We're probably cutting that by more than half at this point. And we'll continue to ... try to close the gap."
Los Angeles Unified, the state's largest school system, was among those that did not wait for the state. L.A. schools Supt. Austin Beutner has authorized spending $100 million from district reserves for computers and portable Wi-Fi hotspots. About 80% of district students are members of low-income households and, at the time of the closure, district officials estimated that at least one-fourth were unable to continue their studies online.
District efforts to close that gap continue. On Wednesday, Bell High handed out about 200 computers to students and their families, along with instructions for obtaining free broadband service.
In recognition of the new education reality, the governor's office on Wednesday released a "framework" endorsed by school labor and management groups on how to work together going forward. In California, unions typically negotiate over working conditions district by district, a process that could result in instructional delays and potential conflict in the current crisis.
The framework is not an executive order but officials expect broad, if not universal, compliance.
"Emergency declarations have not suspended obligations to bargain with exclusive representatives," the framework says in part. "The first priority must be essential service to the public while maintaining employee safety."
The framework was needed because a few districts did not initially collaborate with unions, said Jeff Freitas, president of the California Federation of Teachers. And some initial working arrangements will need to be revisited with the extension of campus closures, he said.
Some union critics had accused labor of being obstructionist and delaying services to students.
The state will soon offer guidance on grading and graduation requirements, and the education department will host a webinar Thursday with experts on special education through distance learning, officials said. They reiterated that learning should still be happening for all students.
"While right now our campuses are closed to our kids, school is not out for the year. In fact, we are asking everyone to accelerate their efforts to make sure that our students get a great education," Thurmond said. Seniors will get a break as the University of California and the Cal State system have eased entrance requirements.
"We're working with our higher education community to make sure that while we can't provide a graduation ceremony for our students, we can ensure that they graduate and that they move forward," Thurmond said.
Families are also coming to campuses for meals, Darling-Hammond said — students are getting food from 5,200 sites across the state, she said. That includes more than 60 in L.A. Unified, which is also delivering food to homeless shelters in L.A.
Times staff writer Taryn Luna contributed to this report.
Sign up for Essential California for news, features and recommendations from the L.A. Times and beyond in your inbox six days a week.
You may occasionally receive promotional content from the Los Angeles Times.