Authorities identify 72-year-old man as suspected gunman in Lunar New Year mass shooting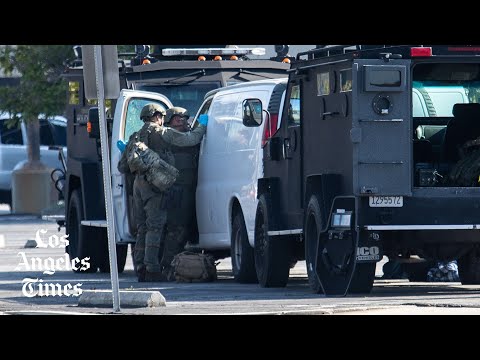 A SWAT team breached a van in Torrance on Sunday that they believe is linked to the gunman who killed 10 people at a Monterey Park dance studio. Multiple law enforcement sources told The Times the driver died of a self-inflicted gunshot wound.
Authorities have identified the man responsible for a deadly shooting inside a Monterey Park dance studio as Hemet resident Huu Can Tran, 72.
Tran died of a self-inflicted gunshot wound in a strip mall parking lot near Sepulveda and Hawthorne boulevards in Torrance, law enforcement sources said.
"We still are not clear on the motive," Los Angeles County Sheriff Robert Luna said.
Two law enforcement sources said the suspect recently showed up to the Hemet police station saying his family was trying to poison him.
"The investigation continues … we want to know how something this awful can happen," Luna said.
The manhunt for the shooter began after he opened fire inside Star Ballroom Dance Studio on West Garvey Avenue around 10:20 p.m. Saturday, killing 10 people and wounding 10 others. It was Lunar New Year's Eve.
About 20 minutes after the shooting in Monterey Park, Tran walked into Lai Lai Ballroom & Studio in nearby Alhambra, officials said. "The suspect walked in there, probably with the intent to kill two more people," Luna said. "But two community members disarmed him, took possession of his weapon, and the suspect ran away."
At 10:20 a.m. Sunday, police found the white cargo van that was seen leaving the scene of the shooting, Luna said. When officers left their patrol vehicle to make contact with the occupant, they heard one gunshot come from the van.
At 1 p.m., a SWAT team determined that the suspect had a self-inflicted gunshot wound and he was pronounced dead at the scene. The man inside the van was Tran, the mass shooting suspect, authorities said.
During the search of the van, several pieces of evidence were found, linking the suspect to both locations. A handgun was found inside the van, which had stolen license plates, authorities said.
"I can confirm that there are no outstanding suspects," Luna said.
The weapon taken by community members in Alhambra was a magazine-fed semiautomatic assault pistol, with an extended magazine attached, according to authorities. This particular firearm with an extended magazine is illegal to possess in California.
An advisory from the Los Angeles County Sheriff's Department identified the suspect as an adult Asian man, about 5 feet 10 inches and weighing 150 pounds. An image showed the man in a black leather jacket, beanie and glasses.
Tran had been living at the Lakes at Hemet West, a mobile home park whose sign billed it as "A 55+ active living community," according to a public record and law enforcement sources. A security guard turned away a Times reporter at the front gate Sunday night.
"I still have questions in my mind, which is, what was the motive for this shooter? Did he have a mental illness? Was he a domestic violence abuser? How did he get these guns, and was it through legal means? Well, those questions will have to be answered in the future," U.S. Rep. Judy Chu (D-Monterey Park) said during a Sunday night news conference.
Monterey Park Police Chief Scott Wiese said the first law enforcement responders on the scene were "some of my youngest officers," several of whom had been on the street for only a few months.
"When they came into the parking lot, it was chaos. There were wounded people. There were people trying to flee out all the doors," Wiese said.
They entered the building within a few minutes of arriving, Wiese said, and came across a scene of carnage "that none of them had been prepared for."
The mass shooting, one of California's worst in recent memory, has left Angelenos — and the nation — struggling to make sense of the violence.
Wong Wei, who lives near the scene of the shooting, had four friends who were at Star Ballroom Dance Studio on Saturday night, including his sister. He had been invited to go but decided not to.
Wei said one of his friends was injured in the shooting and was lying on the ground with blood on her face.
The gunman was holding a long gun and appeared to be firing indiscriminately, Wei was told. The "boss" of the studio, referred to as Ma, had also been shot and was on the floor.
"She said, 'Certainly, he was dead. He wasn't moving,' " Wei said. He wasn't sure about the condition of his friend or whether she had been hospitalized.
Seung Won Choi, who owns a seafood barbecue restaurant on Garvey Avenue across from where the shooting happened, said three people rushed into his restaurant and told him to lock the door.
Eleven people are dead after a man opened fire in a dance studio in Monterey Park. Police believe the shooter also targeted an Alhambra studio. Here's what we know.
They said there was a man with a semiautomatic gun in the area. The shooter, they said, had multiple rounds of ammunition, so that once his bullets ran out he reloaded, Choi said.
The shooting occurred near where tens of thousands had gathered Saturday for the start of a two-day Lunar New Year festival, one of the largest holiday events in the region.
Earlier in the day, crowds were enjoying skewers and shopping for Chinese food and jewelry. Saturday's New Year festival hours were scheduled from 10 a.m. to 9 p.m.
The festival had been scheduled to conclude Sunday, but the day's events were canceled "out of an abundance of caution and in reverence for the victims," Monterey Park Police Chief Scott Wiese said.
A gunman opened fire at a dance studio in Monterey Park, killing 11 people and wounding 9 more. Tens of thousands had gathered earlier nearby for a Lunar New Year festival.
Winn Liaw, 57, said she lives about two blocks from the studio and was in bed shortly before 11 p.m. Saturday when she heard what sounded like firecrackers. She assumed they were part of a Lunar New Year celebration until she heard helicopters starting to circle her neighborhood.
She had woken early Sunday to check out the setup for the celebration that had been planned for later in the day when she learned about the shooting. Liaw said she is worried the shooting may have been motivated by anti-Chinese hate — a fear she said has been heightened by anti-Chinese rhetoric during the pandemic.
"This kind of thing doesn't happen in my neighborhood," she said, adding that she thought living in a mostly Asian community would insulate her from violence. "It's starting to get worse and worse."
Another neighbor who wished to be identified only as John said he got home around 10 p.m. and heard four or five gunshots. Then he heard police cruisers and "smashing" down the street. He went downstairs around 11:20 p.m. to see whether the shooting had been at the festival.
"My first concern was I know they're having a Lunar New Year celebration," he said. But the 27-year-old said the festival had already been cleaned up for the day when he arrived. He then went to the scene of the shooting and saw one person being put on a stretcher. Another person had a bandage on their arm, he said.
Families rush to the Langley Senior Center in Monterey Park, seeking information about victims of the shooting that killed 10 and injured 10.
The violence left many in the area stunned.
Edwin Chen, a 47-year-old delivery dispatcher, rushed from Woodland Hills to Monterey Park around 12:30 a.m. after hearing the news. Chen said he grew up in the area, and about a dozen of his relatives and friends live there.
He said he was saddened this happened just as the community was celebrating Lunar New Year.
"This is [supposed to be] a happy time," he said. "I want to find out as much as possible. It's still shocking."
"Our hearts go out to those who lost loved ones tonight in our neighboring city, Monterey Park, where a mass shooting just occurred," Los Angeles City Controller Kenneth Mejia, the first Asian American to hold citywide office in L.A., said on Twitter.
Monterey Park, a city of 61,000 in the San Gabriel Valley, east of Los Angeles, is 65% Asian American, 27% Latino and 6% white, according to census data.
One of the anchor suburbs in the San Gabriel Valley, Monterey Park is a hub of Asian American supermarkets and restaurants.
The Star Ballroom Dance Studio sits behind a Chinese herbal store along West Garvey Avenue. International ballroom competitors teach waltz, tango and Chinese dance classes every day. The dance studio, which opened 30 years ago, offers party room rentals and karaoke happy hour as well.
On Saturday night, the studio listed an event between 8 and 11:30 p.m. as "Star Night, $10."
Dance instructor David DuVal taught at the studio, most recently samba and tango on Thursday morning.
He said that the studio has Saturday night parties and that a lot of people who attend are older. "Sixties would be young."
"There's definitely going to be people in their 70s, 80s, people in their 90s," he said. "A lot of people I teach are older people. I have a feeling it could be one of them or people I know."
DuVal said he learned what happened Saturday night over WeChat. He reached out to one of his students, who was there and hid under a table. His student said she saw a man with a "long firearm." She doesn't know what he looked like.
DuVal said there are couples who have been going there for a decade or more, many who are retired; some are in their 90s "and still dancing."
"It's old people dancing to music for fun. It's their exercise," he said.
Vice President Kamala Harris condemns 'the tragedy of what happened in my home state' after a Monterey Park shooting that left 10 people dead.
President Biden was briefed on the shooting Sunday morning.
"Jill and I are praying for those killed and injured in last night's deadly mass shooting in Monterey Park," Biden said in a tweet.
L.A. Mayor Karen Bass said her "heart goes out to Monterey Park and the families and friends of those lost."
"The reports coming out of Monterey Park are absolutely devastating," Bass said. "Families deserve to celebrate the holidays in peace — mass shootings and gun violence are a plague on our communities."
The shooting is one of the worst in modern Los Angeles County history. One of the last mass shootings of this scale happened Christmas Eve in 2008, when a man dressed as Santa Claus entered a home in Covina, armed with five handguns. Nine people were killed in that rampage, including the gunman's former wife and her parents. The gunman took his life hours later.
Other recent mass shootings in California include the massacre at a San Ysidro McDonald's in 1984, where a gunman killed 21 people; and the terrorist attack that resulted in 14 deaths in San Bernardino in 2015.
In 2018, 12 people were killed during a mass shooting at the Borderline Bar & Grill in Thousand Oaks.
Saturday's shooting comes five days after six people — including a 10-month old baby, his 16-year-old mother and a grandmother — were killed in the Central Valley farming community of Goshen in Tulare County.
Chu described the Lunar New Year as a time to celebrate with family.
"This tore a hole through all of our hearts," she said.
Anyone with information is asked to call the L.A. County Sheriff's homicide detectives at (323) 890-5500. Anonymous tips can be made by calling (800) 222-8477.
Times staff writers Ruben Vives and James Queally contributed to this report.
Sign up for Essential California for news, features and recommendations from the L.A. Times and beyond in your inbox six days a week.
You may occasionally receive promotional content from the Los Angeles Times.