Santa Barbara News-Press declares bankruptcy, ceases publication after more than 150 years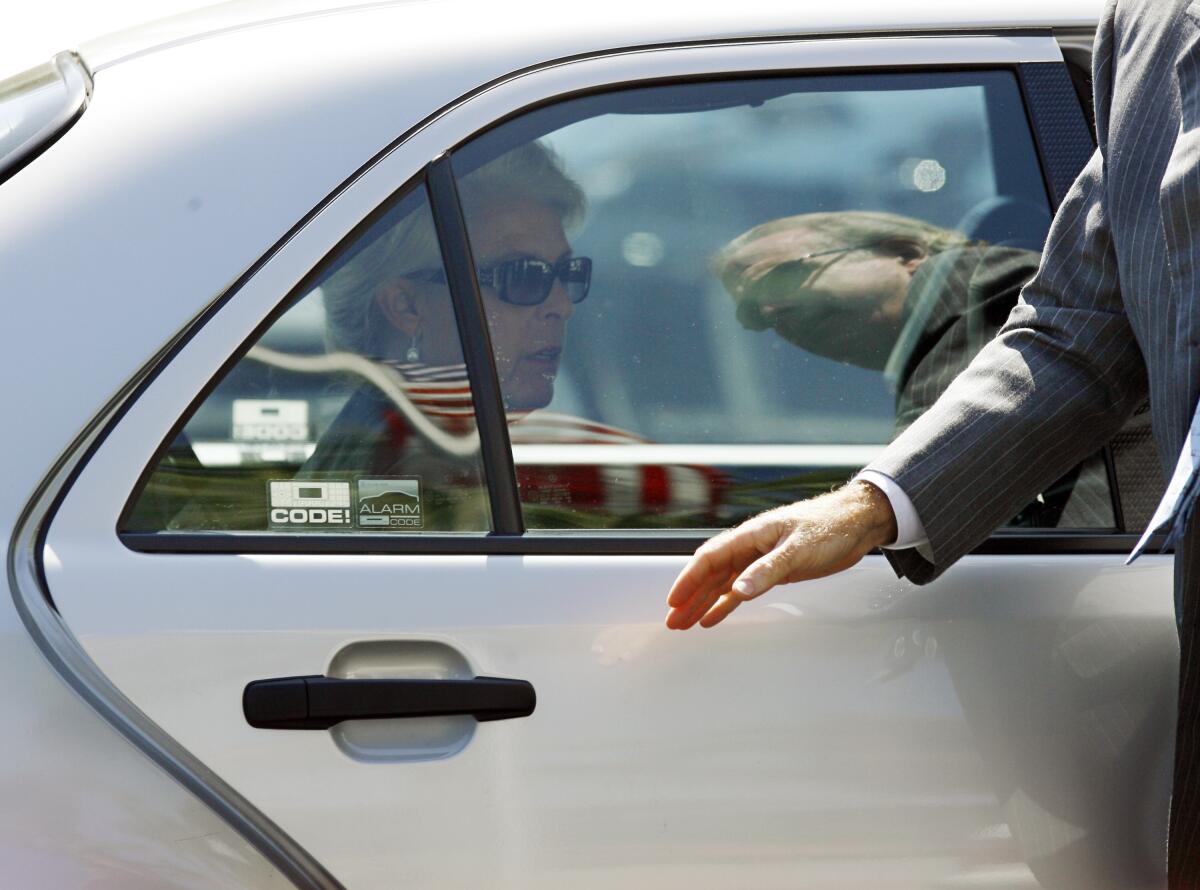 The Santa Barbara News-Press is no more. After more than 150 years of news gathering, the Pulitzer Prize-winning newspaper on Friday posted its last online edition, a month after the News-Press ceased publication of its print newspaper and went all digital.
The apparent death knell for the venerable News-Press came in the form of a bankruptcy filing last week by Ampersand Publishing, a company controlled by Wendy McCaw, a wealthy environmentalist and animal rights activist who frequently feuded with her newsroom employees, media critics and local readers.
In an email one newsroom employee shared with The Times, Managing Editor Dave Mason wrote that McCaw had filed for bankruptcy Friday. "All of our jobs are eliminated, and the News-Press has stopped publishing," the email read. "They ran out of money to pay us. They will issue final paychecks when the bankruptcy is approved in court."
Mason did not respond to a request for comment.
The legal action, which says the outlet has virtually no assets to pay creditors, appears to bring an ignominious end to the local publishing career of McCaw, once heralded by Santa Barbarans as a savior for a local news operation founded not long after the California Gold Rush.
The shutdown leaves Santa Barbara with several online news sources and a solid alternative weekly, the Independent. But those outlets collectively do not appear to employ the number of journalists — nearly 50 — who once powered the News-Press. That means less scrutiny of public agencies, less coverage of breaking news and fewer enlightening features on local people and issues.
The slow decline of the paper after McCaw bought it in 2000 from New York Times Co., is a sad variation on a broader downward spiral for the newspaper industry. Revenue for legacy newspapers plummeted 52% nationally from 2002 to 2020, with much of the income once generated by advertising shifting to internet giants such as Google and Facebook.
In the dozen years after 2008, newsroom employment at print newspapers fell 57%. In one California example, the Salinas Californian has remained open as an online and print product — with almost no local stories — even after losing its last newsroom employee late in 2022.
The decline of Salinas' 152-year-old newspaper leaves residents hungry for a trusted watchdog and worried about what stories won't be covered.
Ampersand's Chapter 7 bankruptcy filing was authorized during a meeting "on or about" May 1, nearly three months before it was filed Friday in U.S. Bankruptcy Court for California's Central District, according to federal court records. The move came about three months after the newspaper relocated its operations and staff from the landmark building on Santa Barbara's De la Guerra Plaza — where it had been housed for 101 years — to its printing plant in Goleta, the Independent reported.
As of Monday afternoon, the News-Press' website carried no mention of the bankruptcy or cessation of operation. Friday's is the most recent online edition of the publication posted on the website, which features a red-lettered banner stating that "The News-Press is entirely digital" and directing readers to its online edition.
Neither Jerry Namba, the bankruptcy trustee, nor Levene, Neale, Bender, Yoo & Golubchik, the law firm identified in the bankruptcy filing as representing Ampersand, responded to requests for comment via telephone or email. A voicemail left on the News-Press' main office line also went unreturned.
The bankruptcy filing paints a bleak financial picture of the News-Press. A meeting of the company's creditors — of which there are from 200 to 999, per the Friday filing — is scheduled for Sept. 1. But "no property appears to be available to pay creditors," according to the document, meaning it's unlikely the company, which claims to have less than $50,000 of assets, will make good on its $1 million to $10 million of liabilities.
Among the liabilities that could go unpaid are the newspaper's former employees. In 2007, employees lodged a series of unfair labor practice allegations against the publisher. The National Labor Relations Board and a federal appellate court upheld several of the accusations.
The labor agency ordered the McCaw company to pay more than $2 million in back wages and other monetary remedies, but the money had not been paid at the time of the bankruptcy filing, according to Ira Gottlieb, a lawyer who represented the workers and their union, a unit of the International Brotherhood of Teamsters. Gottlieb said that, when interest is added, the back payments have climbed to nearly $3 million.
"This is one of the challenges of our deeply flawed justice system," Gottlieb said. "It's one in which the very wealthy can escape the consequences of their violations while they impose harm and struggles on dozens of victims. And my impression of her financial status is that she could personally afford to pay these obligations."
Joshua Molina of Noozhawk, a Santa Barbara-based online news outlet, was the first to report on the newspaper's shutdown. Noozhawk is one of the most prominent outlets that has tried to fill the void as the News Press declined.
Santa Barbarans have turned to other sources as the newspaper's staff withered to just a handful of journalists. Along with the Independent and Noozhawk, some locals said they turn to KEYT television and to Edhat, a website that relies heavily on "citizen journalists" to report on local events.
Melinda Burns, one of many reporters who left the paper after feuding with management, now provides freelance stories to many of the alternative news organizations. Burns, who has spent decades in the news business, including a stint at the Los Angeles Times, said she has seen gaps in coverage in recent years, particularly in the areas of water policy and the changes wrought by legalized cannabis. She continues to report on those topics and said she gives away her in-depth stories free to reach as many people as possible.
"It keeps me engaged with the community and, God, do we need the coverage," she said. "The local news outlets are valiant but overworked. It's just a constant scramble for them to try to keep up."
Sign up for Essential California for news, features and recommendations from the L.A. Times and beyond in your inbox six days a week.
You may occasionally receive promotional content from the Los Angeles Times.