Review: Danial Nord's desiccated humanoids are grim meditations on our digitally tethered experience
Art Critic
Six desiccated humanoids hover suspended in darkened space, heads bowed and staring blankly into handheld smartphones, in a grim but captivating installation by sculptor Danial Nord.
The innards of both body and phone blink with a purplish-blue light, while a low, rumbling noise surges in the room. The growl is punctuated by an occasional nursery school song tapped out on what sounds like a xylophone, "Twilight Zone"-style.
The figures in "Cloud Nine," Nord's solo exhibition at the Torrance Art Museum, describe archetypes – businessman, mom, alien, soldier, angel, illegal immigrant. They were fabricated from sand-cast sheets of clear polycarbonate. Silica is a compound in sand, and it contains the material integral to current computer processors. Humanoid and electronic device are composed of the same stuff.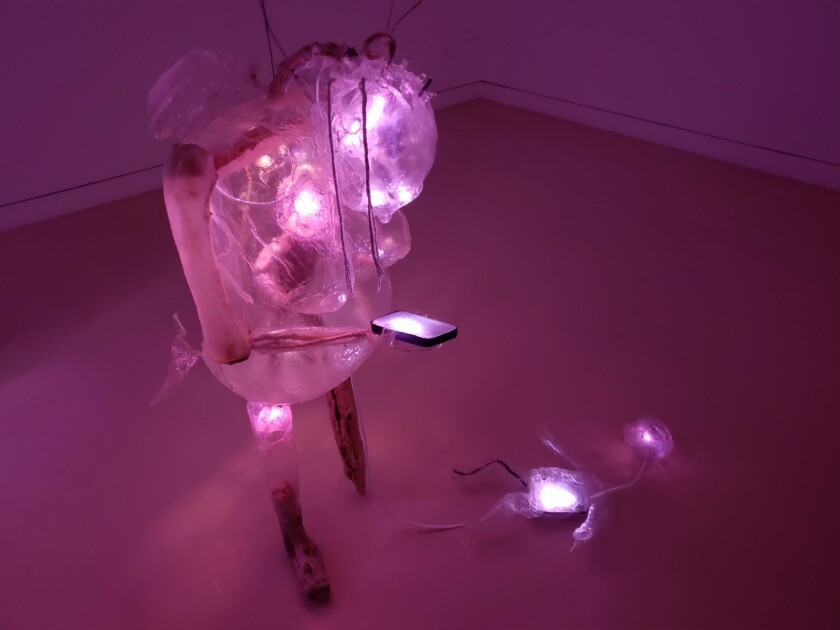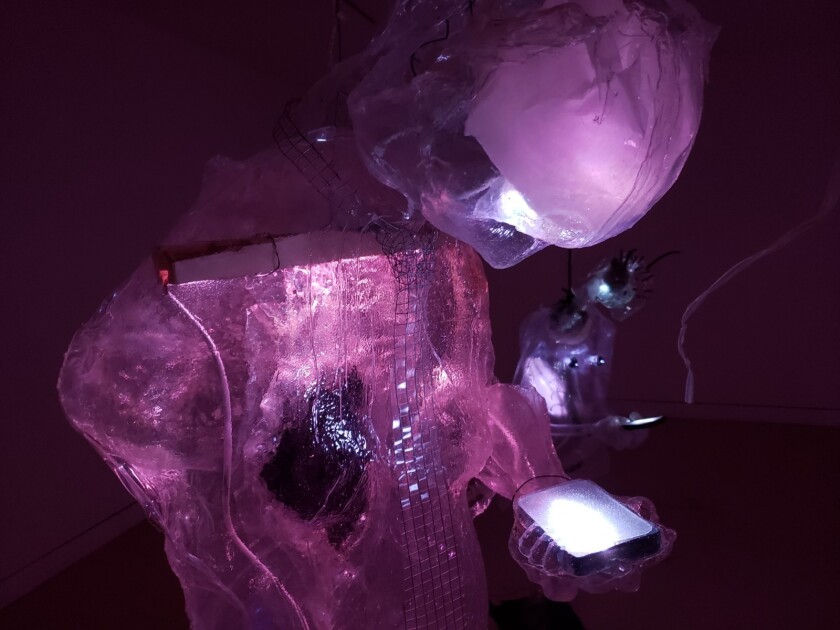 Embedded within them are bits of barbed wire, driftwood, plastic bottles and other crumpled flotsam that Nord gathered washed up along the Southern California shoreline — perhaps at Silicon Beach, home to L.A.'s tech industry. The ensemble recalls those freaky prehistoric fish that crawled out of the sea 400 million years ago, beginning the evolutionary chain that brought us here. What looks like the end, given all the decay and dilapidation, might be just the beginning.
Nord has wired his sculptures, which hang limply from the ceiling, with a video feed reprocessed from social and mass media. The digital umbilical cord transforms the data into bilious color, which resonates most gloomily with the apparent corpse of an infant laid at the mother's hobbled feet.
Gnawing ambiguity is what makes Nord's spectacle work. Whether the growling nausea produced by the transmission is traveling from the media device to the body or the other way around is impossible to see. Either way, the humanoids are the agents of their own ruin. The installation's topicality is hard to miss.
Torrance Art Museum, 3320 Civic Center Drive, (310) 618-6388, through Nov. 10. Closed Sunday and Monday. torranceartmuseum.com
christopher.knight@latimes.com
Twitter: @KnightLAT
christopher.knight@latimes.com
---
Inside the business of entertainment
The Wide Shot brings you news, analysis and insights on everything from streaming wars to production — and what it all means for the future.
You may occasionally receive promotional content from the Los Angeles Times.