Deaf West Theatre makes Tony winner 'Spring Awakening' all its own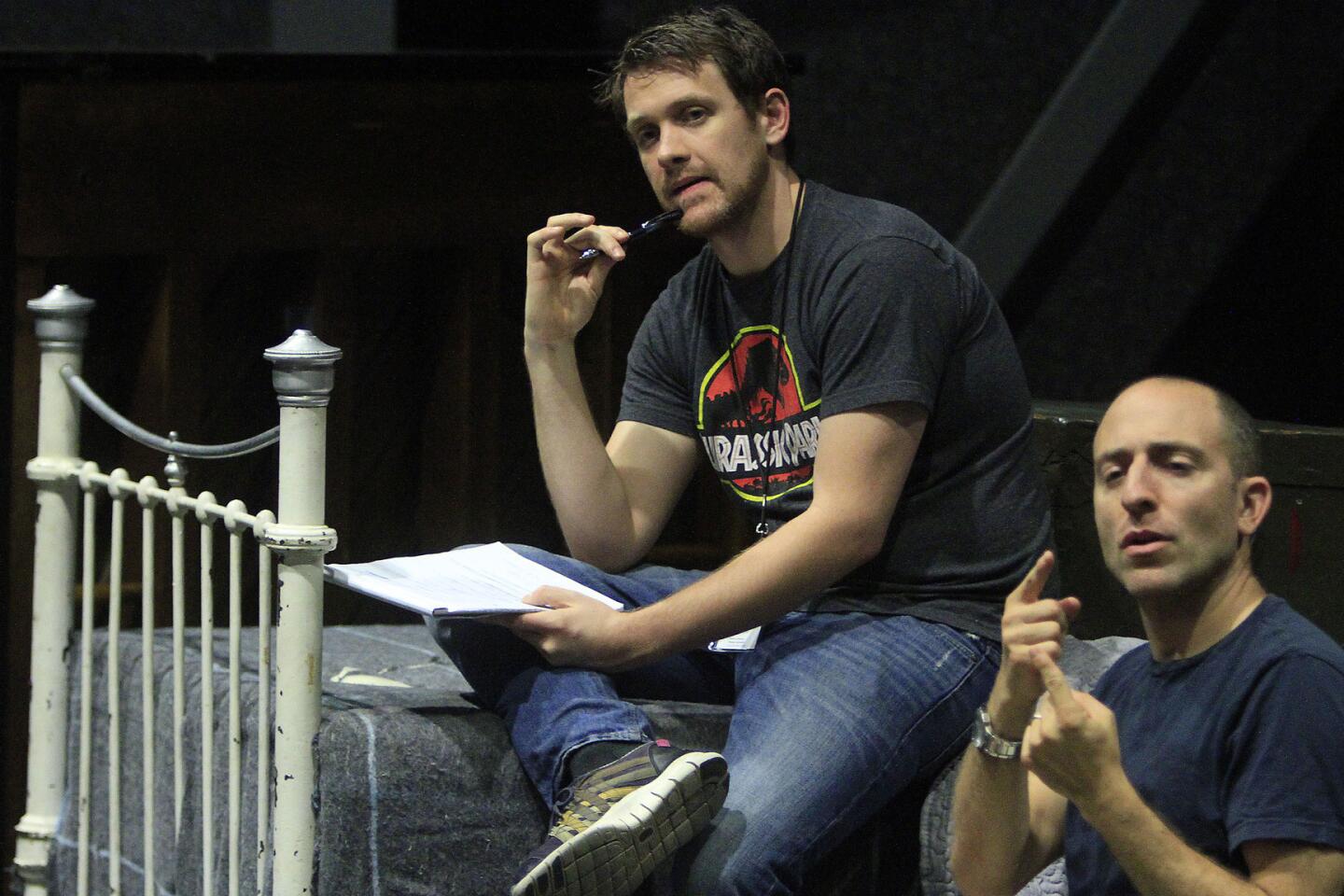 Director Michael Arden, left, and interpreter Alek Lev work with the cast during a rehearsal.
(Kirk McKoy / Los Angeles Times)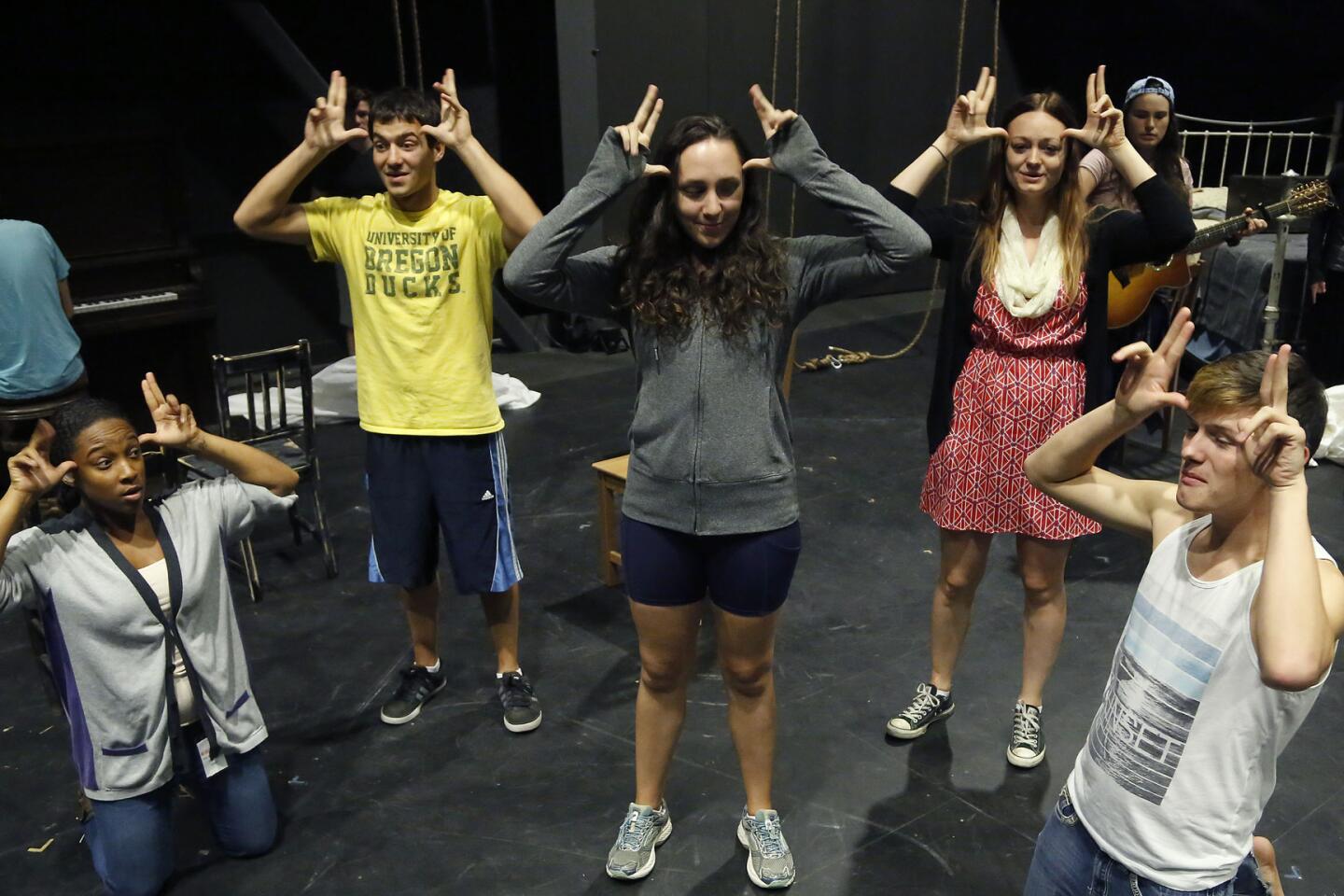 A rehearsal that includes Daniel David Stewart (back to camera), Treshelle Edmond, Miles Barbee, Lauren Patten, Amelia Hensley, Kathryn Gallagher, Joshua Castille and Sandra Mae Frank (in background).
(Kirk McKoy / Los Angeles Times)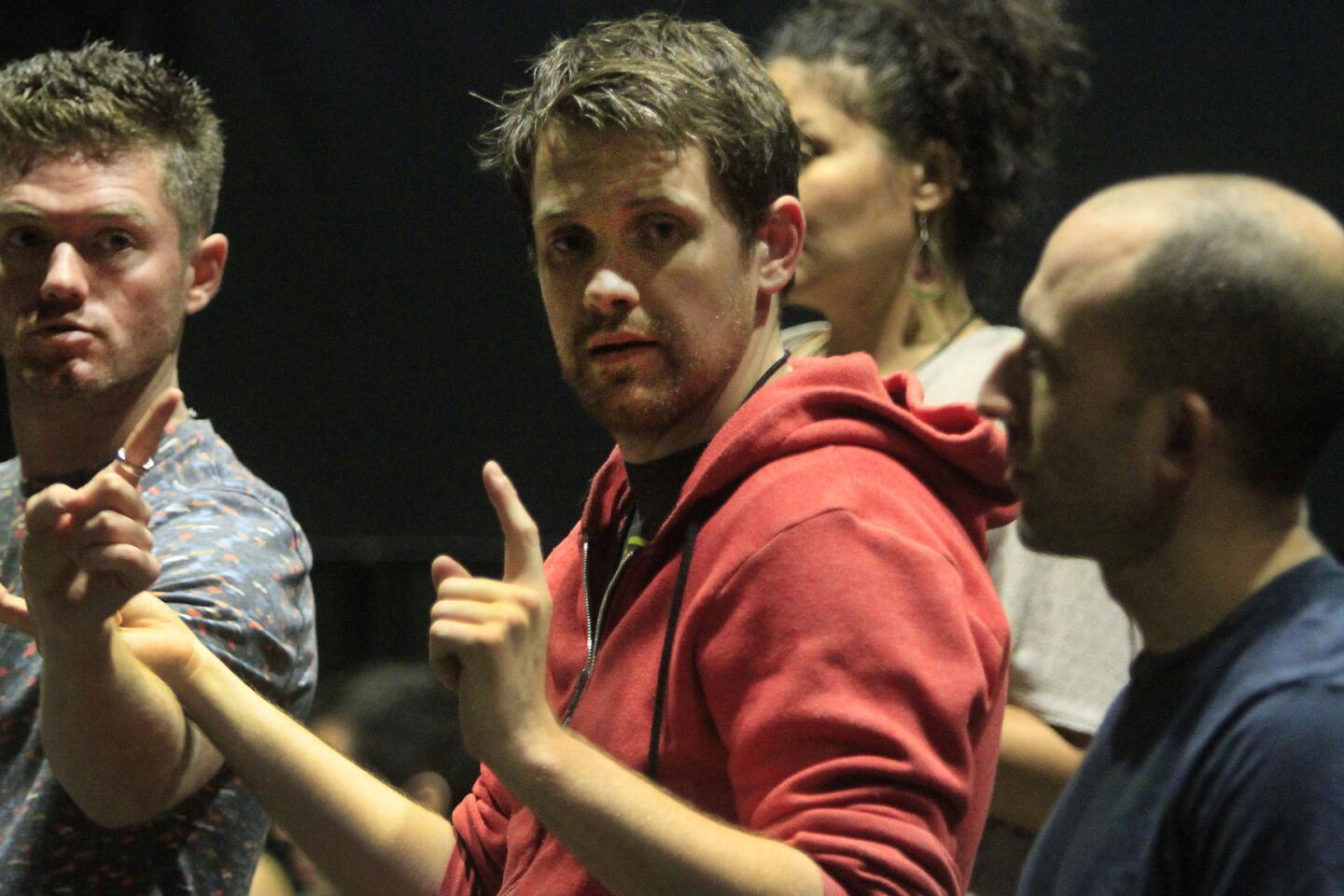 Choreographer Spencer Liff and director Michael Arden make a few changes during rehearsal.
(Kirk McKoy / Los Angeles Times)
Director Michael Arden works with the cast.
(Kirk McKoy / Los Angeles Times)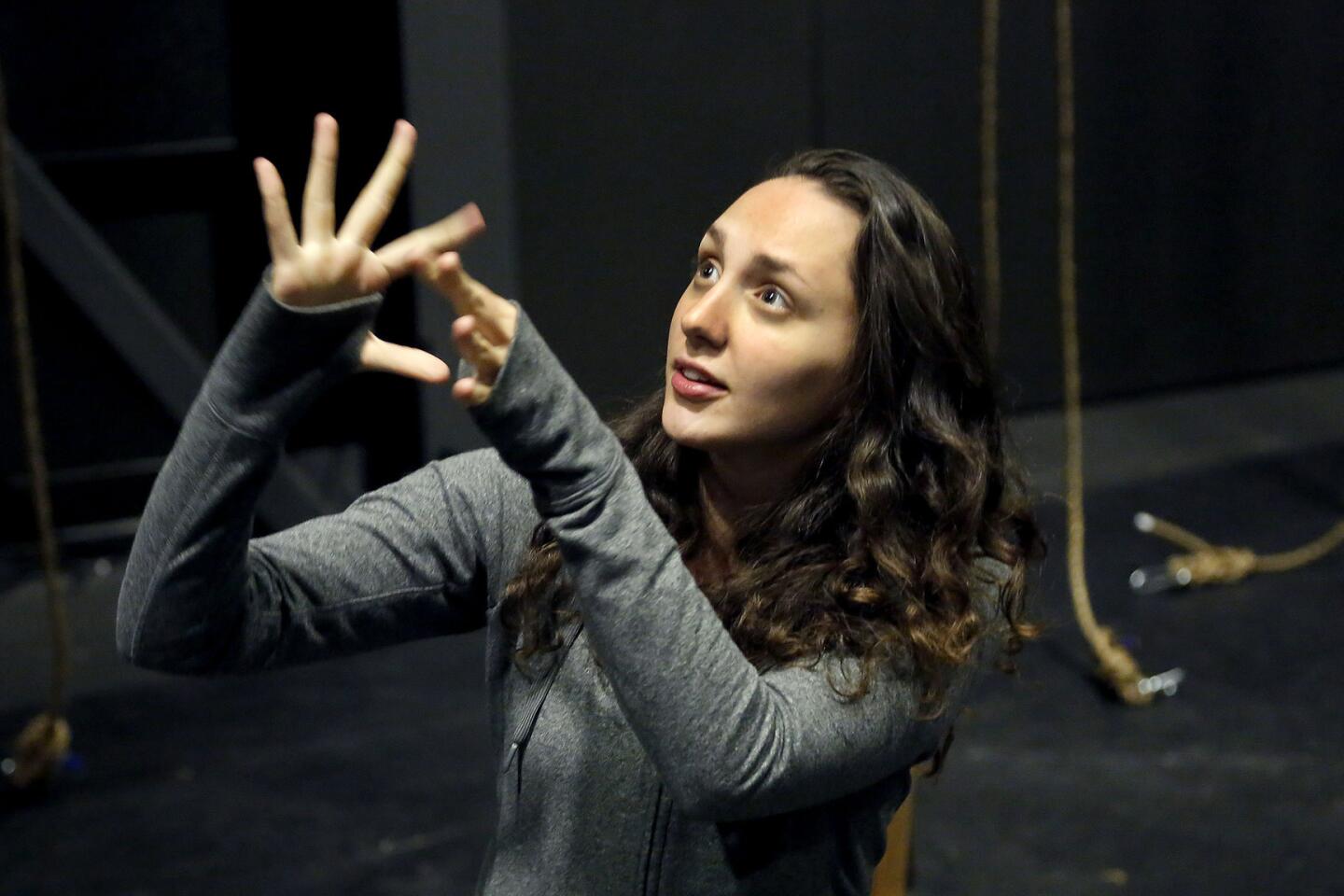 Lauren Patten sings and signs during a rehearsal.
(Kirk McKoy / Los Angeles Times)
Inside a theater among the warehouses of L.A.'s Arts District, an ensemble of actors in their early 20s scattered across a bare stage like billiard balls after the strike of a cue. Some practiced dance moves, giggling as they swayed their hips; others toyed with musical instruments.
Conversations abounded too, albeit in different forms: Some people chit-chatted excitedly, squealing with excitement. Others gestured with their hands, conversing in sign language.
"Blah, blah, blah, blah …" one young woman belted out in song, practicing her lyrics center stage. A curly haired, red-headed boy mouthed the words to himself, twirling alone on the sidelines. Noticing this, a young woman hanging from a nearby ladder tossed her head back and joined in: "Blah, blah, blah, blah ..."
Laughter cut through the room, in what felt like a scene from "Fame."
The actors were rehearsing Deaf West Theatre's revival of the hit Broadway musical "Spring Awakening," which opened at Inner-City Arts on Sept. 13 to much critical acclaim. The show, which an L.A. Times reviewer called "transcendent," runs through Nov. 9.
"OK, I know we're all fast and furious here," said director Michael Arden, wrangling the cast. "But let's all take a deep breath." They formed a semicircle around him, letting out a communal exhale. "Let's really use this rehearsal to connect in song."
Connections are what this revival is all about — starting with the cast itself, which, like all Deaf West productions, is made up of deaf and hearing actors. They blend sign language and song, choreographed movements and music, in a show that's intended for all audiences.
"It's a big challenge," Arden said. "A group of people from completely different backgrounds coming together, learning each other's language and developing vocabulary in which to tell a story to an audience that is both alike and dissimilar to themselves — so that everyone takes away the same story."
Based on a racy-for-its-time 1891 German Expressionist play by Frank Wedekind, the 2006 Broadway adaptation of "Spring Awakening" — about teenagers' sexual coming of age as well as the divide between parents and children — featured a book by Steven Sater and a score by Duncan Sheik. The angsty, sexually charged story juxtaposed the 19th century setting with a modern rock-pop score, touching on abortion, homosexuality, child abuse and suicide. It won eight Tonys, including best musical.
In the Deaf West revival, which is no less edgy and has some nudity, deafness is brought front and center. One of the main characters, the sexually curious Moritz Stiefel (played by deaf actor Daniel Durant) is the deaf son of hearing parents. It's a bold departure from the Broadway production yet a seamless evolution, given that the larger story is about communication breakdowns between teenagers and their parents.
The deaf story line also provides some historical context: In the late 1800s in Europe, deaf educators imposed oralism — speaking or lip reading — and forbade deaf students to sign. In "Spring Awakening," struggling student Moritz, who can't speak, is alienated without any form of language.
"We're trying to say something about what was happening in deaf culture at the time, a very dark time in deaf history," Arden said. "The play itself is about people who were denied a voice, and deaf people at that time were sterilized, forbidden from marrying and weren't allowed to sign. I think it adds another layer, it's almost a bigger story than the original piece."
Deaf West Artistic Director David J. Kurs said the company likes to push boundaries.
"I'd like to think this production is very much in the tradition of Deaf West, which is to get the deaf and hearing actors' work melded together onstage," he said.
Arden, who plays Patrick on FX's "Anger Management," appeared in Deaf West's Tony-winning production of "Big River" on Broadway in 2003 as well as the company's "Pippin" at the Mark Taper Forum in 2009. Before "Big River," Arden didn't know any deaf people. He learned American Sign Language for that production and said working with a deaf and hearing cast was particularly enriching.
"It forces you to collaborate," he said. "You have to be completely selfless and let go of ego, and it requires it of every person in the room."
Arden has directed before with his own theater company, the Forest of Arden, but "Spring Awakening," Deaf West's fifth musical, is his first time directing in two languages. He called the experience "mind-melting" in its complexity, studded with idiosyncratic, back-end challenges.
Three ASL masters translated the script and song lyrics before the show was even cast. Co-producer Christopher Sepulveda said Deaf West auditioned talent nationally. Its casting department called out to other deaf theaters and deaf universities to assemble many of the 25 actors in the cast, most of whom are 17 to 24.
"To me we're hitting our goals when the audience forgets about deaf or hearing, gay or straight, this or that," actor Durant said, "but experiences the characters as human beings and the universal joy, pain, ups and downs of what it is to be living — and in this play, growing up."
Director Arden said he's thrilled audience response has been overwhelmingly positive and "people are seeing things in the story that I hadn't thought about in a long time."
"With any piece of art, you spend all this time creating stories in the dark and having no idea how people are going to react," he said, adding: "In a way we've erased the deaf hearing boundary by the very fact that we're making this happen each night; but at the same time, we're highlighting the historical differences and boundaries that do exist between the two cultures — and in doing so we're beginning to erase that line between them."
The road to that success started with two weeks of rehearsals largely spent teaching sign language to the hearing cast. Bilingual interpreters have been on hand to further translate for Arden, musical director Jared Stein and Spencer Liff ( "So You Think You Can Dance"), who choreographed the production.
During the show, deaf actors sign their lines and members of the onstage band voice their words for the hearing audience. Hearing actors perform using SimCom, a hybrid of ASL and verbalized dialogue. The actors — who do everything in the production, including creating the scenery, setting props and mopping the stage between acts — give one another visual cues from the sidelines, so non-hearing actors know when to take the stage.
Sign language is incorporated into the production as a form of choreography itself. During musical numbers, Arden said, the hand movements are physically exaggerated and often occur in tandem, like choreographed dance moves. This lets deaf audience members know when songs have started.
"There's sort of this underbelly of it that the audience hopefully never sees — the queuing, the clockwork behind it, so that it all comes together and seems seamless," Arden said.
He shakes his head, both proud and seemingly in disbelief that they've actually pulled the production off.
"But that's why we do it — to create something that is seemingly impossible," he said. "You watch them and think: 'If people can do this, if warring nations had to come together and tell a story like this that everyone could understand, then there probably wouldn't be war!' "
------------
'Spring Awakening'
Who: Deaf West Theatre
Where: Inner-City Arts, 720 Kohler St., Los Angeles
When: 8 p.m. Thursdays-Saturdays; 3 p.m. Sundays. Ends Nov. 9. ASL night on Sept. 25.
Tickets: $30-$34.
Info: (818) 762-2998, www.deafwest.org

Get our L.A. Goes Out newsletter, with the week's best events, to help you explore and experience our city.
You may occasionally receive promotional content from the Los Angeles Times.