Column: Frank Gehry's controversial L.A. River plan gets cautious, low-key rollout
The design team working with architect Frank Gehry on a controversial new master plan for the Los Angeles River has begun to introduce its work to the public — but in a noticeably cautious and low-key way.
River LA, the nonprofit group that began collaborating with Gehry's office more than a year ago, isn't ready to unveil any design proposals by the architect. Or any rough sketches, for that matter.
Instead it has been holding upbeat, informal "listening sessions" in neighborhoods near the river, in an apparent effort to build goodwill. The new website it developed with two of Gehry's partners, expected to go live Tuesday morning at lariverindex.org, is stuffed with maps and charts but similarly short on architectural detail.
See the most-read stories in Entertainment this hour »
The quiet rollout suggests that River LA is less interested in giving a clear picture of what Gehry's plan eventually may include than in tamping down charges that it has been born of secrecy — and worries that it may operate as a Trojan horse, a kind of high-design architectural cover, for rampant real-estate speculation in communities along the river.
At the same time, as the river takes on new shades of economic and political meaning — becoming a magnet for attention and investment after decades of near invisibility — the race to reimagine it is growing more crowded. River plans are moving forward at the federal level and in Sacramento, with little clarity about how they ultimately might relate to the Gehry effort.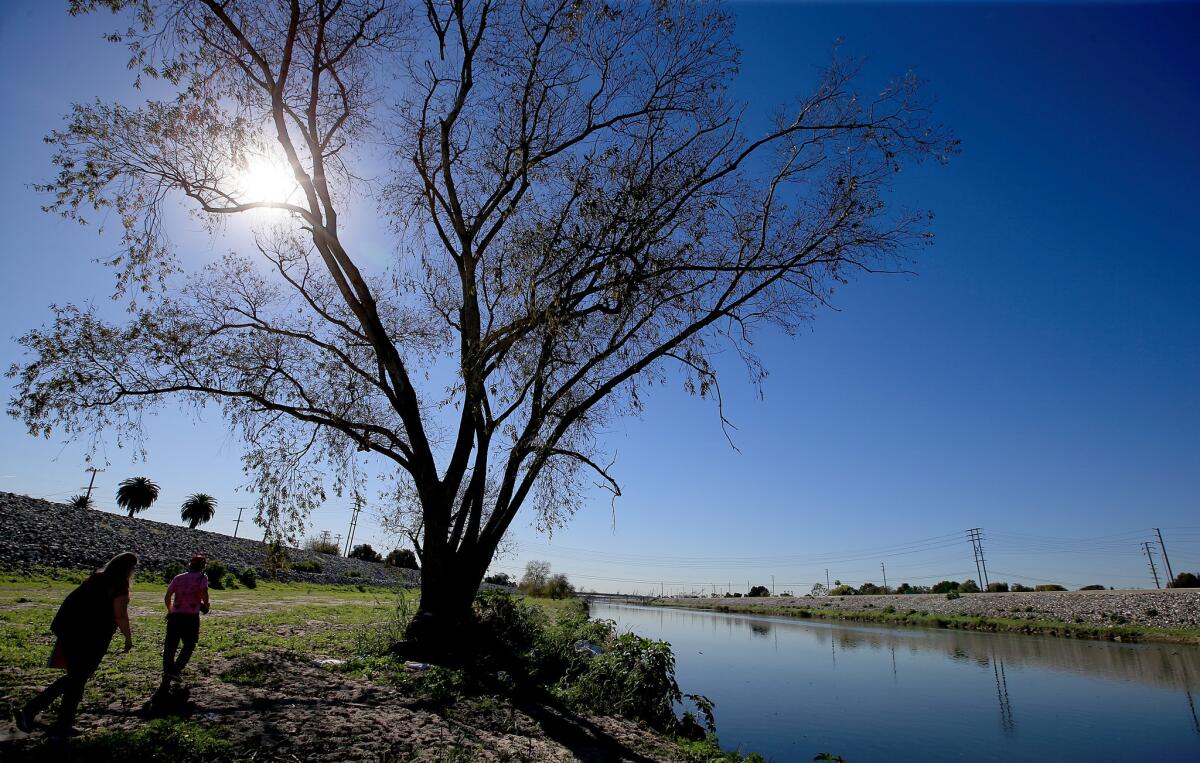 Some longtime river advocates, including Friends of the Los Angeles River co-founder Lewis MacAdams, have sharply criticized River LA for keeping its relationship with Gehry under wraps for much of last year. The makeup of River LA's board of directors, which includes real-estate developers and land-use attorneys, has fueled anxiety among neighborhood activists about what the master plan will produce.
River LA has responded by playing down, at least for now, the possibility of any new construction near the river, which might drive fears of gentrification or displacement, and playing up a wonkish attention to hydrological and ecological detail, which is likely to offend no one.
According to Tensho Takemori and Anand Devarajan, the partners in Gehry's firm who have been overseeing research on the river — alongside prominent Philadelphia landscape architect Laurie Olin and Mark Hanna, a water resources engineer at Geosyntec Consultants — the website is meant to emphasize that the new master plan remains a work in progress.
It is organized as an index allowing users to sift through data and graphics on nine major topics, including "flood risk management," "ecology and habitat" and "water quality."
"This is just meant to be information," Takemori said. "There's no designs, no proposals or anything like that."
We've tried to take an inform-ourselves approach before we make any decisions about what's right and what's wrong.
— Anand Devarajan, a partner in Gehry's firm
Added Devarajan, "We've tried to take an inform-ourselves approach before we make any decisions about what's right and what's wrong."
Still, the website, funded in part by grants from the Santa Monica Mountains Conservancy and the San Gabriel and Lower Los Angeles Rivers and Mountains Conservancy, does contain hints about where the Gehry team is focusing its work — and what kinds of designs may emerge in the coming months.
One section, "Water Recharge," suggests that by redesigning the river to capture more storm water — directing it to aquifers rather than allowing it to flow via the river out to sea — the region could decrease its reliance on water imported from other parts of California and the Western U.S. by as much as 14% per year. Under the "Open Space and Parks" tab is a proposal, short on details, for creating 2,300 acres of new park space within a mile of the river.
A central goal of this master plan, like the ones that have come before, will be to strike an effective balance between maintaining flood-control measures while opening up the river to new kinds of public access. When the river, beginning nearly a century ago, was encased in concrete to protect against flooding, it was largely fenced off. It became, for all practical purposes, a massive piece of private infrastructure designed for one task only: whisking storm water away from the city and toward the ocean.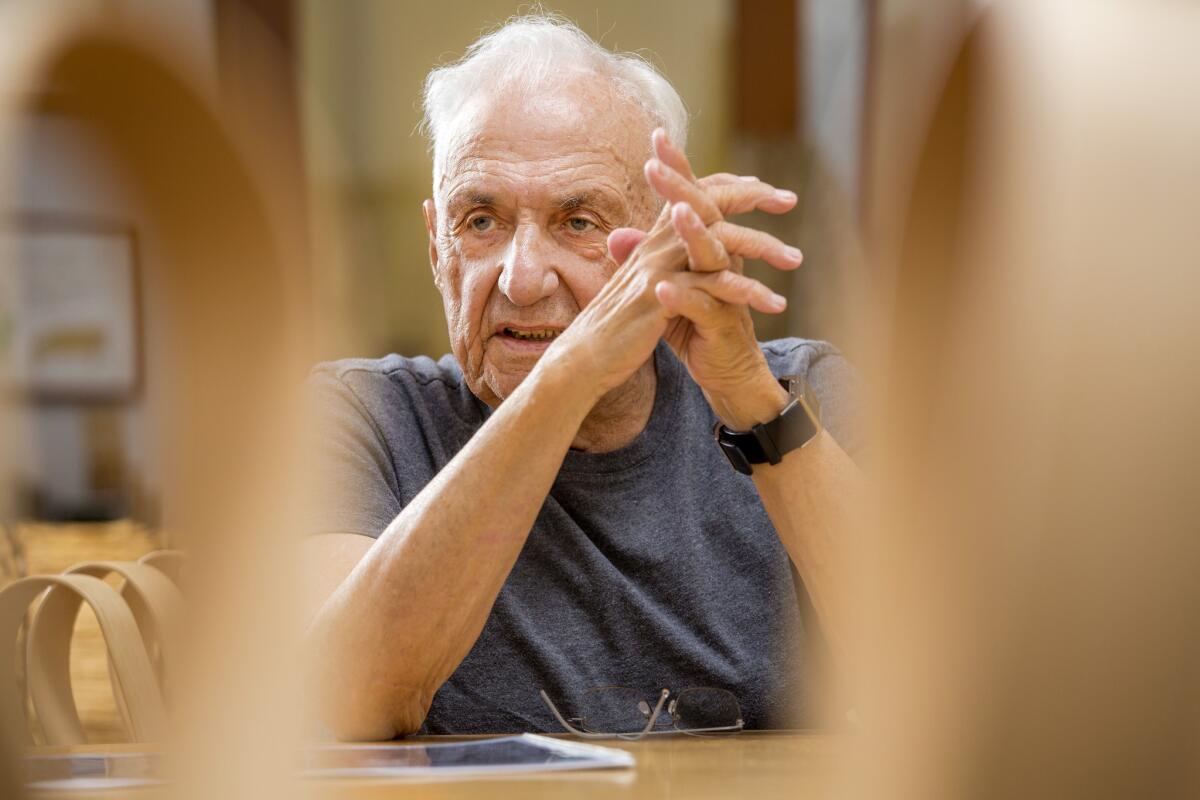 But on the vast majority of days — perhaps as many as 360 per year — there is so little water in the river's concrete channel that the public could use most of the space without danger. Reopening the channel to that kind of broad and regular access will be, in part, an effort to make it visible again as a civic amenity.
Gehry said that his work with Takemori and Devarajan — and with Olin, whom he's known for decades — has included preliminary discussions about building housing along the 51-mile-long river or even atop new bridges crossing it.
"Our goal on the housing is, wherever we end up, our value system says we want to get it so that it's mixed," Gehry said. "So it's not just low-end housing and middle-end and high-end — we want to collide them somehow. And then how do you connect that to open space, if you can create a park?"
It's not just low-end housing and middle-end and high-end — we want to collide them somehow.
— Frank Gehry
Gehry said he has been exploring programming opportunities along the river with Gustavo Dudamel, music director of the Los Angeles Philharmonic, and with a pair of museum directors, Ann Philbin of the Hammer Museum and Michael Govan of the Los Angeles County Museum of Art. He described those talks as "informal."
"I think we'll get cultural buy-in," Gehry said. "I'm pushing that. Fifty-one miles: You could do performances at different parts."
River LA, which was known as the Los Angeles River Revitalization Corporation before a recent rebranding effort, was founded in 2009 by the city of Los Angeles to coordinate policy on the river. As it works with Gehry's team, the group has been taking advice on media relations and other topics from Mercury Public Affairs, which describes itself as "a high-stakes public strategy firm."
The launch of the website comes on the heels of three public meetings River LA organized last month. The first, on the morning of May 14, was held in the city of South Gate, which straddles the river about seven miles south of downtown Los Angeles.
About three dozen people sat on plastic chairs inside the South Gate Park Girls Clubhouse to hear Omar Brownson, River LA's executive director, describe the potential of rethinking the river and introduce representatives of Gehry's team. Gehry himself did not appear.
Lining the walls were boards, roughly 8 feet tall, plastered with charts, graphs and information. The boards were separated into three categories of research, labeled "water," "people" (including ideas on public health and transportation) and "public space."
"Rivers don't know political boundaries," Brownson said in his opening remarks. "The city of L.A. realized it had to be creative about how to approach the river, and so it created us as a nonprofit organization that could work across public, private and philanthropic sectors."
"We're not going to talk at you. This is meant to be a conversation," he added, before encouraging the audience to study the boards and ask questions of Takemori, Devarajan and Hanna.
Similar meetings were held May 21 in Reseda, in the San Fernando Valley, and May 25 in Boyle Heights, across the river from downtown L.A.
Throughout the process, the Gehry team has suggested that its work, by building on earlier master plans and enlisting the support of a range of elected officials, ultimately will stand as a comprehensive new blueprint for remaking the river.
"We're taking into account all the stuff that people have done before us. We're not ignoring it," Gehry said. "The thing I'm happiest about is how we've been reaching out to all the political entities and getting people interested and focused and realizing this could be transformative. Everybody's been really open. I'm feeling really good about it."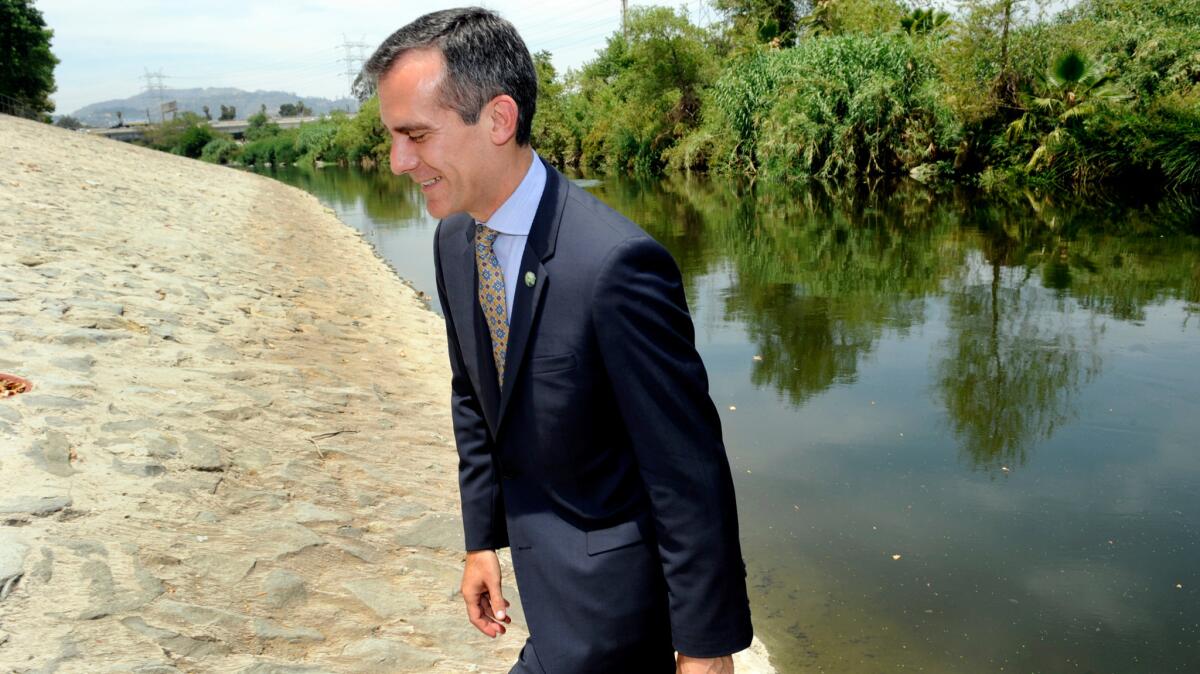 But significant questions remain about how the Gehry effort, launched with the blessing of Los Angeles Mayor Eric Garcetti, will relate not just to existing river plans but to emerging ones. The Army Corps of Engineers in Washington is pursuing a plan to restore an 11-mile stretch of the river near downtown.
Even as the Gehry team was putting the finishing touches on the website, a news release was going out to reporters about the new Lower Los Angeles River Working Group, organized by State Assembly Speaker Anthony Rendon, who is active on water-policy issues in Sacramento and whose 63rd Assembly district includes Long Beach, South Gate and Bell.
The release did not highlight the work of River LA or the Gehry office, although the 39-member working group includes Maria Camacho, River LA's director of external affairs.
Asked how the Gehry research will be coordinated with the working group, which was created and funded by AB 530, Brownson replied, "It's complicated. We're working on it."
Another complication, at least in terms of River LA's determination not to roil the political waters, is Gehry himself.
Though the architect acknowledges the public relations benefits of proceeding cautiously on plans for the river, he's eager to move ahead on design work.
"I'm 87," he said. "I want things to happen quickly."
ALSO
'Game of Thrones' and 'Outlander' top our summer TV binge list
Electric Daisy Carnival celebrates 20th anniversary in Las Vegas with 400,000 revelers: 'The stakes have never been so high'
From '30 Rock' to 'Saved by the Bell': The funniest shows to watch on NBC's streaming service SeeSo right now
christopher.hawthorne@latimes.com
---
UPDATES:
9:31 a.m.: This article was updated with additional details.
This article was originally published at 3 a.m.
Get our L.A. Goes Out newsletter, with the week's best events, to help you explore and experience our city.
You may occasionally receive promotional content from the Los Angeles Times.