Tony Awards: Races to watch and front-runners to beat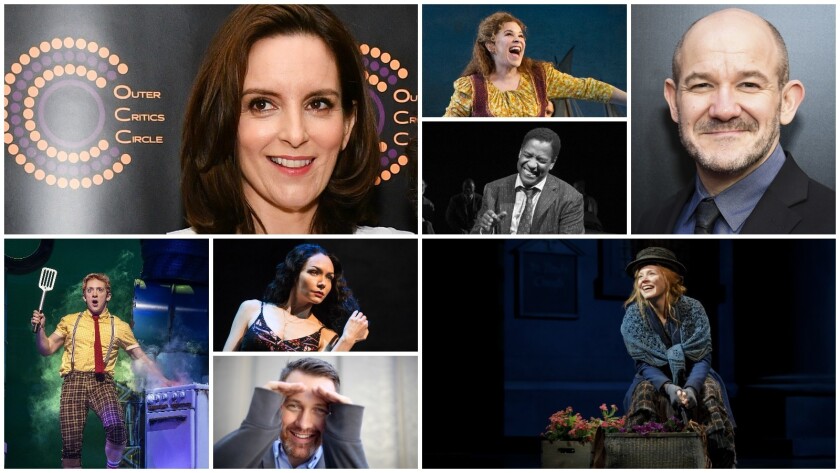 Who will win this year's Tony Awards? Is there any chance "Mean Girls" can edge out "The Band's Visit" and "SpongeBob SquarePants"? Will "Harry Potter and the Cursed Child" take home the most trophies?
Here's a quick rundown of key contenders from the plays and musicals with the most nominations heading into the ceremony Sunday. For some hints of what the Tony hosts have planned, read our interview with Sara Bareilles and Josh Groban. You can follow along as the L.A. Times covers the Tonys live, posting winners as they're announced and reporting from backstage starting at 5 p.m. Pacific.
---
'Mean Girls'
Key races: Best musical, book (Tina Fey), costume design (Gregg Barnes)
Tina Fey's stage adaptation of her 15-year-old film proved a nimble refresh with nods to texting, sexting, tagging and hashtagging. Read more about how the wit, wisdom and one-liners of "Mean Girls" have made Fey the front-runner to win best book. MORE ON TINA FEY
---
'SpongeBob SquarePants'
Key races: Musical, lead actor (Ethan Slater), featured actor (Gavin Lee), director (Tina Landau), costume design and scenic design (both David Zinn)
"Bizarre." That's how Ethan Slater describes all the attention he's receiving for his Broadway debut in the musical based on Nickelodeon's cartoon series. Read why the actor, 25, is one of the favorites heading into Sunday night. MORE ON ETHAN SLATER
---
'Angels in America'
Key races: Revival of a play, featured actor (Nathan Lane), featured actress (Denise Gough), director (Marianne Elliott)
"It is full of anxiety, paranoia, desperation, terrible isolation and doom," said the woman wrangling all that anxiety, paranoia, desperation, isolation and doom. Read how Marianne Elliott could become the first woman to win Tony directing honors for the third time. MORE MARIANNE ELLIOTT
---
Rodgers & Hammerstein's 'Carousel'
Key races: Revival of a musical, lead actor (Joshua Henry), lead actress (Jessie Mueller), featured actress (Lindsay Mendez and Renée Fleming)
How does Lindsay Mendez feel about being part of a racially diverse cast that makes late-1800s Maine look like America today? "I probably feel a little bit more strongly about that because I happen to be Mexican," said the actress, a Norwalk native who talked with The Times about breaking out in a star-filled cast. Q&A WITH LINDSAY MENDEZ
---
'The Band's Visit'
Key races: Best musical, lead actress (Katrina Lenk), lead actor (Tony Shalhoub), featured actor (Ari'el Stachel), director (David Cromer) and score (David Yazbek)
Tony Shalhoub is the big name in the cast, but audiences soon discover the heart of "The Band's Visit" beats in Katrina Lenk. Read why it's a star-making performance from an actress who rose from L.A.'s theater scene. MORE ON KATRINA LENK
---
'My Fair Lady'
Key races: Revival of a musical, featured actor (Norbert Leo Butz), featured actress (Diana Rigg), director (Bartlett Sher), scenic design (Michael Yeargan)
The era of Times Up and #MeToo might seem like the wrong time to revisit "My Fair Lady," the 1956 Lerner & Loewe classic about a professor who bets that he can transform a working-class girl into a young woman of high society. But without changing a word of the original text, actress Lauren Ambrose forged a "Fair Lady" for a new generation. LAUREN AMBROSE INTERVIEW
---
'Harry Potter and the Cursed Child'
Key races: Play, director (John Tiffany), featured actor (Anthony Boyle), costume design (Katrina Lindsay), choreography (Steven Hoggett)
"Harry Potter" brought his broom, and he's ready for a sweep. "Cursed Child" is expected to take home a heap of Tonys on Sunday, and one race to watch is choreography, where Steven Hoggett may beat the song-and-dance of musicals to become the rare winner from a play. MORE ON STEVEN HOGGETT
---
'Once on This Island'
Key races: Musical revival, director (Michael Arden)
His immersive production includes a stage covered in sand and a goat in diapers that saunters past the audience. The scrappy crowd-pleaser "Once on This Island" is the latest vision of Michael Arden, who proved why he continues to be a young director to watch. MORE ON MICHAEL ARDEN
---
'The Iceman Cometh'
Key race: Lead actor (Denzel Washington)
In an ordinary year, Denzel Washington might have been a favorite. But this is no ordinary year. Washington finds himself competing against acclaimed performances by Andrew Garfield, Tom Hollander and three-time Tony winner Mark Rylance. Read why Washington remains "Iceman's" best hope for Tony glory. MORE ON DENZEL WASHINGTON
See all of our latest arts news and reviews at latimes.com/arts.
---
Your essential guide to the arts in L.A.
Get Carolina A. Miranda's weekly newsletter for what's happening, plus openings, critics' picks and more.
You may occasionally receive promotional content from the Los Angeles Times.