Review: Kneehigh's 'Tristan & Yseult' an alluring blend of myth, music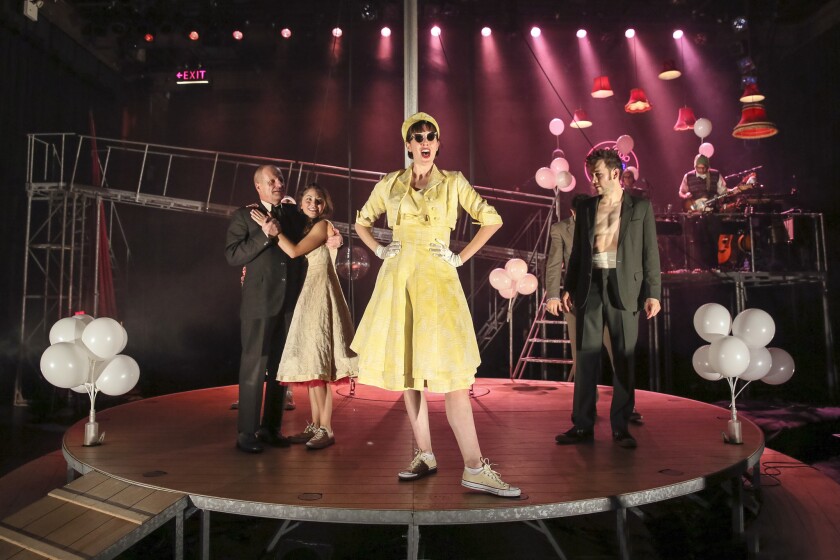 Los Angeles Times Theater Critic
The delightful British theater troupe Kneehigh keeps finding ways of demonstrating that whimsicality on stage is perfectly compatible with emotional grace.
The company's production of "Brief Encounter," a theatrical homage to David Lean's 1945 film about a transfixing adulterous love match that is doomed from the start, was a sprightly multimedia affair combining loopy humor with stunning cinematic effects to leave audiences at the Wallis Annenberg Center of the Performing Arts last year crushed by heartbreak.
------------
FOR THE RECORD:
"Tristan & Yseult": In the Feb. 3 Calendar section, a headline on a review of British theater troupe Kneehigh's "Tristan & Yseult" said that the performance is playing at the Wallis Annenberg Center of the Performing Arts in Beverly Hills. It is playing at the South Coast Repertory in Costa Mesa. —
------------
Now at South Coast Repertory is Kneehigh's "Tristan & Yseult," another tragic romance served up with quirky humor and hypnotic lyricism. The production, directed and adapted by Emma Rice, is a Valentine's Day present for theatergoers who are at once too shrewd not to laugh at love and too wise to treat it as a joke.
ESSENTIAL ARTS & CULTURE NEWSLETTER >> Get great stories delivered to your inbox
Wagner's "Tristan Und Isolde" is naturally an inspiration. A recording of the opera is put on a turntable at the start of the show, which was conceived more than 10 years ago and continues to be one of Kneehigh's most popular touring works.
But Rice and her writers, Carl Grose and Anna Maria Murphy, are more intent on animating the legend their own way. This is a gesamtkunstwerk for pop culture types who don't know a thing about Wagner's dream of the integrated artwork.
The music performed by the onstage band under the music direction of composer Stu Barker is accessibly modern and only occasionally scales Wagnerian peaks. The mix of pop with sumptuous orchestral strings creates a harmonious storybook flow that is by turns languorously moody and jocular.
This passionate tale has survived the centuries for a reason: It's a good one, filled with unexpected twists and tangles and concluding in a catastrophe that is simultaneously an apotheosis of the theme of liebestod or love death.
Tristan (Dominic Marsh) is sent by Mark (Mike Shepherd), the King of Cornwall, to retrieve Yseult (Hannah Vassallo) as his war prize after her brother, the Irish warrior Morholt (Niall Ashdown), is slain by Tristan in a bloody battle. But during the voyage home, Tristan and Yseult (partly under the influence of a potion, partly under the influence of animal attraction) fall madly in love.
Yseult's heart belongs to Tristan, but her head tells her that her future is with the king. There's quite a bit of scurrying around the castle at night, as you might imagine. Yseult's maid, Brangian (also played by Ashdown, in a flurry of cross-dressing winks), runs interference for her mistress while mischievous Frocin (Damon Daunno) spies on the lovebirds with the aim of avenging himself on Tristan for surpassing him in the king's court.
The story comes to life at the Club of the Unloved, narrated by a mysterious personage named Whitehands (Kirsty Woodward) and featuring a chorus of Lovespotters, romantic sad sacks eccentrically donning rain slickers and binoculars.
While the production's framing device is a bit muddled, the storytelling merriment is heightened by the antic presence of these unrequited lovers, who clown around with one another, rev up the audience and dance and sing (at one point to a madcap version of "Get Lucky," the Daft Punk hit featuring Pharrell Williams).
Marsh's Tristan, finding ample opportunity to reveal his perfect abs, is as dreamy as Vassallo's Yseult is lovely. Shepherd's King Mark is a tyrant with a heart. Ashdown gamely transitions from brutal warrior to young maid. Daunno, in the production's most original performance, moves with the moonwalking fleetness of Michael Jackson in his prime.
Rice may overdo the liebestod with blaring music, but if ever there was a place to go dramatically overboard, this is it. For the most part, however, her staging maintains the beautiful simplicity of the handcrafted special effects. Less technologically dazzling than "Brief Encounter," "Tristan & Yseult" is just as visually ravishing.
The story, which unfolds at the unhurried rhythm of the dreaming mind, sparingly uses language. Kneehigh, whose art is populist and highly personable, achieves here the theatrical equivalent of a graphic novel — a colorful and richly inventive stage fable where myth and music seductively entwine.
ESSENTIAL ARTS & CULTURE NEWSLETTER >> Get great stories delivered to your inbox
--------------
'Tristan & Yseult'
Where: South Coast Repertory, 655 Town Center Drive, Costa Mesa
When: 7:30 p.m. Tuesdays-Wednesdays, 8 p.m. Thursdays-Fridays, 2:30 and 8 p.m. Saturdays, 2:30 and 7:30 p.m. Sundays. (Call for exceptions.) Ends. Feb. 22.
Tickets: Starts at $30
Info: (714) 708-5555, www.scr.org
Running time: 2 hours, 15 minutes
---
Inside the business of entertainment
The Wide Shot brings you news, analysis and insights on everything from streaming wars to production — and what it all means for the future.
You may occasionally receive promotional content from the Los Angeles Times.